A Moving Experience – Part #2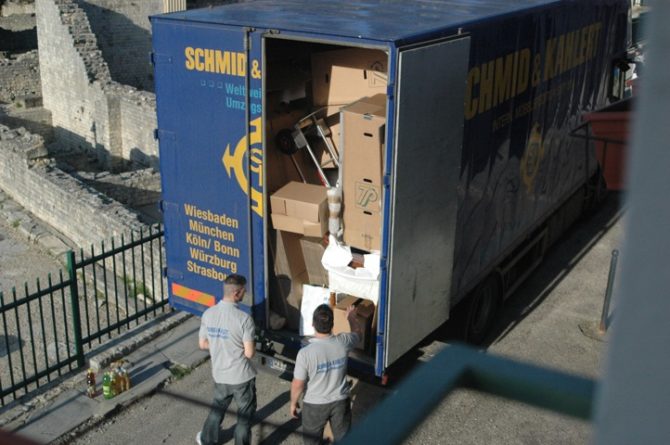 When I have serious French-American cultural questions in Provence, I have always turned to my resident guru Walter Wells, who has lived in France for about 30 years. Over coffee at the Universal Café on my town square, Walter and I discussed the intricacies of the French end of an international move. I explained that I had a wine cellar filled with bottles that could not be sent to America (requires a special license to import alcohol) as well as many bottles of high-quality brand-name booze, most of them unopened.  Estimated value of this stash was about 500 euros. Walter and I agreed that if I gave the movers the wine and booze as their tip, I did not need to add a cash tip—they would happily resell it and make some profit. So that was the plan…until my crew showed up and turned out to be Germans who spoke flawless English and were delighted with the liquid, but also required a 50-euro cash tip. It was an easy enough moving day for me—I had done all my packing ahead of time, scrounging up free boxes from my local Point P hardware store and the city dump. The Guys—two young men in their mid-twenties—arrived on schedule and cheerfully and carefully packed my precious breakables. They loaded the truck with the finesse of an MIT engineer. While I sweated the facts, they kept assuring me that it was all going to fit and that I was within my size limit. I began to have horrible fantasies that I had exceeded my "survey" and would have a buffet or two left behind on the docks. During the survey, the visiting agent told me I had between 15 and 18 cubic meters; the final devis said I was being charged for 20, so I could make one last "free" trip to l'Isle sur la Sorgue. In the end, it cost more or less the same thing to bring a little, or bring a lot. I brought a lot. The S&K people were 100% efficient and consistent. I received an email telling me the day my goods were loaded onto the ship. I received another email telling me when my ship sailed and when it would arrive in Oakland. Even the immediate part after arrival in Oakland was fairly smooth and professional. I was selected for a random Homeland Security x-ray for which I had to pay $67. I was very grateful that the US government saw fit to protect itself from my 20-year-old bed linens and 150-year-old spinning wheel. The same freight forwarding agent that handled one of my previous shipments was again in charge and was informative and helpful. After the x-ray, the world came apart. Despite the fact that I am a three-hour drive from the port of Oakland, I was put into a holding period for delivery and told this was the busiest time of year and would need to be patient. I was told I'd have my goods within another two weeks or so. God created the world in seven days, a transatlantic crossing is six days and trucking fewer than 200 miles would take two weeks. I had scheduled houseguests without understanding that this was going to be an extended piece of torture. I was living in an almost empty house, again, without understanding the extended times involved. My ship came to port on June 17. For some silly reason, I thought I'd have delivery a week later. Silly moi. Stay tuned for Part 3. Suzy Gershman is the author of Suzy Gershman's Born to Shop California Wine Country, due through Amazon at the end of August. She has a storage unit in San Antonio, Texas filled with more furniture. Take trips, not chances. For peace of mind each and every time you travel, enroll for
MedjetAssist
evacuation services. If you're coming to France (or for that matter anywhere) you can 
reserve your hotel here.
To rent a car, Bonjour Paris recommends 
Auto Europe
.  
SUBSCRIBE
ALREADY SUBSCRIBED?
BECOME A BONJOUR PARIS MEMBER

Gain full access to our collection of over 5,000 articles and bring the City of Light into your life. Just 60 USD per year.

Find out why you should become a member here.

Sign in

Fill in your credentials below.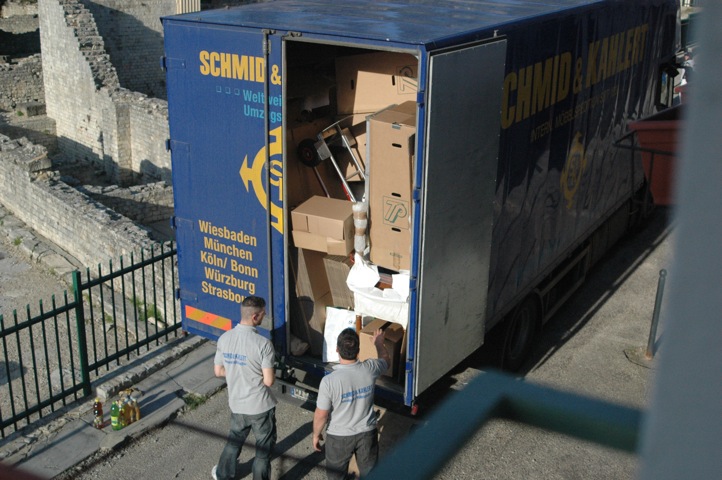 When I have serious French-American cultural questions in Provence, I have always turned to my resident guru Walter Wells, who has lived in France for about 30 years.
Over coffee at the Universal Café on my town square, Walter and I discussed the intricacies of the French end of an international move. I explained that I had a wine cellar filled with bottles that could not be sent to America (requires a special license to import alcohol) as well as many bottles of high-quality brand-name booze, most of them unopened.  Estimated value of this stash was about 500 euros.
Walter and I agreed that if I gave the movers the wine and booze as their tip, I did not need to add a cash tip—they would happily resell it and make some profit. So that was the plan…until my crew showed up and turned out to be Germans who spoke flawless English and were delighted with the liquid, but also required a 50-euro cash tip.
It was an easy enough moving day for me—I had done all my packing ahead of time, scrounging up free boxes from my local Point P hardware store and the city dump. The Guys—two young men in their mid-twenties—arrived on schedule and cheerfully and carefully packed my precious breakables.
They loaded the truck with the finesse of an MIT engineer. While I sweated the facts, they kept assuring me that it was all going to fit and that I was within my size limit. I began to have horrible fantasies that I had exceeded my "survey" and would have a buffet or two left behind on the docks.
During the survey, the visiting agent told me I had between 15 and 18 cubic meters; the final devis said I was being charged for 20, so I could make one last "free" trip to l'Isle sur la Sorgue. In the end, it cost more or less the same thing to bring a little, or bring a lot. I brought a lot.
The S&K people were 100% efficient and consistent. I received an email telling me the day my goods were loaded onto the ship. I received another email telling me when my ship sailed and when it would arrive in Oakland.
Even the immediate part after arrival in Oakland was fairly smooth and professional. I was selected for a random Homeland Security x-ray for which I had to pay $67. I was very grateful that the US government saw fit to protect itself from my 20-year-old bed linens and 150-year-old spinning wheel.
The same freight forwarding agent that handled one of my previous shipments was again in charge and was informative and helpful. After the x-ray, the world came apart.
Despite the fact that I am a three-hour drive from the port of Oakland, I was put into a holding period for delivery and told this was the busiest time of year and would need to be patient. I was told I'd have my goods within another two weeks or so. God created the world in seven days, a transatlantic crossing is six days and trucking fewer than 200 miles would take two weeks.
I had scheduled houseguests without understanding that this was going to be an extended piece of torture. I was living in an almost empty house, again, without understanding the extended times involved. My ship came to port on June 17. For some silly reason, I thought I'd have delivery a week later. Silly moi.
Stay tuned for Part 3.
Suzy Gershman is the author of Suzy Gershman's Born to Shop California Wine Country, due through Amazon at the end of August. She has a storage unit in San Antonio, Texas filled with more furniture.
Take trips, not chances. For peace of mind each and every time you travel, enroll for MedjetAssist evacuation services. If you're coming to France (or for that matter anywhere) you can reserve your hotel here. To rent a car, Bonjour Paris recommends Auto Europe.
More in out of France, Provence, Suzy Gershman
---
---