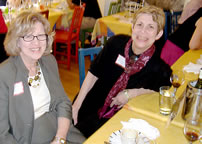 It's only a few hours but who wants to meet a batch of strangers if you don't think you're going to have mutual interests and share an enjoyable time?  The idea is painfully reminiscent of college mixers when you wonder if you'll want to talk to your neighbor. People don't relish the idea of being bored and counting the minutes for an event to end.
It's easy to announce a Bonjour Paris get together in our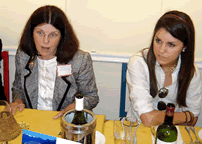 weekly newsletter. But will people actually come? In addition, this was no freebie. We were meeting in Washington, D.C. at a Connecticut Avenue restaurant, The Petits Plats. Each attendee was asked to pay for a three course lunch. Wonderful wines were contributed by Bruce Lane, a retired lawyer, whose avocation, All About Wine, is conducting wine tastings. As it turned out, the food was good and the conversation was even better.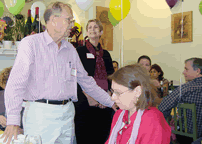 While waiting for the guests, I had a sinking feeling this was going to be a waste of a perfectly beautiful Saturday afternoon.  How wrong I was. Even though the group was from different places and had myriad vocations, everyone possessed a common bond; a committed love of France. Some had lived there, others aspire to and many consider France a second home (very possibly with residences there).  Each person took a turn at explaining why he or she was in attendance. The answers were varied but never boring.
The majority of people had never met one another so there was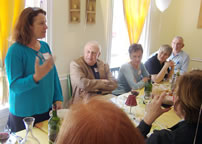 (especially among Bonjour Paris's discussion board faithfuls) a lot of, "Oh – you're Mara, you're Ellencmog, oh – he's St. Germain."  Meeting people in real life isn't the same as knowing someone in cyberspace; but you have a pretty good idea about who they are and what they think. You may (or may not) imagine them to look as they do – but I have to say that Bonjour Paris readers are a very good looking group! If only we'd taken a photo before the event began and we'd had a bit too much wine…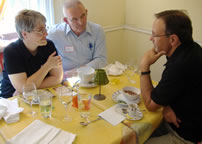 What occurred to me during the luncheon was, I bet this group could not only have discussed France but in addition, conducted a lot of business together.  Because this is Washington, there were more than a fair percentage of lawyers. There was a travel agent who, if she had wanted, could have distributed cards.  Anne and Kirk Woodyard, who have started Music & Markets Tours since we first met via Bonjour Paris, discreetly described their tours which are nothing less than first-rate.
These get togethers hold special meaning for me. Bonjour Paris is a major part of my life. I've spent the past ten years focusing on the Site. We've been through a lot of ups and downs and many renditions. Meeting readers constantly results in new insights, and many of my and other readers' cyber-friends have become so much more than that.
In spite of being a French resident,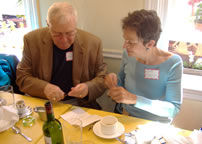 I know there are few places I travel where I can't meet a BP reader. I learn as much from them as I hope they learn from the Site and our writers' unique takes on France and its culture.
For a variety of reasons, there's been a hiatus in holding get togethers. It's time we start again, but they require a fair amount of organization and follow-up. If anyone wants to take on the responsibility, please contact me at [email protected].  Delegation isn't a problem!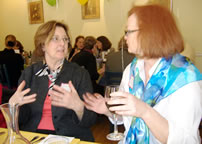 One of the things we briefly discussed during this lunch was how the Bonjour Paris staff can make the Site better.  We're open to any and all ideas (as long as they're legal). Please don't hesitate to send me an email. Our market surveys have demonstrated that
our readers are sophisticated, independent travelers and we're eager to become the Site you consult when planning your France (and out-of-France) travel.
Thanks to all of you who attended the Washington get together. I'll file it in my memory bank and hope you do as well.
© Karen Fawcett