Yes, but not just any old sandwich, a super sandwich by Alain Ducasse who just launched Cafe "be" Boulangerie Epicerie, in the heart of retail heaven, Printemps (created 1865 now a PPR group subsidiary) think shopping and snacking. "It's an original concept which works really well", said Ducasse not actually making the sweet potato and tome de savoie open sandwiches, just tasting bits and pieces to make sure everything's perfect. Baguette, perigord walnut, fig, Corinth raisin, cereal, buckwheat breads, displayed in wicker baskets, waiting to be stuffed with seasonal fillings ."The secret of good bread is in the flour, it must be pesticide free, we're using natural liquid leaven which is low in acidity", he explains. Spring Crostini with fresh vegetables is good and, if you can resist the breads, there are healthy low calorie tofu and asparagus salads, soup of the day and always the wonderful fresh fruits, stewed mango with passion fruit, vanilla rice puddings, fruit tarts, brownies for desert. Eat in the Patrick Jouin designed space with interesting wall graphics and metro tiles. Or take away, pastas, risottos, olives oils, artisan jams, tofu carrot salad, vegetarian focacia, and Pastis d'Amelie cake from Provence. Tell chef Dominique Saugnac we sent you, you'll get a good seat, the crowd are genteel, well-heeled, no pushing and shoving here.
Meanwhile there's still time to taste New York chef Angelo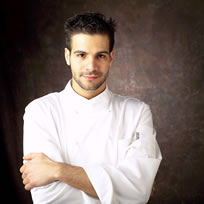 Sosa's exciting, spicy and inventive dishes as he does a guest-spot at Spoon, located in the Hotel Marignan Champs Elysees (where, rumour has it Mata Hari was arrested) which just had a superb lifting by the talented architect Oliver Gagnere. It's owned by the Richard family (yes Richard coffees), I suppose it's their flagship, although they own some impressive brasseries and restaurants (www.richard.fr)  
When Ducasse met Sosa, in New York City, he happened by Sosa's then restaurant Yumcha (which means something like eat my tea in Cantonese). Ducasse loved his style (he had worked with Jean-Georges Vongerichten) and invited him to become an American in Paris for a season at Spoon. "He's young, but his talent seduced me", admits Ducasse.
"His dishes tell the story of his life, rather provocative, they are what we need to-day. Since I opened in New York and Las Vegas I have met so many excellent American chefs, I like Sosa's marriage of flavours, his use of exotic fruits mixed with savoury dishes". "I was nervous when I arrived", said Sosa, who speaks no French. "We get by with hand gestures", he smiles. "We have created the two Sosa menus together, the style of the team here is different to mine, not better or worse, but a terrific learning curve for us all".
Having worked in Hong Kong and Thailand, Sosa's spin on fusion includes Chinese influences. Starters include tastings of tongue tingling "Udon" noodles with peanut sauce and lemon sorbet, seared foie gras mini- burger and, a nod and a wink to French tradition, frog's legs with an astringent pineapple or coconut sauce. Mains might be red snapper with soy sauce, mustard oil and crunchy slices of aromatic lily bulb and mustard oil. Atlantic Halibut arrives with a garnish of Chinese sausage and black beans, tender ginger lacquered veal cheeks are cut with a green apple salad. Pudds include Doughnuts, carrot cake with a glass of healthy carrot juice or, play safe and order the Spoon classic cheese cake, chocolate pizza or Malabar ice creams with Tagada strawberries. 
Let the genial Christian Laval guide you with world wines, to go with your world food. About 150 to choose from, 10% French the rest from anywhere you care to mention. How about a nice little white 2001 Bacchus, Chapel Down from the UK (55€). Always a delight to taste, at least 12 different mineral waters, Fiji, Ty Nant, Ramlosa, Chateldon etc. And, if Sosa's scoffa is a bit too spicy, he really does spicy does Sosa, the lanky lad even grumbles that French salt is not salty enough, choose from the signature Spoon menu. The Australian beef wagyu is tender and almost addictive, the cows get massaged and pampered more than we do. Thon à la plancha with sauce satay and wokked veggies: excellent. But be adventurous, mix and match the menu, and you can read all about it in 37 different world editions of ELLE. What more do you want then?
At the just opened Hotel Amour, on the patio of this unique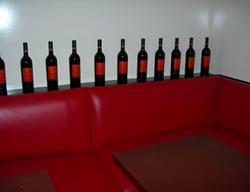 little maison, the crowd who usually hang at Le Baron and Paris-Paris now have a place to hang their hats for the night (about 140€). There are 20 rooms, some designed by celeb friends of the owners (Thierry Costes and Andre Blackblock the graffiti artist/genius). The menu changes daily, is of the steak-frits – hamburger luxe, salad and glass of house wine, with original label by Andre, to take home and keep, then auction chez Tajan.
BE
Printemps de la Maison,
64 Boulevard Haussman, 9th (Metro: Havre Caumartin/Auber)
No reservations
From 5€50 +drinks
Spoon
14 rue Marignan 8th (Metro: Franklin D. Roosevelt),
T: 01 40 76 34 44
www.spoon.tm.fr
Valet parking
From 45€ + wine at lunch 85€ + wine dinner
Angelo Sosa's menu served through June.
Hotel Amour,
8 rue de Navarin, 9th (Metro: Saint-Georges)
T: 01 48 78 31 80
Open 7/7
More sensational sandwiches at:
Cojean
16 rue Clement Marot, 8th (Metro: George V)
T: 01 47 20 44 10 
46 Avenue,
46 Avenue Marceau, 8th (Metro:Etoile)
T: 01 47 20 74 70
Naked,
40 rue du Colisée, 8th (Metro: Franklin D Roosevelt)
T: 01 43 59 03 24
Tramezzino
69 rue de Dunkerque 9th (Metro: Anvers)
Wanna Juice,
65 rue Saint André des Arts, 6th (Metro: Saint Michel)