Paul Bocuse was at The Plaza Athénee, Paris, recently as "godfather" to chef Fréderic Doucet. The young maverick took over the Plaza's pianos as part of Alain Ducasse's brilliant concept Fou de France.  Read, a chance for young talent to escape from their country kitchens. "They discover us and we discover them", said Ducasse, by telephone from Tokyo, busy setting up the first  Fou de France, Japan. Six young chefs will demonstrate their techniques, each month until December, at Hotel Grand Hyatt's, The French Kitchen, Roppongi.
"I still have so much to do", said a super-fit 80-year old Bocuse. At the Plaza the whisper was that Ducasse will take over from Bocuse, should he decide to retire. Don't give up your day job Monsieur Ducasse! Just ask Bocuse what he's on and have what he's having!
Doucet is a passionate chef from the Charolais region, home to the best beef in the world. "No, I'm not", he laughed when asked if he would visit The Salon d'Agriculture. "The laughing meadows where the cattle graze are my year long salon!" Certainly worth a visit, in the heart of the Burgundy countryside where the Doucet family's Hotel de la Poste has 15 rooms, 3 suites and, over the rickety bridge, the divine Villa Kiwis for the ultimate R&R.  Cookery classes are given by Doucet once a month, can be private and paired with wine appreciation. From about 65€ per class.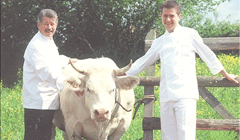 There was never a doubt that Doucet would become a chef, encouraged by Daniel his father/mentor. From Ecole Hotelier in Grenoble he trained at Pierre Orsi, Michel Troisgros and Paul Bocuse, "where I learned "le respect and inherited the enthusiasm of
Monsieur Paul", he smiles. "He's a good boy, very enthusiastic and passionate, it's not easy to find a balance between modern cuisine and the constraints of Charolais tradition", observed Bocuse, with a proud grin".  
Doucet arrived in Paris well escorted. Not only Paul Bocuse, but also Pierre Favre a fourth generation butcher "the best in the world", insists Doucet. (http://www.gesler.fr/) and winemaker Damien Colin of Marc Colin & Fils
(T: 03 80 21 94 44).
So what did Doucet do then?
He painted a picture of the region he loves. Using Charolais cheese he made perfect balls of honey-cake and home-made quince jelly.  A white Saint Aubin 1er Cru en Remilly" 2004 accompanied. Next, carpaccio of Charolais Beef, morsels of celery and Caviar d'Aquitaine  served with magnums of white Chassagne Montrachet  "Vide Bourse" 2001. Onward to fresh frogs legs, knuckle of beef, cubes of foie gras, this doused with a frothy beef soup fragrant with hints of wild wood mushrooms. The main was what we'd all been waiting for: Roast Charolais  Beef with marrow, sauce bordelaise (well they have to do something with all that wine!) truffle crushed potatoes. Magnums of Chassagne Montrachet  rouge Vielles vignes 2002 enhanced the beef's tantalising taste of mushrooms, hazelnuts, caramel. I don't know, I suppose it's what the cows munch that gives the beef such subtle flavours. Pudd was apple confit with praline, shortbread and raw-milk ice cream. Not bad for a Paris debut Fred!
Until 19th March taste Frederic's Onglet de boeuf Charolais  rôti, moelle, sauce bordelaise, pommes de  terre écrases à la truffe noir (38)€ at The Relais Plaza.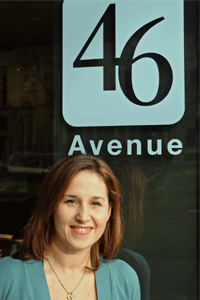 Meanwhile Vicky Ozyuruk, former banqueting chef at The Plaza Athénee (also The Hotel de Crillon) launched 46 Avenue: the first Club Sandwich Bar in Paris. From experience in the palaces of Paris, Vicky could not ignore how popular club sandwiches are, at hotel  bars, or ordered from room service, here and in New York.
Everything is made in Vicky's husband's kitchens, at the crack of dawn (Les Bouchons de Francois Clerc, 17th) Vicky admits she has a problem. "I create new combinations every day and can't take them off the menu, people keep asking for them!"  Not only signature club sandwiches, made with bread from Pain de Faubourg, but bagels flown in from NYC filled with smoked salmon, red onions and iceberg lettuce. "There's a plat du jour that changes daily, soups, wraps and delicious salads for calorie counters. Desserts include Vicky's Cheese-cake, brownies, tiramisu, panacotta and chocolate tarts. To take away or eat in the first-floor dining room (newspapers provided) with a glass of Sancerre  rouge from Neveu or a Macon-Louché  Louis Max. Take home designer olive oils, yogurts , juices and delicacies from Da Rosa.
The sandwich was born in London, during a white night in 1762, when John Montagu, Fourth Earl of Sandwich (1718-1792) too busy gambling to stop for dinner, ordered a waiter to bring roast-beef between two slices of bread so he could continue gambling while eating his snack. He had the meat put on slices of bread so he wouldn't get greasy fingers while  playing cards. Meanwhile, watch this space for news of further branches of "46 Avenue".
Restaurant Daniel et Frédéric Doucet,
Hotel de la Poste,
2 avenue de la Libération, Place de l'Eglise,
71120 Charolles,
www.chateauxhotels.com/hoteldelaposte
T: 03 85 24 11 32
Alain Ducasse at The Plaza Athenee,
And the Relais Plaza,
25 avenue Montaigne, 8th (Metro:Alma Marceau),
T: 01 53 67 66 65
Where Doucet's menu is served all month.
http://www.plaza-athenee-paris.com/  
Paul Bocuse,
40 rue de la Plage,
T: 04 72 42 90 90
.
"46 Avenue"
46 avenue Marceau, 8th (Metro: George V)
T: 01 47 20 74 70 – for telephone orders
Open Mon-Fri from 8h to 6.30pm