What to Do in a Modern Shipwreck (Part 1: From Paris to Corsica)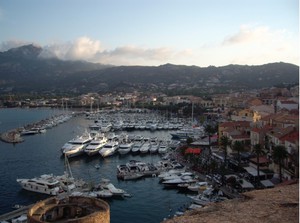 It can happen at any time. Technical failure or bad weather or unexpected rocks. The Titantic went down on its maiden voyage, as did the Mary Rose, named the "fairest flower of the sea." Like these unsuspecting vessels of good will and high spirits, I too, became shipwrecked—but in such a way that no dinghy nor driftwood could have saved me. I was shipwrecked by a man. I met him picnicking along the Seine a year ago. His debonair smile and knowledge of the finer things in life carried our conversation long into the night. I noticed, however, that as my enchantment with him grew, so did my horror at his alcohol and marijuana consumption. I enjoyed him, but felt wary of what was clearly substance abuse. The following day he rang me. We exchanged emails and became Facebook friends. He invited me to a number of events but each time I declined. I was too busy for this Parisian dilettante, though I would willingly indulge him if I ran into him again. Exactly 12 months later I did. The summer picnicking that draws thousands of youth to the Seine like moths to a flame meant that we found ourselves again sharing sandwiches of foie gras and sipping wine from glass tumblers. We caught up on all that had happened in the past year. He admitted he had cut out hard alcohol and was working on his marketing business. I confessed to having just completed a contract I did not like. He asked for my permission to place his arm around my waist. I agreed. Somehow, the night sky grew starrier and the steeple of Notre Dame seemed to punctuate our conversation, which was suddenly filled with new imperatives. "I know," he suddenly declared, "Come yachting with me in August!" "I'm sorry?" I asked, to be sure I heard correctly. "Ouiiiiiiii," he crooned. "You should be my mermaid." The details followed. His family would be renting a yacht to sail around Corsica for their family vacation and he hoped I would accompany him. As I hadn't yet experienced Corsica, island of savage coastlines and birthplace of Napoleon, my inner explorer agreed to the trip. Giddy to have rediscovered one another, we spent the rest of the night in a feverish embrace. The next month unfolded in romantic delirium. For although my merman was no longer in Paris (family weddings and other retreats called him to the south), I prepared for him with the care of a courtesan: waxing appointments and the hunt for the perfect lingerie, bathing suits, and ostrich feather (I recalled his favorite childhood pastime was constructing a Tinker Toy device to which he attached a feather and then ran his foot under it until he fell asleep) brought me all over Paris on a hunt for my best self, for it was this self that would board the TGV with a suitcase and champagne bottle and then disembark on a Corsican beach. A 44-foot Bavarian yacht awaited me, as did his loving family. I slipped into the routine of swimming and sunning with the same ease that I did the role of companion. When we were not outdoors, we were in bed: sex within our cabin of shining wood and salty sheets was passionate (though I noticed his reticence to take me in his arms after the act). Joints and alcohol were also a constant. About this, his benevolent family said nothing, to the extent that I found their silence curious. One day, after anchoring in a cove near Bonifacio, the southernmost point in Corsica and its capital, my merman announced his intention to go to town. He needed to use the Internet and as I was interested in touring the historic city, I suggested I go with him. A family friend, vacationing in a nearby villa, had errands to run before our restaurant dinner planned for that evening and offered to take us by car. After taking in the vieille ville and the sea vistas that define old Bonifacio, I returned to find my merman hunched over empty beer bottles in the cyber café. He explained that his work for a sex toy site was not going well and that he would have to toil throughout the evening. I stroked his forehead and asked if there was anything I could do. "No," he replied. I then learned he had allowed the family friend to leave town without us. It was already 7 p.m., and his unmeditated plan was to hike back along the circuitous, cactus-lined roads with no shoulders nor sidewalks. I said nothing, shocked that his judgment was so obviously impaired. As we progressed up the hill, the family friend's car suddenly came speeding down it. We were given a lift and I innocently remarked that I had spent a wonderful afternoon touring, though I very much looked forward to the restaurant dinner that night. Silence fell and my merman projected such an air of coldness that I felt it was no longer August. At the cove we disembarked and said à bientôt to the friend who headed back to the villa for cocktails. My merman explained that I would not be attending the dinner as I was his guest and if he was unable to go, then I shouldn't either. "But everyone's expecting us and we have to eat," I reasoned. "And I told Justine we would finish our conversation tonight!" He snapped, informing me that he refused to have his father pay for my dinner. The image I had of him as a handsome, robust man melted before my eyes and a baby kraken emerged instead, his tentacles lashing. "Don't speak to me again," he snarled. A moment later, the family dinghy drew up and we helped the party onto the sand. Immediately the other family members began remarking on my "disappearance," a misconception I had to remedy. "I was in touch the whole afternoon and loved touring," I said breathlessly. "I have my…
SUBSCRIBE
ALREADY SUBSCRIBED?
BECOME A BONJOUR PARIS MEMBER

Gain full access to our collection of over 5,000 articles and bring the City of Light into your life. Just 60 USD per year.

Find out why you should become a member here.

Sign in

Fill in your credentials below.
It can happen at any time. Technical failure or bad weather or unexpected rocks. The Titantic went down on its maiden voyage, as did the Mary Rose, named the "fairest flower of the sea." Like these unsuspecting vessels of good will and high spirits, I too, became shipwrecked—but in such a way that no dinghy nor driftwood could have saved me. I was shipwrecked by a man.
I met him picnicking along the Seine a year ago. His debonair smile and knowledge of the finer things in life carried our conversation long into the night. I noticed, however, that as my enchantment with him grew, so did my horror at his alcohol and marijuana consumption. I enjoyed him, but felt wary of what was clearly substance abuse.
The following day he rang me. We exchanged emails and became Facebook friends. He invited me to a number of events but each time I declined. I was too busy for this Parisian dilettante, though I would willingly indulge him if I ran into him again.
Exactly 12 months later I did. The summer picnicking that draws thousands of youth to the Seine like moths to a flame meant that we found ourselves again sharing sandwiches of foie gras and sipping wine from glass tumblers. We caught up on all that had happened in the past year.
He admitted he had cut out hard alcohol and was working on his marketing business. I confessed to having just completed a contract I did not like. He asked for my permission to place his arm around my waist. I agreed. Somehow, the night sky grew starrier and the steeple of Notre Dame seemed to punctuate our conversation, which was suddenly filled with new imperatives.
"I know," he suddenly declared, "Come yachting with me in August!"
"I'm sorry?" I asked, to be sure I heard correctly.
"Ouiiiiiiii," he crooned. "You should be my mermaid."
The details followed. His family would be renting a yacht to sail around Corsica for their family vacation and he hoped I would accompany him. As I hadn't yet experienced Corsica, island of savage coastlines and birthplace of Napoleon, my inner explorer agreed to the trip. Giddy to have rediscovered one another, we spent the rest of the night in a feverish embrace.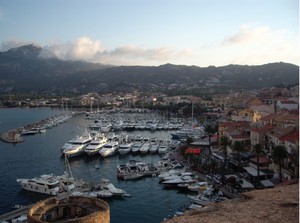 The next month unfolded in romantic delirium. For although my merman was no longer in Paris (family weddings and other retreats called him to the south), I prepared for him with the care of a courtesan: waxing appointments and the hunt for the perfect lingerie, bathing suits, and ostrich feather (I recalled his favorite childhood pastime was constructing a Tinker Toy device to which he attached a feather and then ran his foot under it until he fell asleep) brought me all over Paris on a hunt for my best self, for it was this self that would board the TGV with a suitcase and champagne bottle and then disembark on a Corsican beach.
A 44-foot Bavarian yacht awaited me, as did his loving family. I slipped into the routine of swimming and sunning with the same ease that I did the role of companion. When we were not outdoors, we were in bed: sex within our cabin of shining wood and salty sheets was passionate (though I noticed his reticence to take me in his arms after the act). Joints and alcohol were also a constant. About this, his benevolent family said nothing, to the extent that I found their silence curious.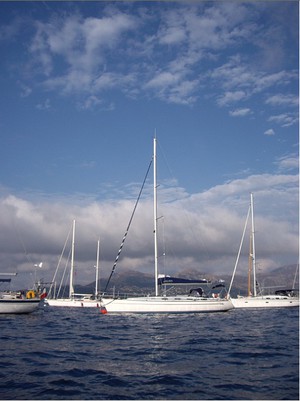 One day, after anchoring in a cove near Bonifacio, the southernmost point in Corsica and its capital, my merman announced his intention to go to town. He needed to use the Internet and as I was interested in touring the historic city, I suggested I go with him. A family friend, vacationing in a nearby villa, had errands to run before our restaurant dinner planned for that evening and offered to take us by car.
After taking in the vieille ville and the sea vistas that define old Bonifacio, I returned to find my merman hunched over empty beer bottles in the cyber café. He explained that his work for a sex toy site was not going well and that he would have to toil throughout the evening. I stroked his forehead and asked if there was anything I could do. "No," he replied.
I then learned he had allowed the family friend to leave town without us. It was already 7 p.m., and his unmeditated plan was to hike back along the circuitous, cactus-lined roads with no shoulders nor sidewalks.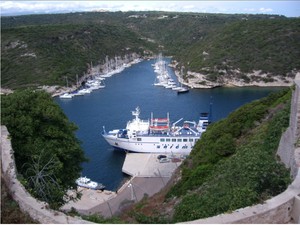 I said nothing, shocked that his judgment was so obviously impaired. As we progressed up the hill, the family friend's car suddenly came speeding down it. We were given a lift and I innocently remarked that I had spent a wonderful afternoon touring, though I very much looked forward to the restaurant dinner that night. Silence fell and my merman projected such an air of coldness that I felt it was no longer August.
At the cove we disembarked and said à bientôt to the friend who headed back to the villa for cocktails. My merman explained that I would not be attending the dinner as I was his guest and if he was unable to go, then I shouldn't either. "But everyone's expecting us and we have to eat," I reasoned. "And I told Justine we would finish our conversation tonight!"
He snapped, informing me that he refused to have his father pay for my dinner. The image I had of him as a handsome, robust man melted before my eyes and a baby kraken emerged instead, his tentacles lashing. "Don't speak to me again," he snarled.
A moment later, the family dinghy drew up and we helped the party onto the sand. Immediately the other family members began remarking on my "disappearance," a misconception I had to remedy. "I was in touch the whole afternoon and loved touring," I said breathlessly. "I have my credit card with me and would like to pay for my dinner if I might join you."
The kraken reared up to his full six feet and leaped into the dinghy, crying, "Ah yes, she's a nice one. But one you have to be careful of! She's a manipulatrice!"
As in a film, he drove the dinghy into the sunset, his screams matching those of the motor. The father's South American girlfriend took me in her arms, though it was not so much compassion that I needed but the chance to book my merman for a psychologist's visit. He was unbalanced, and his family was either conscious of this fact and enabling all his dangerous habits, or else in complete denial. . .
Stay tuned for Part 2.
Don't leave home without  MedjetAssist.  Medjet members decide which hospital will be their final destination..  MedjetAssist provides the utmost peace of mind for your travels.
More in Bonjour Paris, cultural differences, France, France courtship, France travel, French sex, French vacations, Holidays in France, sex in France
---
---