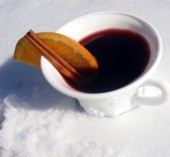 Paris sous la neige! Although I am not a huge fan of snow, I must admit that the pictures of Paris iced with snow fired my imagination. In my mind I am sitting next to a tall window on the 6th floor of a Haussmannian building, sipping from a mug of vin chaud and marvelling at the sites of Paris covered in sparkling white crystals. Please join me! et voilà:
Vin Chaud ~ Mulled Wine
Serves 8
INGREDIENTS:
1 bottle Beaujolais Nouveau or Villages
1 vanilla bean, halved lengthwise
1 small lemon, thinly sliced
1 small orange, thinly sliced
Wrap the following spices into a piece of cheesecloth and tie with a string:
2 cinnamon sticks (about 3 inches long)
5 cardamom pods
3 black peppercorns
4 whole cloves
For the sugar syrup:
1-1/4 cups sugar
1-1/2 cups water
PREPARATION:
1. Bring the sugar and water to a boil, stirring until the sugar dissolves.
2. Add the spice bag, wine, vanilla, lemon and orange slices and simmer, stirring occasionally for about 3 minutes.
TO SERVE:
Ladle into mugs and garnish with a lemon or orange slice along with a cinnamon stick. Serve immediately.
Et voilà!
Debra Fioritto contributes delicious French recipes to Wednesday issues of BonjourParis. Click on her name to read more about her Tour de Forks culinary tours or to collect the many recipes she has shared here.
Subscribe for free and never miss a story. Weekly newsletter has bonus content for subscribers only plus search our library with 7,200+ France travel and Paris events/activities stories.