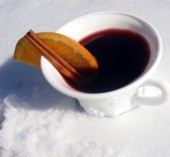 Paris sous la neige! Although I am not a huge fan of snow, I must admit that the pictures of Paris iced with snow fired my imagination. In my mind I am sitting next to a tall window on the 6th floor of a Haussmannian building, sipping from a mug of vin chaud and marvelling at the sites of Paris covered in sparkling white crystals. Please join me! et voilà:
Vin Chaud ~ Mulled Wine
Serves 8
INGREDIENTS:
1 bottle Beaujolais Nouveau or Villages
1 vanilla bean, halved lengthwise
1 small lemon, thinly sliced
1 small orange, thinly sliced
Wrap the following spices into a piece of cheesecloth and tie with a string:
2 cinnamon sticks (about 3 inches long)
5 cardamom pods
3 black peppercorns
4 whole cloves
For the sugar syrup:
1-1/4 cups sugar
1-1/2 cups water
PREPARATION:
1. Bring the sugar and water to a boil, stirring until the sugar dissolves.
2. Add the spice bag, wine, vanilla, lemon and orange slices and simmer, stirring occasionally for about 3 minutes.
TO SERVE:
Ladle into mugs and garnish with a lemon or orange slice along with a cinnamon stick. Serve immediately.
Et voilà!
Debra Fioritto contributes delicious French recipes to Wednesday issues of BonjourParis. Click on her name to read more about her Tour de Forks culinary tours or to collect the many recipes she has shared here.
Subscribe for free and never miss a story. Weekly newsletter has bonus content for subscribers only plus search our library with 7,200+ France travel and Paris events/activities stories.

Thank you for using our direct link to Amazon.com every time you shop the world's largest online retailer.
Featured selections:
Simply Truffles: Recipes and Stories That Capture the Essence of the Black Diamond by Patricia Wells. November 8, 2011. Secrets behind the legendary truffle. A charming cookbook with lush color photographs and 60 delectable recipes….
Williams-Sonoma Entertaining: Inspired menus for Cooking with Family and Friends. Packed with clever ideas, menus, delicious recipes, &gorgeous color photography, Williams-Sonoma Entertaining is the ultimate guide to a successful party. The secrets of easy entertaining are demystified with helpful sections such as planning menus, buying quality ingredients, coaxing the best flavors out of food, and stocking a bar. Organized by season, each themed menu features accessible recipes driven by fresh ingredients; an easy-to-follow work plan; and detailed how-to photos depicting styling ideas.
Ritz Paris: Haute Cuisine . October 2011 release. This celebration of the grand culinary tradition at the Ritz Paris features inspirational stories of three great men and is completed with sixty recipes.   At the age of thirteen, the young sommelier Cesar Ritz was summarily dismissed by his employer who told him he lacked the flair and talent to succeed in the hospitality business. Of course, Ritz went on to become one of history's greatest hoteliers, creating the Ritz in Paris and its world-renowned restaurant L'Espadon with the help of renowned chef Auguste Escoffier….
Essential Pepin: More Than 700 All-Time Favorites from My Life in Food & bonus DVD w/ demonstrations by Jacques Pépin October 2011. For the first time ever, legendary chef Jacques Pépin collects & updates the best recipes from his six-decade career. With a searchable DVD demonstrating every technique a cook will ever need. In his more than sixty years as a chef, Jacques Pépin has earned a reputation as a champion of simplicity. His recipes are classics. They find the shortest, surest route to flavor, avoiding complicated techniques….
Want more? View our recommended France-themed books & items. Most recent listings at last pages.

Direct airport transfer service
PARIS SHUTTLE is a leading Paris airport transfer service. Book your airport transfers in advance online for direct to-your-door service and check the current discount available to BonjourParis readers who book using our link.