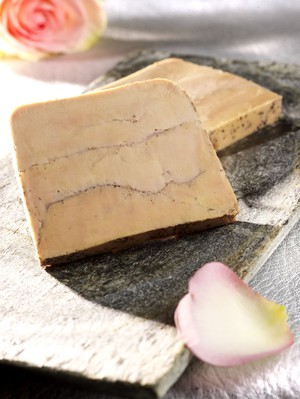 Patrick Cirotte at Festins is making foie gras with spices and rose petals, the colour's a delicate pink and it costs 10€75 for 70 grammes. Pass by the Paris boutiques for a taste and you'll be hooked—they'll even give you the recipe, but why bother? Order everything you want delivered, and, "of course I made it".
Dominique Bouchet has house champagne (from 24€). Pop in to 9 rue Treilhard 8th for a tasting of cooked dishes that can be ordered to take away, including the signature "Gigot de sept heures à la cuillère", 22€ a portion.
Order by phone: 01 42 30 74 65
La Maison Blanche, located on the 7th floor above the art-deco Théâtre des Champs Elysées, is headed by Michelin star twins Jacques and Laurent Pourcel. The glass and steel two-level rooftop restaurant has minimal décor and stunning views of the Seine. There's a heated terrace to sip a flute of champagne and admire the Eiffel Tower twinkling at night. In the kitchens, chef Sylvain Ruffenach (ex-Daniel Boulud) is influenced by his native Alsace and the Languedoc region of the Pourcels. Under the direction of Bruno Franck, Christmas Eve festivities begin with tapas-style snacks, then 5 market-fresh courses follow including a bright starter of crab and fennel with oyster emulsion and caviar Osciètre Royale. For New Year's Eve there's a sparkling 8-course menu celebrating not only the New Year but also 20 years of La Maison Blanche, the theme "I Love the 90s". To match the occasion, sommelier David Desplanches suggests red Château Pichon-Longueville (249€) or Chassagne Montrachet 1er Crus Clos Saint Jean (134€).
La Maison Blanche,
15 Avenue Montaigne, 8th
T: 33 1 47 23 55 99
Christmas Eve – Dinner 135€ + wine
New Year's Eve – 250€+ wine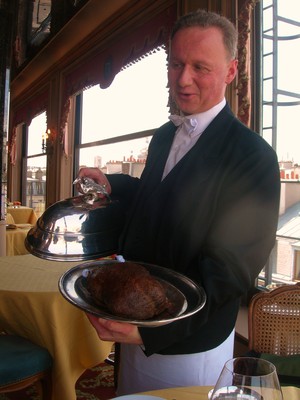 At La Tour d'Argent, talented young chef Laurent Delarbre is creating his first Christmas season's holiday menus. Opened in 1582, the achingly chic restaurant is located high above the Seine and has been owned by the Terrail family for 100 years. The ground floor is a gastronomic museum and the 6th-floor restaurant is reached by a velvet-lined lift which has also been used by HM The Queen and Bill Clinton. Ask for a window table, then put yourself in the hands of the attentive staff and English-born head Sommelier David Ridgway who has perfect wines to match the 10-course menu. Begin with Médaillon of spiny lobster "Don Carlo". To follow: fresh truffles, duck breast and foie gras in puff pastry; consommé "Isabelle"; pan-sautéed scallops with truffles; warm oysters; chicken with white Alba truffles; soufflé potatoes; warm foie gras "Trois Empereurs"; Mont d'Or Cheese; duo of chocolate and hazelnut with truffles. I'm not paying their prices! OK. But don't forget the boutique opposite: posh gifts from 10€.
15-17 Quai de la Tournelle, 5th
T: +33 1 43 54 23 31
New Year's Eve Dinner 420€ + wine
Get a room! New Year's Eve at Murano Resort? A bottle of Dom Perignon in the room when you arrive. Moët & Chandon Vintage 2000 at dinner. January 1st Divinatory Brunch and late checkout from 450€ per person
Or just book Murano's New Year's Eve Dinner, music, dancing the night away. Lobster snowballs, smoked foie gras and chocolate lollipops, blinis. Oysters. Scallops, caviar. Venison or beef fillet and seared foie gras with truffles, potato terrine. Cheese. Clementine dessert. Coffee and mignardises: 230€ per person.
Or at Sofitel Faubourg, a beautiful address right in the heart of Hermès-land. Christmas Dinner at Café Faubourg will be a très chic affair. Check out the powerful sculptures by Philippe Berry, then tuck into Thierry Vaissière's terrine of duck foie gras; scallops, Jerusalem artichoke emulsion with tangerines and Szechuan reduction; filet of Aubrac beef, mashed parsnips, cranberries and truffles; and chestnut dessert with petit fours. Le tout 120€ + wine.
15 rue Boissy d'Anglas, 8th
T: 01 44 94 14 03
Delphine and Luc Menier at Vin Chai Moi are open 31 December for New Year's Eve. "This year we've decided to stay with an à la carte menu", they say. So for an average spend of 45€+ you've got excellent food and the run of the Menier cellars: this makes sense. Chef Benoit Garanger has 6 starters, including La Langoustine, fine ravioli, crème de langoustine. 6 mains, including: La Pintade (guinea fowl) with chestnuts. Fromage AOC and desserts include Soufflé Whisky, Glace Bailey's.
18 rue Duphot, 1st
T: 01 40 15 06 69
Talented young chef Franҫois Chambonnet (ex-Michel Rostang) is showcasing his signature dishes for Tico's 5-course 155€ New Year's Eve menu which includes as much Champagne Pommery as you can sink.
Tico,
38 rue Jean Mermoz, 8th
T: 01 47 42 64 10
The achingly elegant 1 Place Vendôme restaurant is offering a good deal and an interesting menu for dinner 24th December or Christmas day lunch. 100€ for Amuse-Bouche with a glass of Deutz brut champagne. A choice of 2 starters, then Pavé de bar cuit sur la peau, artichauts en barigoule des truffes. The main is Bresse chicken, mousseline of chestnuts with truffles. Sorbet and dessert La Boule de Noël, chocolate blanc litchi framboise and petits fours.
1 Place Vendôme, 1st
T: 01 55 04 55 60
Lobster (en cocotte aux cocos de Paimpol et confit de petits légumes), foie gras (poêle, tatin d'échalotes et chasselas grapes), truffles (Oie (goose) roasted with truffles, morilles et châtaignes) feature on Louis José Bangard's festive Christmas menus. This looks like a delicious Christmas Eve, 95€ for six courses, in the contemporary, chic and glam (décor by architect Christian de Portzamparc) Makassar restaurant, overlooking the lovely garden. Brunch on 25th and 26th December 59€ with a flute of champagne thrown in.
Le Makassar,
Hotel Renaissance Paris Arc de Triomphe,
39 avenue Wagram, 17th
T: 01 55 37 55 37
Or how about "River Yacht"
Cruise down the Seine on a super-yacht for Christmas Day Lunch (180€) or Dinner (300€)
Diary Date:
The 6th annual RDV to taste and buy delicious Galettes des Rois made by top chefs and pâtissiers – sold to profit children's charities, so get along there early:
When: Saturday 8th January, 2011
Where: Place St. Germain des Prés, 6th
Vintage 2011 meet Pierre Hermé, Yannick Alleno (Le Meurice), Lionel Lallemand (St. Clair Catering), William Ledeuil (Ze Kitchen Gallery), Jean-Jacques Massé (La Grande Epicerie), Michel Rostang (Restaurant Michel Rostand) Michael Roth (Hôtel Ritz), Thierry Burlot (The Zebra Square), Jean-Pierre Cassagne (La Closerie des Lilas), Didier Coly (Hôtel Costes), House James Berthier, Marc Rivière, Philippe Vallat (Potel & Chabot) …
Happy Holidays!
See more of Paris! Here are some of Bonjour Paris's favorite tours:
Medieval Churches of Paris: Discover some of Paris's most beautiful and lesser-known churches in the company of a medievalist, a perfect theme for the holiday season.
Louvre French Masters: Escape the cold and the crowds in the Italian wing of the Louvre by learning about the evolution of French art from the late Gothic period to the monumental 19th century paintings of David and Delacroix, accompanied by an art historian.