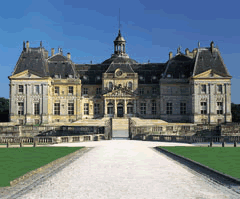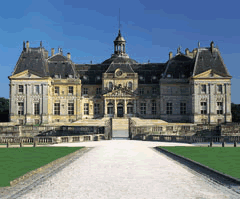 Vaux le Vicomte is a lavish 17th century château located roughly an hour southeast of Paris. It is a breathtaking place, one well worth visiting whether you are in Paris for a few days or have lived there for years. It generated buzz in the foreign press when it hosted the wedding of French basketball player Tony Parker and actress Eva Longoria. (For those of you currently looking for a site for a wedding, may your wallets run deep: renting the site for a single day costs upward of $40,000.) Additionally, it served as the site of director Sofia Coppola's 2006 film Marie Antoinette. I had visited the château years ago as part of a high school group, and as I was now living in Paris I decided to go back. My girlfriend and I chose the night of August 17th, when the château holds an annual celebration to commemorate the first–and final–fête thrown by the man who commissioned the château's construction, Nicolas Fouquet.
Fouquet was the Minister of Finance under Sun King Louis XIV and a renowned patron of the arts, moving in a circle that included Moliere, La Fontaine and Madame de Sévigné. His story is a sad one. He rose quickly through Louis' administration, and along the way garnered the enmity of a number of jealous underlings. One of these, Jean-Baptiste Colbert (the future finance minister), embarked on a year-long quest to slander Fouquet and convince the king that Fouquet was guilty of embezzlement and treason (charges of which Fouquet, according to the Vaux le Vicomte website, was innocent). Whether or not Colbert alone is to be blamed, by the time that August 17th, 1661 came around, Louis XIV had made up his mind to arrest Fouquet. Nevertheless, he decided to attend what became a historic fête that Fouquet was throwing that night in celebration of the completion of Vaux le Vicomte. What Fouquet had intended as an expression of loyalty and patriotism, Louis took as an admission of guilt, and had him arrested two weeks later. Voltaire said of the matter: "On 17 August, at six in the evening Fouquet was the King of France: at two in the morning he was nobody." Twenty-one years later, Fouquet died in jail.
Well, it was again August 17th, albeit nearly 350 years later, and we were going to Vaux le Vicomte to celebrate Monsieur Fouquet and his beautiful home. Much like the original fete, we were promised a Moliere play, a champagne bar and fireworks. For an additional €60, we could even attend a "period feast"–provided that we were also wearing traditional 17th century garb.
Our trip started in Paris, haphazardly, with my girlfriend getting her coat stuck in the RER's doors as they closed behind her (we were late, leaping on to the train). "Melun", we'd barked indelicately as we were scrambling aboard, "This goes to Melun?" The passengers discretely nodded. We loosened her coat from the door, breathed in deeply and took our seats.
The train to Melun (the station closest to the château) took roughly 45 minutes. It should be said here, when Vaux le Vicomte is throwing a special event–which they appear to do fairly often–certain companies such as Paris Vision offer packages in which a bus will take you directly to Vaux le Vicomte from the center of Paris, and then from Vaux le Vicomte back to Paris once the night's festivities close. Included in this package are entrance tickets and a meal. There are a number of problems with this package. The first is the expense: most start at around 150 euros per person, which is about three times what one spends if one uses public transportation, or drives. Also, you can only leave when their bus leaves, and what if you are one who enjoys setting your own agenda? And if you'd rather bring your own food than eat at their restaurant? (Bringing your own food, by the way, is an excellent idea; instead of eating at the overpriced restaurant, bring a baguette and some cheese, and dine in the château's garden or by its lake.)
Of course, public transportation has its own problems, and we encountered every single one of them. For a reason unknown to man, the company that runs Vaux le Vicomte offers no means of transportation from the station in Melun to the château itself. No transportation, that is, save for a small "château bus" which only runs on Saturday night, and then only at very odd hours. (The last bus leaves from the château at 22:20, but the candlelight festivals, by then, are only half over.)
When we arrived at the Melun train station, a number of lost souls–an equal mix of tourists and French nationals–wandered about vacantly, attempting to find means of transport. One can walk the 6 miles to the château, but don't expect a nice stroll through French countryside. Melun itself is a charming–if bizarrely constructed–city, laid out identically to the center of Paris, with its own "Seine", its own "Île de la Cité", and even its own "Notre Dame". The five-mile stretch after the town ends is identical to, if not actually worse than, any five-mile stretch down any highway in America.
One's best bet it to figure out the city's bus system and walk the difference, or more practically, to fork up the €10 needed for a cab ride. We did a bit of both. At the station, my girlfriend made the mistake of asking a willowy middle-aged man for directions. Pierre–who sported a Marilyn Monroe tee shirt and camouflage pants with pictures of Marilyn Monroe plastered all over them–did lead us to a bus, but he also insisted on boarding it with us, even though he himself needed to go in the opposite direction. We were able to shake him only when we met a pair of British expats on the bus, with whom we ended up splitting a cab to the château. Tragically, we passed along the way a number of tourists who had attempted the six-mile hike, fanny-packs coming loose as they gasped for air.
After the ordeal of travel, the sight of the château is a wonderful relief. The place is stunning; there's no other word for it. The place is so stunning, in fact, that one wonders if it was not the King's own jealously that sent Fouquet to jail.
Fouquet is notable for assembling the team that would later construct Louis XIV's Versailles: the architect Louis Le Vau, the landscape architect André le Nôtre, and the painter/decorator Charles Le Brun. With Vaux le Vicomte, these men sought to create a residency that was also a work of art, in which the château, the gardens and the interior would all exist in harmony with one another. This new concept would become a mainstay of the era's architecture.
While the château is certainly gorgeous, you will probably spend the majority of your time exploring the one-hundred-acre garden that surrounds it. The garden is divided up into a series of wide terraces that incorporate grottos, fountains and great lawns with elaborate motifs from Turkish carpets. Rather ingeniously, le Nôtre designed the garden so that one might observe and appreciate the whole of it from any point within it. And with his extensive knowledge of the laws of perspective, he made the garden look significantly smaller than it actually is. For example, I often found myself walking uphill to a statue I thought no more than 100 meters away; and when I reached the top of the hill, I found that I was separated from it by more than 600 meters.
Champagne, thousands of candles and folks milling about in period costume: this, it must be said, is a wonderful place to bring a date. We were treated to a Moliere play, Le Précieuses Ridicules, (which taught me, rather charmingly, that bad acting is identical in every language), and capped off the night with fireworks. It was a thoroughly stunning evening. Cheers Monsieur Fouquet.
All in all, it is a thoroughly hypnotizing experience. You will leave calm and happy and perhaps a bit drunk, smiling and whistling, and you will remain that way until you very gradually realize that you now must get yourself home.
The last train back to Paris leaves Melun at around 23:30 and train service does not begin anew until early the next morning. There is bus service to Paris, but this doesn't start until nearly 2 in the morning, and the journey itself involves two buses and spans three hours. So, unwilling to pass the night on a bus, we decided to go to cheapest hotel in the neighborhood, Hotel Akena.
One cab company has a monopoly over the Melun area, and this includes Vaux le Vicomte. From what I can tell, they also employ about 10 drivers, so, as we say in America, the pickings are slim. (One can request a cab from a nearby town, but the fare is significantly higher.) Here is my advice about the cabs: do not be afraid of being impolite. We ordered three cabs, only to have each one taken by yet another particularly pushy guest. So play the game. Grab any cab you see. "Yes, of course we ordered one, in fact we ordered this very one, Monsieur."
It took us the better part of an hour, but we finally got a cab to take us to our hotel. For those who have never had the pleasure of passing a night in a Hotel Akena, here's how it works: everything is done with vending machines. One checks in with a machine, gets a paper with one's keycode, and goes into one's room, which one has for 24 hours. The room is small, the bed unmade and the bathroom, in an ingenious feat of plumbing, equipped with only 1 set of knobs for the water, which operate both the sink and shower. This means that one cannot turn on the sink without also turning on the shower. And, of course, the bathroom is just small enough so that, whenever you wash your hands in the sink, the open shower also washes the back of your pants.
We survived the night. The next morning, we walked the half-mile to the nearest bus stop, and finally arrived at Melun. The train ride back, compared with the rest of it, was quiet and relaxing.
So, if you haven't already–and even if you already have–visit Vaux le Vicomte. While most candlelight evenings do not include the fireworks, there are always plays or similar performances going on there. The candlelight evenings run from May through October, so if you go during that period I would urge you to attend these instead of the day trips, as with these you get to see the château both in light, for the hour of light that is left, and in the dark. Don't be scared off by the utter dearth of transportation, just plan your trip wisely. It will absolutely be worth it.
This collapsable basket would be perfect for your picnic in the Vaux le Vicomte gardens.
Context is a critically acclaimed network of scholars and experts who organize small group and private walking seminars in Paris on art, history, architecture and gastronomy. All of our walks are capped at 6 people, providing an intimate and in-depth learning experience. Context is offering a special to Bonjour Paris readers on a selection of our walks. Please note BonjourParis when booking.
Leave a reply
Your email address will not be published. Required fields are marked *