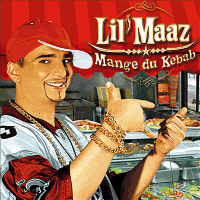 Fancy a nice greasy kebab? If you hurry to the rue Joseph Maistre (18th) you may be in time to order it from summer sensation Lil'Maaz, from Turkey. Someone from EMI heard him rapping to his customers, signed him up and now "Eat Kebab" (Mange du Kebab) is climbing up the French charts, the website www.mangedukebab.com getting trillions of hits daily, an English version will be out soon. Don't forget EMI is the Beatles label – when last interviewed Lil'Maaz was not sure if he's staying on. "But I do love kebabs", he declares. No accounting for taste dear.
Talk of the town for "La Rentree", apart from Yasmin Reza's book on Sarkozy, is Christian Constant and his Cocottes. The new space, a hip French version of an American diner, is already buzzing from dawn to dusk. There's a super-chic crowd of locals loving Constant's brand new concept, which could well become a brand. Sarko was there recently, with ten close personals, but didn't drink wine. Pity, he could have had a nice glass of Anjou rouge, Clos de la Paonnerie 2005 for a mere 2€.
No booking, just good fresh food all day when you want it. An army of chefs in the kitchen produce eclectic, simple dishes, sensational soup of petits pois with chorizo, quenelles de Mamia. Mouthwatering Cocottes include, say,   cabillaud croustillante, ragout de pommes de terres, carottes et pied de porc,
jus acidulé and don't leave without tasting, La fabuleuse tarte au chocolat de CC.  But it's Staub starring in it's own show that's causing the sensation.
You know Staub, they're the cast iron enamel oven-to-table casseroles famous for retaining heat and flavour. Apparently it's something to do with their smooth enamel bottoms, "the more you use them, the better they get", smiled Francis Staub, who'd popped into Les Cocottes to test the product one day last week.
Staub comes from a culinary background, grandfather had a cookery store in Alsace and, in 1974, Francis bought a cast iron factory, in brief, Staub cookware was born. During the manufacturing, a sand mould is made for each cast iron piece and then it's destroyed, so each piece is unique. It can take up to a full working day to make one piece. That's kitchen art n'est pas?
Staub is used by all your favourite chefs. "Who's the most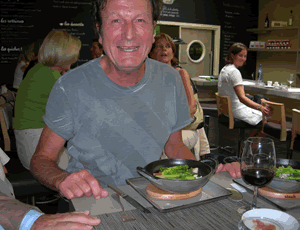 modern and creative chef in the world?" asks Staub, tucking into a starter verrine of tuna, caviar d'aubergines and gelée de tomates, then delicate cocotte de legumes frais. Before there's time to answer, he says, "Paul Bocuse! Monsieur Paul knows how to combine tradition and modern, he's the best as far as I'm concerned". And who's going to argue? Bocuse is a legend in his lifetime, who uses Staub, as does Thomas Keller, Jean-Georges, Robuchon, Guy Savoy.
"Staub cookware's design is so technically advanced that it actually helps enhance the flavours", says Cocotte's chef, the very talented Philippe Cadeau, another disciple of Generation Constant.
So hurry along to Cocottes, sip an espresso,

Pastis, munch a sandwich, buy Christine Ferber jams, Staub casseroles and other provisions. Order salads, soups, verrines, cocottes, quiches, desserts to take home, "off course I made them", you'll say.  There's a breakfast formula, tapas in the evening, brunch on weekends. It's a whole new world chez Cocottes, and you're going to love it. Every 'hood needs a Cocotte.
137 rue Saint Dominique, 7th
(Metro: Ecole Militaire)
Open 7/7
No phone but call Le Violon d'Ingres on 01 45 55 48 42