U.S. & French Prexys to Meet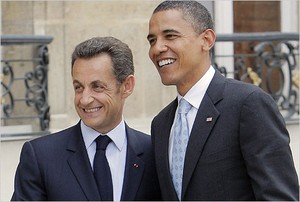 If they had their say, probably neither U.S. President Barack Obama nor French President Nicolas Sarkozy would have chosen to meet in Washington at this particular time. They have had—and still have—a lot of other things on their minds. In the weeks prior to their scheduled March 30 encounter both leaders have been up to their necks in domestic political warfare and faced with declining public confidence in their leadership. Obama pulled out a hard-fought win in late March for a historic but embattled revision of U.S. health care legislation. That certainly rates as a personal presidential victory even though, to get it, he had to water down many of the key legislative provisions he originally had hoped for. It still leaves him, however, with a bitterly divided political landscape of die-hard Republican opponents, who claim they'll abrogate the health bill if they return to power, as well as a significant portion of the American public that, regardless of political affiliation, maintains one objection or another to the reform as it stands. On the French side, although Sarkozy still has roughly two more years to go on his five-year mandate, his right wing political movement took a particularly hard-to-swallow smacking across the board in the French regional elections on March 21. That has left him preoccupied with reviewing both his governing program, his frenetic operating style and the composition of his governing team in order to send the message not only to his political opponents but also to growing numbers of disillusioned members of his own political following that he has heard and will respond to their concerns. The elections were for local, not national, institutions and the results don't alter the French right wing's significant majority in parliament; however, his left-wing political opponents, not without considerable justification, immediately jumped in to portray the results as nationwide dissatisfaction with Sarkozy's leadership. The charges against him essentially boil down to a sense that, despite his campaign promises to improve the lives of French men and women, things have gotten worse since he took office. The fact that he assumed the presidency just prior to the global economic downturn that has hit every country and its citizens hard hasn't offset the deception. On the American side, President Obama has been faced with the same kind of disillusion among his supporters because of the gap between the hopes he had raised during his election campaign and his accomplishments in office. He also continues to face determined Republican opposition to almost anything he proposes, as does Sarkozy in France with the Socialist party and its left-wing allies. Although neither president needs another problem to deal with at this particular time, the increasingly sensitive state of Franco-American relations remains on the table for the Obama and Sarkozy encounter. On the bi-national front, both Presidents began their mandates clearly desirous to ease those relations which had soured badly during the presidencies of Jacques Chirac in Paris and George W. Bush in Washington. The desire certainly remains. When the Sarkozy visit was announced, the White house issued a statement reassuring that President Obama "looks forward to consulting with President Sarkozy on a broad range of issues of mutual concern including Afghanistan and Pakistan, Iran, Middle East peace efforts, European security cooperation and global economic recovery." "France is an invaluable partner and ally of the United States in our shared efforts to promote peace, security and prosperity around the world," it continued. On many of those fronts the partnership efforts have been working. On others, however, they have recently run into difficulty. With every nation highly concerned these days about protecting its trouble-ridden economy, Franco-American relations took a significant downturn this month when the European Aeronautic Defense and Space company (EADS), in which France is a major partner, announced it was abandoning its bid for a lucrative airborne tanker contract for the U.S. air force. That left the U.S. plane-maker Boeing as the only bidder left in the race. The problem is that the contract originally had been awarded to a consortium linking EADS and the U.S. firms of Northrup and Grumman. Then, under political pressure, finalization of the award was held up and the contact requirements were revised so that its terms could be better met by Boeing. The reversal of the award quickly brought irritated charges of U.S. protectionism from the French, starting with Sarkozy himself. The controversy eventually led to some efforts to deal with the problem. The U.S. government extended its final deadline for offers on the tanker contract and EADS indicated a willingness to submit a new, revised bid. Whether that eventually will alter the decision in Boeing's favor remains highly in doubt, however. On another front, Sarkozy recently has been increasingly and publicly critical of what he deems to be deliberate American efforts to keep the dollar's exchange rate low in relation to the Euro. That policy, Sarkozy insists, automatically makes France's Euro-linked exports more expensive and less attractive on international markets. On the U.S. side, however, there has been little sign that America will change its monetary policy because a low exchange rate for the dollar is exactly what helps American exports. Be that as it may, diplomatic form and appearances are being kept intact. Not only are the two presidents going ahead with their White House meeting but, in addition, Obama and his wife Michelle are scheduled to host a rarely offered private dinner at the presidential mansion for the French President and his glamorous first lady, Carla Bruni. The previous day Sarkozy will meet with U.S. business leaders and the press in New York and he and Obama will have a joint press conference at the White House after their working meeting in Washington. Although he has been to the United States several times for international meetings, this will be Sarkozy's first official bilateral visit to the United States since he assumed the French presidential office in 2007. President Obama has been twice to France since his election, once for a North Atlantic Treaty Organization (NATO) meeting and once last June for the 65th anniversary of the D-Day…
SUBSCRIBE
ALREADY SUBSCRIBED?
BECOME A BONJOUR PARIS MEMBER

Gain full access to our collection of over 5,000 articles and bring the City of Light into your life. Just 60 USD per year.

Find out why you should become a member here.

Sign in

Fill in your credentials below.
If they had their say, probably neither U.S. President Barack Obama nor French President Nicolas Sarkozy would have chosen to meet in Washington at this particular time.
They have had—and still have—a lot of other things on their minds.
In the weeks prior to their scheduled March 30 encounter both leaders have been up to their necks in domestic political warfare and faced with declining public confidence in their leadership.
Obama pulled out a hard-fought win in late March for a historic but embattled revision of U.S. health care legislation. That certainly rates as a personal presidential victory even though, to get it, he had to water down many of the key legislative provisions he originally had hoped for.
It still leaves him, however, with a bitterly divided political landscape of die-hard Republican opponents, who claim they'll abrogate the health bill if they return to power, as well as a significant portion of the American public that, regardless of political affiliation, maintains one objection or another to the reform as it stands.
On the French side, although Sarkozy still has roughly two more years to go on his five-year mandate, his right wing political movement took a particularly hard-to-swallow smacking across the board in the French regional elections on March 21. That has left him preoccupied with reviewing both his governing program, his frenetic operating style and the composition of his governing team in order to send the message not only to his political opponents but also to growing numbers of disillusioned members of his own political following that he has heard and will respond to their concerns.
The elections were for local, not national, institutions and the results don't alter the French right wing's significant majority in parliament; however, his left-wing political opponents, not without considerable justification, immediately jumped in to portray the results as nationwide dissatisfaction with Sarkozy's leadership.
The charges against him essentially boil down to a sense that, despite his campaign promises to improve the lives of French men and women, things have gotten worse since he took office.
The fact that he assumed the presidency just prior to the global economic downturn that has hit every country and its citizens hard hasn't offset the deception.
On the American side, President Obama has been faced with the same kind of disillusion among his supporters because of the gap between the hopes he had raised during his election campaign and his accomplishments in office.
He also continues to face determined Republican opposition to almost anything he proposes, as does Sarkozy in France with the Socialist party and its left-wing allies.
Although neither president needs another problem to deal with at this particular time, the increasingly sensitive state of Franco-American relations remains on the table for the Obama and Sarkozy encounter.
On the bi-national front, both Presidents began their mandates clearly desirous to ease those relations which had soured badly during the presidencies of Jacques Chirac in Paris and George W. Bush in Washington.
The desire certainly remains. When the Sarkozy visit was announced, the White house issued a statement reassuring that President Obama "looks forward to consulting with President Sarkozy on a broad range of issues of mutual concern including Afghanistan and Pakistan, Iran, Middle East peace efforts, European security cooperation and global economic recovery."
"France is an invaluable partner and ally of the United States in our shared efforts to promote peace, security and prosperity around the world," it continued.
On many of those fronts the partnership efforts have been working. On others, however, they have recently run into difficulty.
With every nation highly concerned these days about protecting its trouble-ridden economy, Franco-American relations took a significant downturn this month when the European Aeronautic Defense and Space company (EADS), in which France is a major partner, announced it was abandoning its bid for a lucrative airborne tanker contract for the U.S. air force. That left the U.S. plane-maker Boeing as the only bidder left in the race.
The problem is that the contract originally had been awarded to a consortium linking EADS and the U.S. firms of Northrup and Grumman.
Then, under political pressure, finalization of the award was held up and the contact requirements were revised so that its terms could be better met by Boeing. The reversal of the award quickly brought irritated charges of U.S. protectionism from the French, starting with Sarkozy himself.
The controversy eventually led to some efforts to deal with the problem. The U.S. government extended its final deadline for offers on the tanker contract and EADS indicated a willingness to submit a new, revised bid. Whether that eventually will alter the decision in Boeing's favor remains highly in doubt, however.
On another front, Sarkozy recently has been increasingly and publicly critical of what he deems to be deliberate American efforts to keep the dollar's exchange rate low in relation to the Euro. That policy, Sarkozy insists, automatically makes France's Euro-linked exports more expensive and less attractive on international markets.
On the U.S. side, however, there has been little sign that America will change its monetary policy because a low exchange rate for the dollar is exactly what helps American exports.
Be that as it may, diplomatic form and appearances are being kept intact.
Not only are the two presidents going ahead with their White House meeting but, in addition, Obama and his wife Michelle are scheduled to host a rarely offered private dinner at the presidential mansion for the French President and his glamorous first lady, Carla Bruni.
The previous day Sarkozy will meet with U.S. business leaders and the press in New York and he and Obama will have a joint press conference at the White House after their working meeting in Washington.
Although he has been to the United States several times for international meetings, this will be Sarkozy's first official bilateral visit to the United States since he assumed the French presidential office in 2007.
President Obama has been twice to France since his election, once for a North Atlantic Treaty Organization (NATO) meeting and once last June for the 65th anniversary of the D-Day landings in Normandy on June 6, 1944. He has not yet come on an official bilateral visit.
If you're coming to France (or for that matter anywhere) you can reserve your hotel here. To rent a car, Bonjour Paris recommends Auto Europe.
Please post your comments or questions and let them flow. Register HERE to do so if you need a Bonjour Paris user name and password.
More in French president, French-US politics, President Sarkozy, US-French relations
---
---