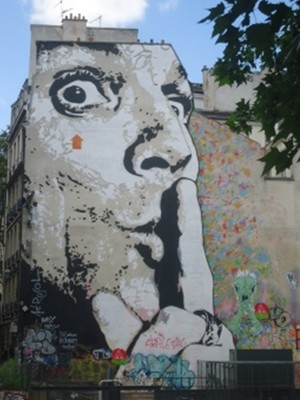 Yes there are two cities called Aix in France. One is in the north east on Lac Du Bourget, at the edge of the mountains. It has Roman origins and is a summer and winter resort area. They are certainly crowded enough so keep our secret but get there soon.
The other is farther south and is most famous as the city of Cezanne and near the burial site of Picasso, at Vauvenagues.
This past week we visited both cities. We started in the south at Aix-en Provence's tourist Office where we were shown directions to an unusual hotel inside the huge street walls. Le Manoir, at 8 rue d'Entrecasteaux is a rebuilt, centuries old religious manor, now comfortably redesigned as a hotel. This 3 star hotel offers parking in the courtyard and breakfast in a walled courtyard. Except for the occasional dig barks, it is peaceful within this maze of a city.
We spent two nights there, tasting the food and wine of the area. We were able to see the latest Cezanne Exhibit which was in keeping with this old roman city, now famous for Cezanne.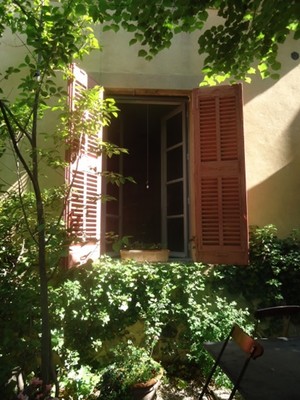 His studio was the highlight. Built atop an old remodeled city on the northern rim, we were able to see his atelier, his views, and high ceiling and windowed wall allowing in the northern light, with a special 12 ft. high, but narrow door to allow him to remove his huge canvasses.
A trip north of the city brought us to Cezanne's Mountain at Mont Ste. Victoire and the chateau at Vauvenargues where Picasso is buried. His grave is not open to public viewing but the chateau is incredible in the sgadow of Cezanne's mountain. For Picasso, Cezanne was the "father of modern art".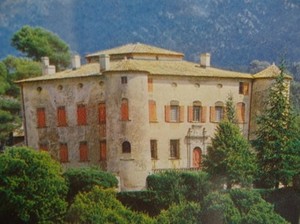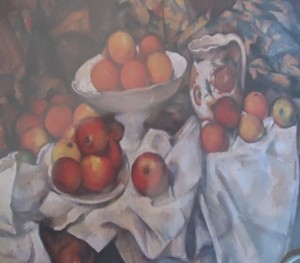 Cezanne's famous fruit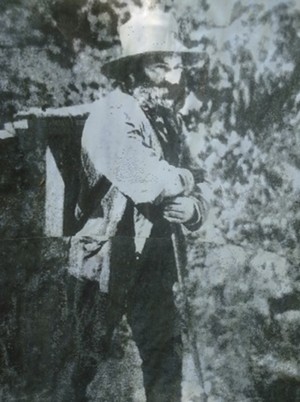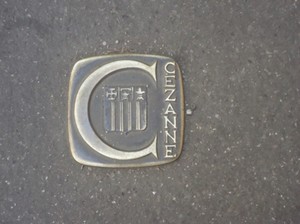 Metal symbol of Cezanne in sidewalk, showing the way to his museum.
We found many crowded restaurants and bars in almost every square and were able to eat until late at night. Breakfast at the hotel still featured the buttered bread and butter or sweet croissants which many Frenchmen dipped in their café au lait.
THEN THERE's the other AIX…on the lake…with soothing baths to ease your pain.
Roman Arch in Aix les Bain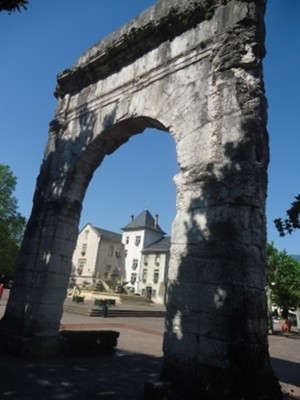 Aix Les Bains is quite different. It has the feeling of a resort. Mainly because it is surrounded by mountains and sits at the side of a fresh water lake. I've been here often and so far it is the highlight of my trip.
Again, restaurants abound and tourists can be seen everywhere. Here you can take a street railway and/or a boatride along the shore or visit the aquarium at the Petit 'port. There's borate Casino which is worth a visit, if only for the décor. There are walkways under trees along the lake and music or some form of animation everywhere. Our hotel is in the city center with air conditioning to ward off the brutal sun. There are statues everywhere, parks, chocolate shops and benches in the shade. Here you can sit and admire the statues including those by Livio Benedetti in the middle of a roundabout.  I especially enjoyed the statue dedicated to spy/war hero Jean Moulin.
I spent a long time in the city's historic Museum Faure where I saw a huge number of Rodin sculptures. Founded in 1949, it is a private collection by a native son. Only the heat eventually drove me back to my airconditioned hotel.
This city is a short drive south of Annecy, another holiday spot worth visiting.The highways are well marked. The tourist offices are easy to find and their hotel recommendations are worth waiting for.
Look up these wonderful holiday spots before you go. Get some decent maps, learn a little French and VOILA…there you are.