Cinema Paradiso : D & D Rudolph Nureyev Gala & Daniel Rose Masterclass
Petit Piège au Grand Palais was the smallest gastronomic restaurant ever, perched on a balcony high above the Palais. The Nef Sugar Bar was also on the balcony and Moet & Lobster served bio-homard with flutes of Impérial bubbles. Genial ! Chef Gita Seaton came from Montreal where her resto "Nouveau Palais" is located in the trendy Mile End 'hood. Ms Seaton has travelled on the Omnivore World Tour and Dubanchet says her cheesecake is the best in the world. It is. Lines were long at the American style diner to taste the Seaton Hamburger and chips, only served "a point", "because that's how I make it in Montreal". Seaton, a talented and passionate young chef, began her culinary career at Pizza Hut. "This taught me basic restaurant discipline and then I went to Montreal, did a stint in an Irish Pub while I was at cookery school. There followed time in Italy, not cheffing but posing as a nude model at Charles H Cecil Studio, Florence. "I got fat eating Italian food and they loved my curves", she laughs. Working in Tokyo was, "very difficult" and Barcelona helped her understand traditional Spanish and molecular cuisine; then the desire to launch her own addy took over big time. If you're in Montreal look for the Winnebago food truck and don't miss Nouveau Palais which gets rave reviews. "Having my own restaurant means I can do exactly as I want. It's not just about plates on  tables and the décor, I want more than that. Obviously chef Seaton is delighted to be in Paris. Where's she been to eat? "Thoumieux, Pierre Sang Boyer and I'm very excited by the pâtisserie and boulangerie scene. If I had time to go out of town I'd love to visit Troigros, Roanne".  "You know, it's odd working here, the French call me "chef", in Montreal I'm Gita and I think my team and I prefer it that way". Nouveau Palais 281 Bernard W Montreal, Canada T: +1 514 273-1180 Open 7/7 Brunch Sunday
Website
Rudolf Nureyev On 16 June 1961 at Le Bourget Airport, Paris, the iconic dancer broke free from Russian embassy guards and requested asylum in France. The rest is history and, this year, the genius former Director of the Paris Opera Ballet would have celebrated his 75th birthday. Gala performances are planned in Nureyev's memory throughout the year by La Fondation Noureev. The emotional 2 nights at Palais de Congres, Port Maillot, Paris, by D & D Art Productions (D&D is the acronym for "Dance and Dancers." The two founders and partners of D&D are David Makhateli, principal dancer at the Royal Ballet, London, and Denis Autier, a former banker passionate about dance) set out to showcase extracts from Nureyev's most important ballets. Star dancers performed in Nureyev's honour. Aurélie Dupont and Mathias Heyman from the Opéra National de Paris. Federico Bonelli, Rupert Pennefather and Tamara Rojo from The Royal Ballet, London, Dmitry Gudanov, The Bolshoi, Moscow etc. Included in the programme were extracts from La Sylphide: Manon: Raymonda and Swan Lake, with fabulous archive film of Nureyev and friends. Go to this
website
. "This was an exceptional tribute to Rudolf Nureyev with 28 incredible dancers from 9 different ballet companies. The press and the public were unanimous in their great reviews of the shows", said David Makhateli".  The event has been filmed in high definition and will be screened in cinemas worldwide later this year when a DVD-Blu-Ray also becomes available. Watch this space for more details. Rudolf Nureyev established his Foundation in 1975. Always keen to help young and talented dancers, he asked that money should be provided to assist promising dancers living in the territory previously referred to as the Soviet Union, to study ballet in the West for one year, on the understanding that they returned home at its conclusion to contribute to the development of dance in their own country. Born in Russia March 1938
Nureyev
died in France in 1993. His grave, at the Russian cemetery in Sainte-Geneviève-des-Bois near Paris, features a tomb draped in a mosaic of an oriental carpet. Nureyev was a compulsive collector he couldn't resisit a beautiful carpet or antique textiles. At his funeral, as his coffin was lowered into the ground, music from the last act of Giselle played, his ballet shoes placed in the grave along with his favourite white lilies. The Festival de Films Rudolf Nureyev runs from 6-21 July. Go to this
website
. Daniel Rose – Diary Date Join the Hands-on Master Cooking Class at Promenade Gourmandes a secret address in the Marais district. Once you've registered you'll get the address, you can't get more exclusive than that. Saturday July 6th At. 9.30am Price 290€ per person including lunch For additional information or to register for this class, contact Stephanie Fray on +33 06 31 98 69 19 (France) or +1 (310) 721-1403 (USA) and
email
. Spring, 6 rue Bailleul 75001 M: Louvre Rivoli T: 01 45 96 05 72
Website
SUBSCRIBE
ALREADY SUBSCRIBED?
BECOME A BONJOUR PARIS MEMBER

Gain full access to our collection of over 5,000 articles and bring the City of Light into your life. Just 60 USD per year.

Find out why you should become a member here.

Sign in

Fill in your credentials below.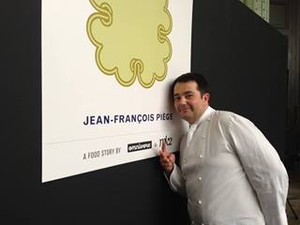 Petit Piège au Grand Palais was the smallest gastronomic restaurant ever, perched on a balcony high above the Palais. The Nef Sugar Bar was also on the balcony and Moet & Lobster served bio-homard with flutes of Impérial bubbles. Genial !
Chef Gita Seaton came from Montreal where her resto "Nouveau Palais" is located in the trendy Mile End 'hood. Ms Seaton has travelled on the Omnivore World Tour and Dubanchet says her cheesecake is the best in the world. It is. Lines were long at the American style diner to taste the Seaton Hamburger and chips, only served "a point", "because that's how I make it in Montreal".
Seaton, a talented and passionate young chef, began her culinary career at Pizza Hut. "This taught me basic restaurant discipline and then I went to Montreal, did a stint in an Irish Pub while I was at cookery school. There followed time in Italy, not cheffing but posing as a nude model at Charles H Cecil Studio, Florence. "I got fat eating Italian food and they loved my curves", she laughs. Working in Tokyo was, "very difficult" and Barcelona helped her understand traditional Spanish and molecular cuisine; then the desire to launch her own addy took over big time.
If you're in Montreal look for the Winnebago food truck and don't miss Nouveau Palais which gets rave reviews. "Having my own restaurant means I can do exactly as I want. It's not just about plates on  tables and the décor, I want more than that.
Obviously chef Seaton is delighted to be in Paris. Where's she been to eat? "Thoumieux, Pierre Sang Boyer and I'm very excited by the pâtisserie and boulangerie scene. If I had time to go out of town I'd love to visit Troigros, Roanne".  "You know, it's odd working here, the French call me "chef", in Montreal I'm Gita and I think my team and I prefer it that way".
Nouveau Palais
281 Bernard W
Montreal, Canada
T: +1 514 273-1180
Open 7/7 Brunch Sunday
Website
Rudolf Nureyev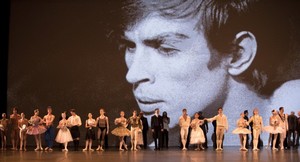 On 16 June 1961 at Le Bourget Airport, Paris, the iconic dancer broke free from Russian embassy guards and requested asylum in France. The rest is history and, this year, the genius former Director of the Paris Opera Ballet would have celebrated his 75th birthday.
Gala performances are planned in Nureyev's memory throughout the year by La Fondation Noureev. The emotional 2 nights at Palais de Congres, Port Maillot, Paris, by D & D Art Productions (D&D is the acronym for "Dance and Dancers." The two founders and partners of D&D are David Makhateli, principal dancer at the Royal Ballet, London, and Denis Autier, a former banker passionate about dance) set out to showcase extracts from Nureyev's most important ballets. Star dancers performed in Nureyev's honour. Aurélie Dupont and Mathias Heyman from the Opéra National de Paris. Federico Bonelli, Rupert Pennefather and Tamara Rojo from The Royal Ballet, London, Dmitry Gudanov, The Bolshoi, Moscow etc. Included in the programme were extracts from La Sylphide: Manon: Raymonda and Swan Lake, with fabulous archive film of Nureyev and friends. Go to this website.
"This was an exceptional tribute to Rudolf Nureyev with 28 incredible dancers from 9 different ballet companies. The press and the public were unanimous in their great reviews of the shows", said David Makhateli".  The event has been filmed in high definition and will be screened in cinemas worldwide later this year when a DVD-Blu-Ray also becomes available. Watch this space for more details.
Rudolf Nureyev established his Foundation in 1975. Always keen to help young and talented dancers, he asked that money should be provided to assist promising dancers living in the territory previously referred to as the Soviet Union, to study ballet in the West for one year, on the understanding that they returned home at its conclusion to contribute to the development of dance in their own country.
Born in Russia March 1938 Nureyev died in France in 1993. His grave, at the Russian cemetery in Sainte-Geneviève-des-Bois near Paris, features a tomb draped in a mosaic of an oriental carpet. Nureyev was a compulsive collector he couldn't resisit a beautiful carpet or antique textiles. At his funeral, as his coffin was lowered into the ground, music from the last act of Giselle played, his ballet shoes placed in the grave along with his favourite white lilies.
The Festival de Films Rudolf Nureyev runs from 6-21 July. Go to this website.
Daniel Rose – Diary Date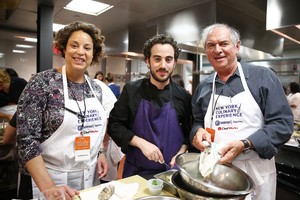 Join the Hands-on Master Cooking Class at Promenade Gourmandes a secret address in the Marais district. Once you've registered you'll get the address, you can't get more exclusive than that.
Saturday July 6th
At. 9.30am
Price 290€ per person including lunch
For additional information or to register for this class, contact Stephanie Fray on +33 06 31 98 69 19 (France) or +1 (310) 721-1403 (USA) and email.
Spring,
6 rue Bailleul 75001
M: Louvre Rivoli
T: 01 45 96 05 72
Website
More in bistro, Cinema Paradiso, dance, Daniel Rose, festival, Gita Seaton, Le Grand Palais, movie setting, Paris cooking class, Rudolph Nuyerev, theater
---
---