One of the many reasons I'm hopelessly smitten with the departement of Provence-Alpes-Côte d'Azur is the endless choice of day trips whenever you feel like a change of scene.
A favorite destination, the medieval village of Tourrettes-Sur-Loup, is a quick and breathtaking 15-kilometre drive from Nice. If approaching from the west, the moment the last corner is rounded takes my breath away every time.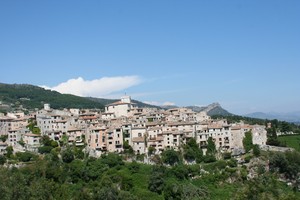 I can't tell you the number of photos I've taken of this view. For years we would drive past on our way to St. Paul de Vence and always vow to stop by — and for years we didn't. We have been making up for that ever since!
Perched on a rocky outcropping that takes a vertiginous plunge to a forested gorge, the village offers sweeping views to the Mediterranean from a small clearing at the southerly end.
The surrounding terraced hills today cultivate Bigaradier orange trees (a small bitter orange used in the making of Curaçao liqueur, jams and Orange Flower Water), fragrant Rose de Mai and violets that are sent to Grasse and used in the making of perfumes. Famous for the cultivation of violets since the 1880′s, the well-known Fête de Violettes is celebrated every March.
Established in the 11th C, the natural setting created the fortification of the town, which was also later walled. The 12th C church is built on the site of a Roman temple. In Place Maximin Escalier, the town hall now proudly occupies the restored 13th C Chateau.
This village is less commercial than many and the shop products are truly artisanal. The natural simplicity and old world charm have been retained in a very charming manner.
This simplicity has attracted artists and craftsmen to settle in the "vieux village". Potters, weavers, engravers, sculptors and painters welcome you to discover their creations of original and unique work.
Le Bois D'Olivier is our favourite shop with beautiful olive wood products produced by hand since the 1950′s by the Dubosq family (father and now son). Simply walking into their shop is a buzz!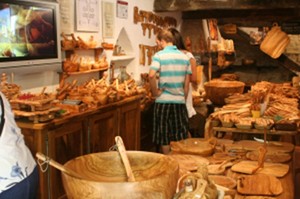 I love the warm shades and textures of olive wood and I haven't seen better prices or finer work anywhere. (Trust me, I've looked at way too much olive wood!)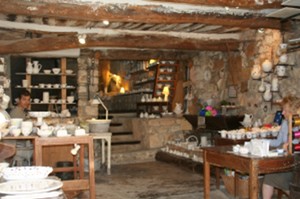 Further along La Grande Rue you will find Poterie La Bergerie's intriguing cave-like atelier where delicate ceramics are crafted and hand-painted with violet motifs.
The photo opportunities will keep your shutter busy as you stroll the ancient alleyways. Fine dining can be found as well as a few excellent spots to stop for a cold drink or a serving of authentic violet ice cream!
This video gives you a bit of a tour through the village. It also shows how the Dubosq men work their magic with the olive wood.
It's a long video so pour yourself a glass of wine and enjoy!
Patricia Sands lives in Toronto, Canada, when she isn't somewhere else. Happy to confess she is a travel fanatic, she can pack a bag in a flash and be ready to go anywhere… particularly if it's the south of France. Beginning with a Kodak Brownie camera at the age of six, she has told stories all her life through photography. Her award-winning debut novel The Bridge Club was a finalist in the Foreword Reviews 2010 Book of The Year (general fiction), 2011 Next Generation Indie Book Awards (First Novel) and 2012 Indie Excellence Book Awards. Her next novel, The Promise of Provence, will be published in March 2013. She has recently been invited to co-lead a women's 12-day tour of the south of France in October 2013. Dreams do come true!

Subscribe for
FREE

weekly newsletters.
BonjourParis has been a leading France travel and French lifestyle site since 1995.
Readers' Favorites: Top 100 Books, imports & more at our Amazon store
We update our daily selections, including the newest available with an Amazon.com pre-release discount of 30% or more. Find them by starting here at the back of the Travel section, then work backwards page by page in sections that interest you.
Current favorites, including bestselling Roger&Gallet unisex fragrance Extra Vieielle Jean-Marie Farina….please click on an image for details.
Click on this banner to link to Amazon.com & your purchases support our site….merci!
Leave a reply
Your email address will not be published. Required fields are marked *