Le Couvent des Minimes Hôtel and Spa L'Occitane, Relais & Chateaux
For someone who likes her relaxed luxury, and for another who is seeking sophisticated, serene elegance, Le Couvent des Minimes Hôtel & Spa delivers on all fronts. The property itself is situated in the tiny, historical village of Mane en Provence in an area of France known as the Alpes de Haute-Provence. It's about a 45 minute drive up from Aix-en-Provence to which there is direct TGV (fast-train) access from Paris. This is not the touristy part of Provence made famous in books such as A Year In Provence. This is the untouched, delightfully distant upper plateau, the region where all the lavender, for which Provence is famous, grows and where the perfume and body care company, L'Occitane, was originally founded and is still, to this day, headquartered. "I like things that happen by chance, I find that when we try too hard, we don't find what we're looking for."  – Olivier Baussan, Founder L'Occitane It is for this reason, acres and acres of the finest French lavender production, that l'Occitane, the world-famous cosmetics company, calls this region home, and has ever since it was founded by visionary businessman and philanthropist Olivier Baussan. Known as the "
Count of Provence
," Baussan founded L'Occitane with a single disiller back in 1976 when he was just 23 years old.  In 2004 the company started an offshoot luxury label within their portfolio of products called Le Couvent des Minimes, named after this historical property in the village of Mane, not too far away from Manosque, where the company and its factories still thrive. The word "couvent" in French translates to "convent." And that's exactly what this building, now a Relais & Chateaux luxury property, originally was. In 1613 le Couvent des Minimes there in Mane-en-Provence was founded by the Marquis Melchior de Forbin Janson in this area of France surrounded by "lakes of flowers in the Springtime" in what would eventually be designated as the Alpes-de-Haute-Provence.  Study of plants and flowers has always been an important endeavor not just in the area but at the convent itself, as well. The botanist for Louis XIV, Louis Feuillée, studied here and wrote two botanical treatises on the flora he found. After the French Revolution the convent remained unoccupied until 1862 when it was once again inhabited by Sisters, this time Franciscan nuns of the Order of Mary who planted fruit trees and vines on the terraced gardens as a means of supporting themselves and the sisters they welcomed back to the order from far-flung tropical outposts. In 1999 the couvent ceased being a home for the sisters and it wasn't until the buildings were bought and refurbished by L'Occitane that it re-opened as a luxury hotel and spa in June 2008. These 46-rooms and suites that are Le Couvent des Minimes Relais & Chateaux Hôtel and Spa L'Occitane was awarded its 5 stars in 2011, a designation that is at the pinnacle for French luxury hotels and which underlines the Couvent des Minimes' quality of service and luxurious and serene accommodations and amenities. The renovation was overseen by the esteemed Bruno Legrand Architecture, who also re-did Château Léoville Poyferré in the Médoc as well as l'Eglise  Notre Dame d'Espérance in Paris's 11eme.  Today, the hotel staff, the spa team and the professionals who work at L'Occitane have all come together in a meeting of hearts and minds to provide this spa and luxury hotel as a haven for well-being and mind-body balance. It is an enclave where the L'Occitane and Le Couvent des Minimes beauty product are used exclusively for tailored spa treatments on-site. Tucked away on its little hill as it is, Le Couvent, however, is not remote. The larger town of Forcalquier is just a 5-10 minute drive and if you're on foot, the charming village of Mane is a 5 minute walk away where you will be delighted by the delectables you find at the Maison de Produits de Pays on the Route de Salagon just there in the village of Mane-en-Provence. Chef Jérôme Roy and Le Cloître Other delectables you will be delighted by are the imaginative, flavorful and fragrant dishes that Le Couvent des Minimes' resident chef, Jérôme Roy, has created for the on-premise restaurants. There are two, the Bistro and the gastronomic restaurant, Le Cloître. Chef Roy's time spent in Korea unabashedly, though delicately, peeks through the fresh Provençal flavors of the local produce he uses in preparation of his dishes. When creating his menu for Le Cloître, he leaned on light and refined Mediterranean accents so as to completely retain authenticity of the bounty of local regional flavors. He also draws from the illustrious heritage of the Couvent and its growing of herbs and aromatics when flavoring his dishes. His cuisine is just this side of his mentor's, Pierre Gagnaire's, molecular cuisine. And if you really want to indulge your senses, your imagination and your palate all at the same time, it is recommended you order Le Grand Menu or even Le Menu Les Minimes when dining at Le Cloître at Le Couvent des Minimes Relais & Chateaux Hôtel and Spa. "Let the fresh produce express itself, with a touch of creativity to xpress emotion," is this young-ish Chef's motto. As pedigreed as they come insofar as learning and working with the best, Jérôme Roy was entrusted by Pierre Gagnaire to open his restaurant in Seoul, Korea at Hotel Lotte following this native of Tours stints with French star chefs Thierry Marx at Cordeillan Bages and Michel Troisgros in Roanne.  Now, in the land of Jean Giono, alongside centuries old olive trees, under the Mediterranean sun, Chef Roy oversees both the gastronomic restaurant, Le Cloître, as well as the Bistrot, Bancaou, open during the summer and which affords the option of poolside dining. In addition to these, on-premise dining options are Le Pesquier, a bar lounge that is open onto the patio, perfect for summer lunches or wintertime cocktails…
SUBSCRIBE
ALREADY SUBSCRIBED?
BECOME A BONJOUR PARIS MEMBER

Gain full access to our collection of over 5,000 articles and bring the City of Light into your life. Just 60 USD per year.

Find out why you should become a member here.

Sign in

Fill in your credentials below.
For someone who likes her relaxed luxury, and for another who is seeking sophisticated, serene elegance, Le Couvent des Minimes Hôtel & Spa delivers on all fronts. The property itself is situated in the tiny, historical village of Mane en Provence in an area of France known as the Alpes de Haute-Provence. It's about a 45 minute drive up from Aix-en-Provence to which there is direct TGV (fast-train) access from Paris. This is not the touristy part of Provence made famous in books such as A Year In Provence. This is the untouched, delightfully distant upper plateau, the region where all the lavender, for which Provence is famous, grows and where the perfume and body care company, L'Occitane, was originally founded and is still, to this day, headquartered.
"I like things that happen by chance, I find that when we try too hard, we don't find what we're looking for."  – Olivier Baussan, Founder L'Occitane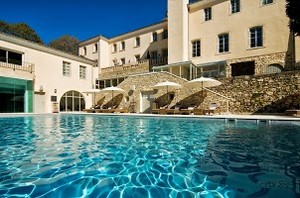 It is for this reason, acres and acres of the finest French lavender production, that l'Occitane, the world-famous cosmetics company, calls this region home, and has ever since it was founded by visionary businessman and philanthropist Olivier Baussan. Known as the "Count of Provence," Baussan founded L'Occitane with a single disiller back in 1976 when he was just 23 years old.  In 2004 the company started an offshoot luxury label within their portfolio of products called Le Couvent des Minimes, named after this historical property in the village of Mane, not too far away from Manosque, where the company and its factories still thrive.
The word "couvent" in French translates to "convent." And that's exactly what this building, now a Relais & Chateaux luxury property, originally was.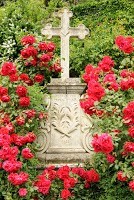 In 1613 le Couvent des Minimes there in Mane-en-Provence was founded by the Marquis Melchior de Forbin Janson in this area of France surrounded by "lakes of flowers in the Springtime" in what would eventually be designated as the Alpes-de-Haute-Provence.  Study of plants and flowers has always been an important endeavor not just in the area but at the convent itself, as well. The botanist for Louis XIV, Louis Feuillée, studied here and wrote two botanical treatises on the flora he found.
After the French Revolution the convent remained unoccupied until 1862 when it was once again inhabited by Sisters, this time Franciscan nuns of the Order of Mary who planted fruit trees and vines on the terraced gardens as a means of supporting themselves and the sisters they welcomed back to the order from far-flung tropical outposts. In 1999 the couvent ceased being a home for the sisters and it wasn't until the buildings were bought and refurbished by L'Occitane that it re-opened as a luxury hotel and spa in June 2008.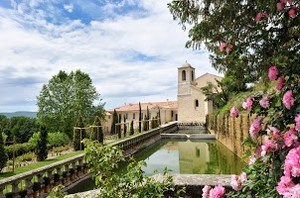 These 46-rooms and suites that are Le Couvent des Minimes Relais & Chateaux Hôtel and Spa L'Occitane was awarded its 5 stars in 2011, a designation that is at the pinnacle for French luxury hotels and which underlines the Couvent des Minimes' quality of service and luxurious and serene accommodations and amenities. The renovation was overseen by the esteemed Bruno Legrand Architecture, who also re-did Château Léoville Poyferré in the Médoc as well as l'Eglise  Notre Dame d'Espérance in Paris's 11eme.  Today, the hotel staff, the spa team and the professionals who work at L'Occitane have all come together in a meeting of hearts and minds to provide this spa and luxury hotel as a haven for well-being and mind-body balance. It is an enclave where the L'Occitane and Le Couvent des Minimes beauty product are used exclusively for tailored spa treatments on-site.
Tucked away on its little hill as it is, Le Couvent, however, is not remote. The larger town of Forcalquier is just a 5-10 minute drive and if you're on foot, the charming village of Mane is a 5 minute walk away where you will be delighted by the delectables you find at the Maison de Produits de Pays on the Route de Salagon just there in the village of Mane-en-Provence.
Chef Jérôme Roy and Le Cloître
Other delectables you will be delighted by are the imaginative, flavorful and fragrant dishes that Le Couvent des Minimes' resident chef, Jérôme Roy, has created for the on-premise restaurants. There are two, the Bistro and the gastronomic restaurant, Le Cloître.
Chef Roy's time spent in Korea unabashedly, though delicately, peeks through the fresh Provençal flavors of the local produce he uses in preparation of his dishes. When creating his menu for Le Cloître, he leaned on light and refined Mediterranean accents so as to completely retain authenticity of the bounty of local regional flavors. He also draws from the illustrious heritage of the Couvent and its growing of herbs and aromatics when flavoring his dishes.
His cuisine is just this side of his mentor's, Pierre Gagnaire's, molecular cuisine. And if you really want to indulge your senses, your imagination and your palate all at the same time, it is recommended you order Le Grand Menu or even Le Menu Les Minimes when dining at Le Cloître at Le Couvent des Minimes Relais & Chateaux Hôtel and Spa.
"Let the fresh produce express itself, with a touch of creativity to xpress emotion," is this young-ish Chef's motto. As pedigreed as they come insofar as learning and working with the best, Jérôme Roy was entrusted by Pierre Gagnaire to open his restaurant in Seoul, Korea at Hotel Lotte following this native of Tours stints with French star chefs Thierry Marx at Cordeillan Bages and Michel Troisgros in Roanne.  Now, in the land of Jean Giono, alongside centuries old olive trees, under the Mediterranean sun, Chef Roy oversees both the gastronomic restaurant, Le Cloître, as well as the Bistrot, Bancaou, open during the summer and which affords the option of poolside dining.
In addition to these, on-premise dining options are Le Pesquier, a bar lounge that is open onto the patio, perfect for summer lunches or wintertime cocktails around the fireplace. For lively atmosphere you have Le Caveau, a piano bar that offers exquisite views onto the gardens and for the serious wine lovers there is La Cornue located on the ground floor of the property and boasting a cellar of fine vintages worthy of impressing even a Parker or a Robinson.

Le Couvent des Minimes Hôtel & Spa
Chemin des Jeux de Mai – 04300 Mane en Provence – France
+33 (0)4.92.74.77.77
Reservations
Photo credits:  Le Couvent des Minimes

Subscribe for
FREE

weekly newsletters.
BonjourParis has been a leading France travel and French lifestyle site since 1995.
Readers' Favorites: Top 100 Books, imports & more at our Amazon store
We update our daily selections, including the newest available with an Amazon.com pre-release discount of 30% or more. Find them by starting here at the back of the Travel section, then work backwards page by page in sections that interest you.
Current favorites, including bestselling Roger&Gallet unisex fragrance Extra Vieielle Jean-Marie Farina….please click on an image for details.
Click on this banner to link to Amazon.com & your purchases support our site….merci!
More in Chef Jérôme Roy, L'Occitane, Le Cloître, Provence, Relais Chateaux, Spa L'Occitane
---
---