Tips for Travelers Visiting Paris During Labor Strikes
Yes, strikes are bound to happen each and every year; and they can be irritating unless you have alternate plans. Unions are
required to give public notice of strike dates
, hoping for a settlement before a labor strike, but also to give people time to make alternative plans. What groups are currently threatening to strike and why? Some rapid transit strikes are more of a slowdown than a complete work stoppage. Several grèves were planned by people upset by President Sarkozy's plans to raise the age workers can collect pension benefits. It's expected pending legislation will increase the age of eligiblity for partial retirement benefits from age 60 to 62. Full benefits won't kick in until age 67 rather than the current 65. It's in keeping with other countries in the E.U., but that doesn't mean the French (or anyone else) wouldn't protest such retroactive change. Mainly salaried and union workers have the most to lose. Senior management tends to work until they are older because they like the income and retirement benefits aren't necessarily all they're cracked up to be. Who supports strikers? When strikes are called, it's tout à fait évident that students get in on the action. They have plenty to complain about, like many students worldwide. French students don't like the lack of facilities, the huge classes where a talking head lectures at the auditorium's podium and perhaps some of the classes are a wee bit cold during winter months. What many visitors don't understand is that in France strikes are an accepted way of life and a much-privileged right. The French are fairly copacetic unless a strike blocks them from reaching their destination. What happens at public "manifestations?" Most strike manifestations take the form of parades, complete with marching bands and food trucks intermingled among the crowds. If the sun is shining, they can feel more like a 4th of July fête in the U.S. of A. Sometimes large crowds of all ages assemble for speeches; often they march with signs, banners and bearing slogans on their clothing. Causes can be anything from rights for working mothers, animals, retirees, disabled persons, immigrants, lifestyle and religious choices, political causes related to France or any country in the world, grievances or celebrations and so on. Sometimes you even find groups protesting the frequency of strikes—the "anti-strike" strikers, if you will. Some French people joke that protests are a national pastime in France, but again, they generally consider strikes an important right.   Streets may be blocked by humans standing, marching or sitting; other times vehicles or objects form blockades. You may hear chanting, drumming, singing, rally cries, speeches and music (amplified or otherwise) or all of this or none when demonstrators choose somber silence. Most are scheduled in advance by labor unions and groups that want large turn-outs, and most are peaceful, if not aggravating when your bus or taxi is stuck behind the group. Police in riot gear are usually at the sidelines, but they do engage at times. If you're on foot and you encounter a manifestation, take your cues from the locals: if they're watching with curiosity, feel free to do the same. Always be discreet with cameras and it's considered rude and even dangerous to take photos of some hot gatherings. Use your street smarts; walk away and beware of pickpockets who prey on distracted visitors when given the opportunity in any large crowd anywhere in the world.                     How will a strike affect you and other travelers? Okay, so let's say you're in Paris and are worried you'll be stranded. You probably won't be stranded unless you're mobility challenged. Even then, choose a café and watch the world go by while you read a book or view Paris as living theater. We asked our 
Facebook
readers to share their experiences with strikes in France. Most reported minor inconveniences with public transportation; some said advance notice of scheduled strikes allowed them to make other transportation plans. When trash collectors went on an extended strike in 2001, bulldozers filled alleys with mounds of rubbish. Métro and bus strikes and alternative modes of transit Public transit strikes are usually announced in advance, but a foreign visitor who doesn't speak French can easily miss such announcements. Sometimes your hotel will post a notice or slip a note under your door to let you know. A Paris Métro or bus strike usually means reduced frequency on main routes or your Métro car or bus may stop for a few minutes. A public address announcement may or may not be heard in the vehicle or on the platform; the bus stop digital sign may have the notice, but not always. You may encounter huge crowds if you're about to board the last scheduled ride before a work stop or nobody at all. When cashiers or those who stock the automated ticket dispensing machines go on strike, it's free rides for all. In the photo to the…
SUBSCRIBE
ALREADY SUBSCRIBED?
BECOME A BONJOUR PARIS MEMBER

Gain full access to our collection of over 5,000 articles and bring the City of Light into your life. Just 60 USD per year.

Find out why you should become a member here.

Sign in

Fill in your credentials below.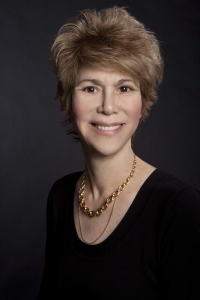 Yes, strikes are bound to happen each and every year; and they can be irritating unless you have alternate plans.
Unions are required to give public notice of strike dates, hoping for a settlement before a labor strike, but also to give people time to make alternative plans.
What groups are currently threatening to strike and why?
Some rapid transit strikes are more of a slowdown than a complete work stoppage.
Several grèves were planned by people upset by President Sarkozy's plans to raise the age workers can collect pension benefits. It's expected pending legislation will increase the age of eligiblity for partial retirement benefits from age 60 to 62. Full benefits won't kick in until age 67 rather than the current 65. It's in keeping with other countries in the E.U., but that doesn't mean the French (or anyone else) wouldn't protest such retroactive change. Mainly salaried and union workers have the most to lose.
Senior management tends to work until they are older because they like the income and retirement benefits aren't necessarily all they're cracked up to be.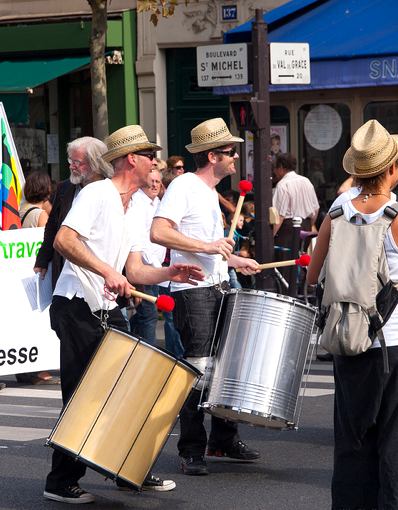 Who supports strikers?
When strikes are called, it's tout à fait évident that students get in on the action. They have plenty to complain about, like many students worldwide. French students don't like the lack of facilities, the huge classes where a talking head lectures at the auditorium's podium and perhaps some of the classes are a wee bit cold during winter months.
What many visitors don't understand is that in France strikes are an accepted way of life and a much-privileged right. The French are fairly copacetic unless a strike blocks them from reaching their destination.
What happens at public "manifestations?"
Most strike manifestations take the form of parades, complete with marching bands and food trucks intermingled among the crowds. If the sun is shining, they can feel more like a 4th of July fête in the U.S. of A.
Sometimes large crowds of all ages assemble for speeches; often they march with signs, banners and bearing slogans on their clothing. Causes can be anything from rights for working mothers, animals, retirees, disabled persons, immigrants, lifestyle and religious choices, political causes related to France or any country in the world, grievances or celebrations and so on. Sometimes you even find groups protesting the frequency of strikes—the "anti-strike" strikers, if you will. Some French people joke that protests are a national pastime in France, but again, they generally consider strikes an important right.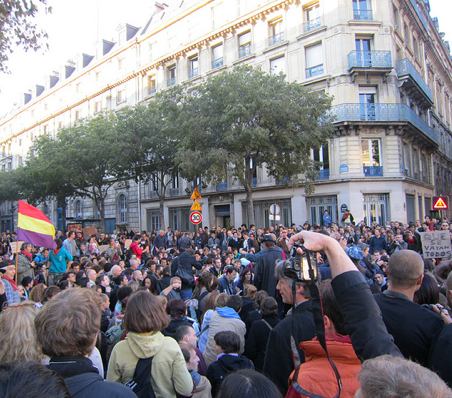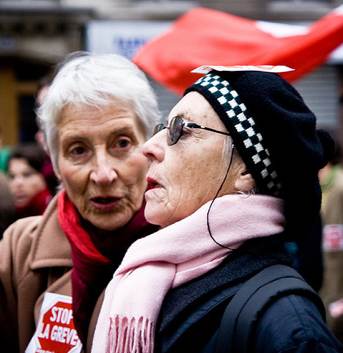 Streets may be blocked by humans standing, marching or sitting; other times vehicles or objects form blockades. You may hear chanting, drumming, singing, rally cries, speeches and music (amplified or otherwise) or all of this or none when demonstrators choose somber silence. Most are scheduled in advance by labor unions and groups that want large turn-outs, and most are peaceful, if not aggravating when your bus or taxi is stuck behind the group. Police in riot gear are usually at the sidelines, but they do engage at times. If you're on foot and you encounter a manifestation, take your cues from the locals: if they're watching with curiosity, feel free to do the same. Always be discreet with cameras and it's considered rude and even dangerous to take photos of some hot gatherings. Use your street smarts; walk away and beware of pickpockets who prey on distracted visitors when given the opportunity in any large crowd anywhere in the world.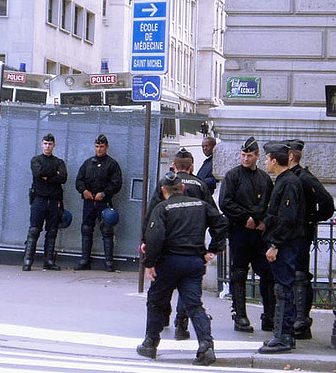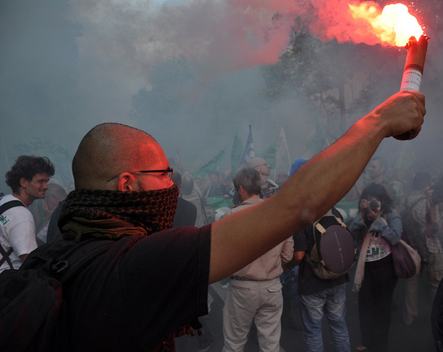 How will a strike affect you and other travelers?
Okay, so let's say you're in Paris and are worried you'll be stranded. You probably won't be stranded unless you're mobility challenged. Even then, choose a café and watch the world go by while you read a book or view Paris as living theater.
We asked our Facebook readers to share their experiences with strikes in France. Most reported minor inconveniences with public transportation; some said advance notice of scheduled strikes allowed them to make other transportation plans. When trash collectors went on an extended strike in 2001, bulldozers filled alleys with mounds of rubbish.
Métro and bus strikes and alternative modes of transit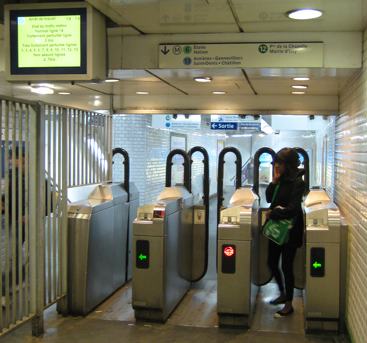 Public transit strikes are usually announced in advance, but a foreign visitor who doesn't speak French can easily miss such announcements. Sometimes your hotel will post a notice or slip a note under your door to let you know.
A Paris Métro or bus strike usually means reduced frequency on main routes or your Métro car or bus may stop for a few minutes. A public address announcement may or may not be heard in the vehicle or on the platform; the bus stop digital sign may have the notice, but not always. You may encounter huge crowds if you're about to board the last scheduled ride before a work stop or nobody at all.
When cashiers or those who stock the automated ticket dispensing machines go on strike, it's free rides for all. In the photo to the right, the open gate on the left with the green arrow indicates riders may enter for free.
Remember, the Batobus, Open Bus and other sightseeing vehicles can take you around Paris when public transit is on strike.
You can rent a Vélib' bike if available (you'll have to wait your turn, bien sûr) and go as far as you can go.
If you need to get to the airport, you call a shuttle service or rent a car.
Paris has many private driver services, too; advance planning is best, but don't hesitate to ask your hotel concierge for help the moment you know of a strike when you absolutely must reach an airport, rail station or specific destination at a certain time.
Major rail and airport strikes
Major rail stations and airports usually post strike service interruption notices on signs and monitors (in French and sometimes English or other languages). Uniformed staff may be available to assist travelers at airports and larger rail stations during strike service stops or major delays.
Before you fly, consult the official Paris Airports website to see if your flight or travel plans will be affected.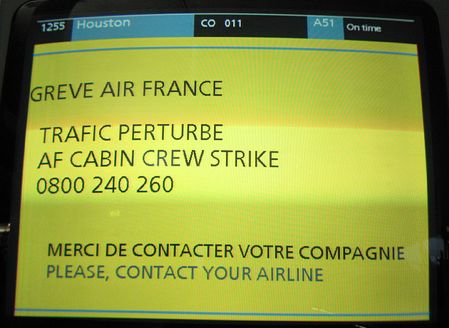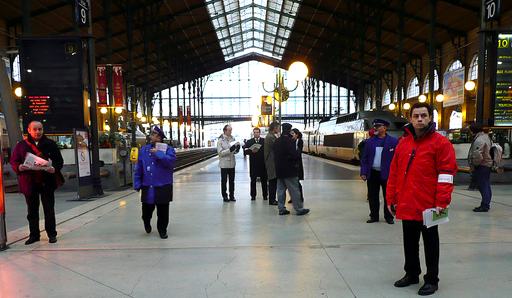 Museums and monuments
Museums may be closed for a scheduled period lasting an hour or a day, but have been open at times without docents, guides or cashiers on duty—which meant free admission for all guests. By all means take advantage of this should you encounter such a situation in which a strike means a freebie for you.
If you bought a ticket to an exhibition scheduled for a specific day and you find it is closed for a strike, don't toss your ticket thinking it's invalid. Look for a posted notice of closure times and return when the museum reopens. You may (politely) request a refund or may be admitted at another time when the museum reopens.
Recently Musée d'Orsay was closed on a Wednesday when we had dated tickets for entry on that day. Every national museum and monument that required a ticket for admission was closed except the Louvre. It ended up being totally awesome: after going to the Louvre for 10 minutes, we went to Montemarte, which was by far my favorite part of Paris. When we returned on Saturday, the museums honored our Wednesday passes.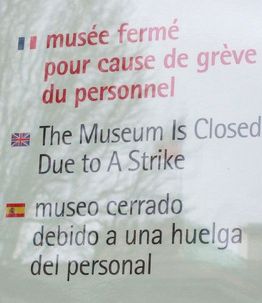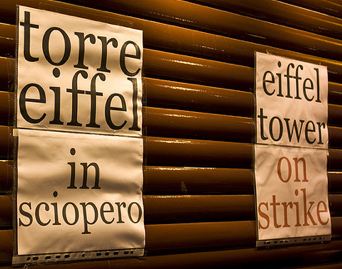 Taxi and private company strikes
Taxi drivers strike to protest fuel taxes, license fees, mandatory insurance, and other grievances. They may park their empty cars with a posted strike notice at a stand, but they have also parked to block freeway traffic during protests. At times they have stopped midroute and informed customers this is the end of the line. You can go to a hotel to ask a doorman to hail you a taxi and expect to wait, but at times it beats walking.
Even employees of major corporations and small companies go on strike, which may close a business for hours, a day or longer. As long as I've been in Paris, it's unusual when a restaurant is closed. If the chef can't make it in from the suburbs, meals still are served.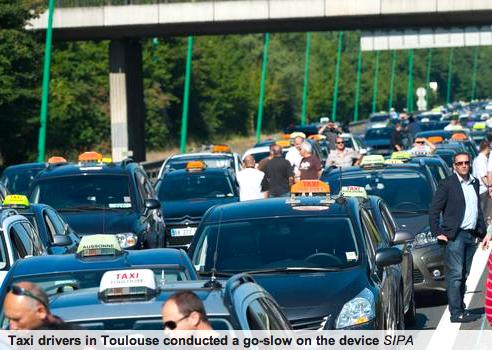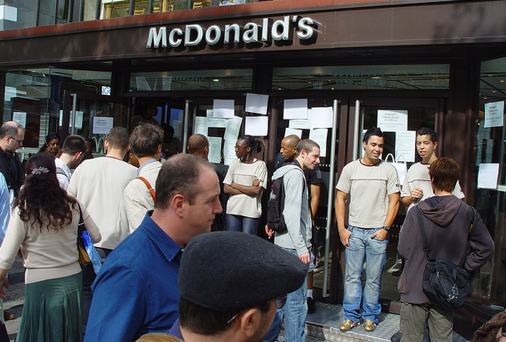 Other activities for travelers during any variety of strike
Many people opt to become dedicated shoppers when there are strikes. Granted, there will be fewer sales personnel but ditto for clients.
Walk to your choice of the many museums in Paris owned by foundations or nongovernmental agencies and enjoy the day.
Spend the day in one of Paris's magnificent parks and pretend you're in the country. The French come into town and do precisely that and it can be magical.
I love dedicating strike days to a specific quartier and finding hidden treasures, because I don't feel as if I need to see all of Paris in one day—much less do errands.
If it's freezing cold or raining, you might want to declare it a movie day. You may not have come to Paris to see films but viewing them here is a cultural experience.
During grèves, most drivers don't think twice about picking up hitchhikers, especially those with luggage and who don't look like an ax-murderer. If you're alone, look at someone who's driving a scooter and stick out your thumb. The French tend to be compassionate if they have an extra helmet. You'll return home with a story to tell.
Whether or not the French agree with a specific strike, there appears to be solidarity among the public–even if they're only complaining about being inconvenienced.
Have you experience French strikes? If so, what have you done to keep busy? Here's hoping few of you will respond, "slept in the airport or the train station." That would be a shame. On the other hand, there are worse things than being stuck in Paris.
PHOTO CREDITS: 
Drummers at a festive strike demonstration. @
airelle-info;
Large street assembly. Photo:
@polisea;
Anti-strike protestors. Photo: @
Philippeleroyer;
Strike police in riot gear standby. Photo:
©cookylamoo;
Protest best avoided. Photo:
©Alexandre Marchand;
Monitor notes free entry during a Métro strike. Photo:
©parfonium;
Airport monitor displaying strike notice. Photo:
©mmmmichie;
Uniformed workers assist travelers at rail stations. Photo:
@malias
http://www.flickr.com/people/malias;
Museum strike notice. Photo:
©murphyj ;
Eiffel Tower ticket window shuttered for strike. Photo:
©elniniodelabici ;
Toulouse taxi protest blocked freeways in May 2011. Photo: SIPA; and
McDonald's closed for labor strike. Photo:
©telemax
© Paris New Media, LLC
Karen Fawcett is the publisher of BonjourParis. Please click on her name to read more about her and the hundreds of stories she has published here.

Subscribe for
FREE

weekly newsletters with subscriber-only content.
BonjourParis has been a leading France travel and French lifestyle site since 1995.
Readers' Favorites: Top 100 Books, imports & more at our Amazon store


We daily update our selections, including the newest available with an Amazon.com pre-release discount of 30% or more. Find them by starting here at the back of the Travel section, then work backwards page by page in sections that interest you.
Click on this banner to link to Amazon.com & your purchases support our site….merci!
---
---