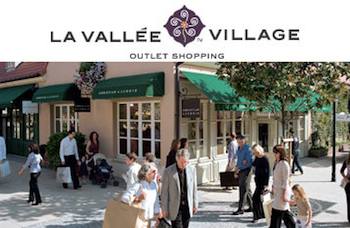 Factory outlet shopping has caught on in France for the same reasons American shoppers love it: convenience, selection, and, of course, price. For tourists visiting Paris, taking a train or driving out to a factory outlet shopping center is also a good way to get a taste of modern France, which can be hard to do on a tourist itinerary full of châteaux, cathedrals and museums.
La Vallée Village
La Vallée Village Chic Outlet Shopping is reached by RER just one stop before the Disneyland Paris station. It's upscale, large and the best choice for travelers seeking top designer quality. Don't go expecting down and dirty deals on mass merchandise; everything here is top designer quality, but if you're familiar with full retail prices of brands like Jimmy Choo, Lancel, Longchamp, Tod's, Villeroy & Bach and so on, you'll appreciate the savings.
It's not an enclosed mall but rather an open-air collection of "villages" of independent shops, each brand with its own that will be familiar to shoppers at top U.S. outlet centers. It has a website in English and a Chic Outlet Shopping® app that allows you to explore, search and navigate through all nine of its European villages.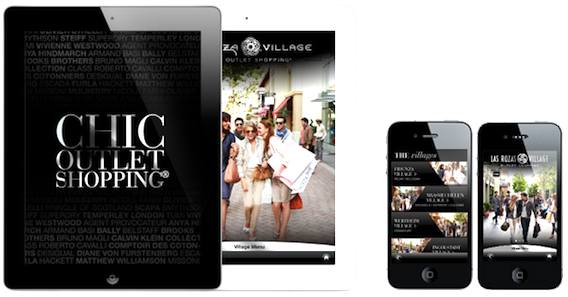 Some of the better known designer brands are: Cacharel, Kenzo, Max Mara, Gucci, Dolce & Gabbana, Armani, Givenchy, Diesel, Versace, Valentino, plus Charles Jourdan, Tod's, Jimmy Choo, Lancel and Longchamp handbags and leather goods, Villeroy & Boch porcelain and Baccarat crystal.
Marques Avenue Shopping Centers: two malls in the Paris area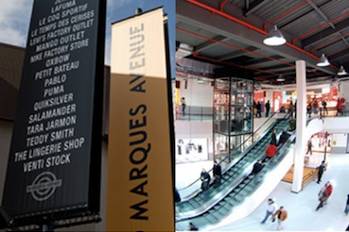 Marques Avenue has two main shopping centers, one located just north of Paris in Saint-Denis, with 76 stores and another located just south of Paris along the A6 highway, with 61 stores. Each has a great collection of French name-brand outlet shops, including clothes for women, men and children, shoes, some housewares and leather accessories. Marques Avenue malls are known for outstanding selection, user-friendly organization and amenities. If you're visiting from the U.S. you will feel right at home—all while experiencing a slice of modern French life.
Don't forget that there's a tax refund (détaxe) of about 12% when you spend €175 or more in one store. Request a détaxe form with every purchase, then present your détaxe forms at the airport as you leave France.
PRACTICAL INFO:
3, Cours de la Garonne, 77700 Serris
Open: Open daily 10am-8pm (until 7pm on Sundays in August)
Rail: take the RER Line A, destination Marne-la-Vallée-Chessy to the Val d'Europe stop.
Marques Avenue—L'Île Saint-Denis
9, quai du Châtelier, 93450 Ile St-Denis
Open: Mon-Fri: 10am-7pm; Sat: 10am-8pm
2, rue Jean Cocteau, 91100 Corbeil-Essonnes
Hours: Mon-Fri: 10am-7pm; Sat: 10am-8pm
Jeanne Feldman is a Paris resident and writer known for revealing the "shopping etiquette" needed to get the best service in Paris. Please click on her name to view her other stories published by BonjourParis.

Subscribe for
FREE

weekly newsletters with subscriber-only content.
BonjourParis has been a leading France travel and French lifestyle site since 1995.
Readers' Favorites: Top 100 Books, imports & more at our Amazon store
We daily update our selections, including the newest available with an Amazon.com pre-release discount of 30% or more. Find them by starting here at the back of the Travel section, then work backwards page by page in sections that interest you.
Current Paris shopping guidebooks at our
Amazon.com Boutique
:
Support our site by clicking on this banner for all your Amazon.com browsing. Merci!