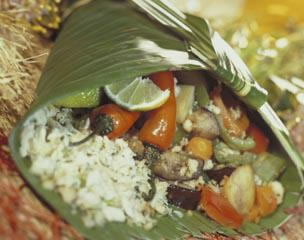 While most people cherish Paris for its crêpes, croque monsieurs and classic French cuisine, I cherish Paris for its Thieboudienne (pronounced cheb-oo-jen): a simple looking but rather complex Senegalese dish of fish, tomato, rice and vegetables. Three years ago while I was touring West Africa, Senegalese cuisine and the grand 'Thieb' destroyed all my misconceptions of African food: that it didn't consist of vegetables, looked like mush, and incredibly, that it did not taste good. While in Senegal, I ate the Thieb dish of parsley-seasoned fish, vegetables and Yassa Poulet, French-inspired chicken with a lemon-mustard onion sauce. Unfortunately, landing in Senegal first raised my expectations too high; my subsequent three-month trek across West Africa revealed that Senegalese cuisine and the Thieb are the grand dames of African cuisine, just as French cuisine is the grand dame of the Western world's. The African restaurant "scene" in Paris mirrors this revelation. Senegalese cuisine is favored so much that 70 percent of all African restaurants here serve Senegalese food. Remember, France also colonized Guinea, Cote d'Ivoire, Cameroon, Mauritania and Mali, Tchad, Niger, Benin and Togoland. Even a Cameroonian restaurant will throw in a Yassa, and daringly, a Thieb on the menu. According to oral tradition, Thieboudienne is the creation of one woman from Saint Louis, Senegal.  Penda Mbaye, a cook at the colonial governor's residence, created the dish of fish and vegetables first using barley. Amid a barley shortage, she decided to use rice, at the time still a luxury good having just arrived in Senegal by way of Asia in the 19th century.  Eventually Thieb became a favored dish throughout Senegal and was elevated to national dish status. I became so enamored with this dish that I observed as a Senegalese woman prepared and cooked the dish for four hours.  First, she prepared a spice mixture of salt, pepper, onions and parsley that she expertly stuffed into holes of the Thiof fish—a tough fish that withstands a nice deep fry without falling apart. After dipping the fried fish out of the peanut oil, she dumped a whole can of tomato sauce and a liter of water into the fishy oil. As if the fried fish wasn't enough, she added some bad-smelling dried fish, which probably gives the Thieb its flavor. Next up were the vegetables. She threw in a colorful assortment of green squash, orange carrots, white manioc, white cauliflower, purple eggplant, yellow sweet potatoes, some onions and one whole red scotch bonnet pepper. After dipping the cooked vegetables out of the sauce, she dumped the broken rice that the Senegalese prefer to long grain rice. All the ingredients soon took on a bright red hue from the red tomato sauce. She then dumped the rice into a big
bowl and placed the vegetables on top of the rice. After several liberal squirts of fresh lime juice, the Senegalese woman, her five year old son and I dug into the Thieb with our hands. Afterwards, we drank some homemade bissap, a sweet drink made from hibiscus leaves. I would not advise anyone to try this recipe at home.  Go to Paris' best African and Senegalese restaurants to discover this dish. The list below includes the best restaurants for Thieb in Paris. This list doesn't include my favorite restaurant because I would never go there for the Thieb (though it is on the menu). While the Thieb at all of the restaurants is good, each restaurant has its own particular ambiance for each particular night. But before you get the list, some tips for finding and eating a good Thieboudienne: Never eat Thieb at lunchtime during the week. The dish is too heavy and many restaurants aren't even prepared to make it during lunch. If you do dare to eat a Thieb at lunchtime, however, only do it at a restaurant where you see other people eating Thieb too (like La Nioumré or Chez Aida). Never order an entrée. The Thieb plat is large and you don't want to taper your appetite for this wonderful dish. But if you do, don't be afraid to take home a doggie-bag (gasp!) as I did once at Paris-Dakar. The closer the restaurant is to an African community or market, the better the Thieb. I just wouldn't dare touch a Thieb in the 8th or 6th arrondissement (not that you can find one there, anyway). Never eat Thieb at a restaurant that proclaims to serve African and Antillean food. The better restaurants do one or the other. And the best restaurants do just Senegalese food. Always end your Thieb meal with a cup of thé à la menthe. Every Senegalese person drinks the minty imported Chinese tea after a Thieb.   The best birthday party/most centrally-located Thieb: Le Nouveau Paris-Dakar http://www.lenouveauparisdakar.com 11 rue de Montyon 75009 Paris Tel: 01 42 46 12 30 Metro: Grand Boulevards Mon, Tues, Wed, Thurs, Sat from 11:30 to 5 p.m. and 7p.m. to 1 a.m. Friday from 7 p.m. to 1 a.m. Thieb: 16 euros This recently relocated restaurant has been serving Thieb to Paris' Senegalese elite for almost 20 years. Formerly located near the Gare de l'Est, the restaurant has a new location that makes it the most centrally located Thieb while still being one of the best. Owner/Waiter/Barman Mamadou works…
SUBSCRIBE
ALREADY SUBSCRIBED?
BECOME A BONJOUR PARIS MEMBER

Gain full access to our collection of over 5,000 articles and bring the City of Light into your life. Just 60 USD per year.

Find out why you should become a member here.

Sign in

Fill in your credentials below.
While most people cherish Paris for its crêpes, croque monsieurs and classic French cuisine, I cherish Paris for its Thieboudienne (pronounced cheb-oo-jen): a simple looking but rather complex Senegalese dish of fish, tomato, rice and vegetables.
Three years ago while I was touring West Africa, Senegalese cuisine and the grand 'Thieb' destroyed all my misconceptions of African food: that it didn't consist of vegetables, looked like mush, and incredibly, that it did not taste good. While in Senegal, I ate the Thieb dish of parsley-seasoned fish, vegetables and Yassa Poulet, French-inspired chicken with a lemon-mustard onion sauce. Unfortunately, landing in Senegal first raised my expectations too high; my subsequent three-month trek across West Africa revealed that Senegalese cuisine and the Thieb are the grand dames of African cuisine, just as French cuisine is the grand dame of the Western world's.
The African restaurant "scene" in Paris mirrors this revelation. Senegalese cuisine is favored so much that 70 percent of all African restaurants here serve Senegalese food. Remember, France also colonized Guinea, Cote d'Ivoire, Cameroon, Mauritania and Mali, Tchad, Niger, Benin and Togoland. Even a Cameroonian restaurant will throw in a Yassa, and daringly, a Thieb on the menu.
According to oral tradition, Thieboudienne is the creation of one woman from Saint Louis, Senegal.  Penda Mbaye, a cook at the colonial governor's residence, created the dish of fish and vegetables first using barley. Amid a barley shortage, she decided to use rice, at the time still a luxury good having just arrived in Senegal by way of Asia in the 19th century.  Eventually Thieb became a favored dish throughout Senegal and was elevated to national dish status.
I became so enamored with this dish that I observed as a Senegalese woman prepared and cooked the dish for four hours.  First, she prepared a spice mixture of salt, pepper, onions and parsley that she expertly stuffed into holes of the Thiof fish—a tough fish that withstands a nice deep fry without falling apart. After dipping the fried fish out of the peanut oil, she dumped a whole can of tomato sauce and a liter of water into the fishy oil. As if the fried fish wasn't enough, she added some bad-smelling dried fish, which probably gives the Thieb its flavor. Next up were the vegetables. She threw in a colorful assortment of green squash, orange carrots, white manioc, white cauliflower, purple eggplant, yellow sweet potatoes, some onions and one whole red scotch bonnet pepper. After dipping the cooked vegetables out of the sauce, she dumped the broken rice that the Senegalese prefer to long grain rice. All the ingredients soon took on a bright red hue from the red tomato sauce.
She then dumped the rice into a big

bowl and placed the vegetables on top of the rice. After several liberal squirts of fresh lime juice, the Senegalese woman, her five year old son and I dug into the Thieb with our hands. Afterwards, we drank some homemade bissap, a sweet drink made from hibiscus leaves.
I would not advise anyone to try this recipe at home.  Go to Paris' best African and Senegalese restaurants to discover this dish.
The list below includes the best restaurants for Thieb in Paris. This list doesn't include my favorite restaurant because I would never go there for the Thieb (though it is on the menu).
While the Thieb at all of the restaurants is good, each restaurant has its own particular ambiance for each particular night. But before you get the list, some tips for finding and eating a good Thieboudienne:
Never eat Thieb at lunchtime during the week. The dish is too heavy and many restaurants aren't even prepared to make it during lunch. If you do dare to eat a Thieb at lunchtime, however, only do it at a restaurant where you see other people eating Thieb too (like La Nioumré or Chez Aida).
Never order an entrée. The Thieb plat is large and you don't want to taper your appetite for this wonderful dish. But if you do, don't be afraid to take home a doggie-bag (gasp!) as I did once at Paris-Dakar.
The closer the restaurant is to an African community or market, the better the Thieb. I just wouldn't dare touch a Thieb in the 8th or 6th arrondissement (not that you can find one there, anyway).
Never eat Thieb at a restaurant that proclaims to serve African and Antillean food. The better restaurants do one or the other. And the best restaurants do just Senegalese food.
Always end your Thieb meal with a cup of thé à la menthe. Every Senegalese person drinks the minty imported Chinese tea after a Thieb.
 
The best birthday party/most centrally-located Thieb:
Le Nouveau Paris-Dakar
http://www.lenouveauparisdakar.com
11 rue de Montyon
75009 Paris
Tel: 01 42 46 12 30
Metro: Grand Boulevards
Mon, Tues, Wed, Thurs, Sat from 11:30 to 5 p.m. and 7p.m. to 1 a.m. Friday from 7 p.m. to 1 a.m.
Thieb: 16 euros
This recently relocated restaurant has been serving Thieb to Paris' Senegalese elite for almost 20 years. Formerly located near the Gare de l'Est, the restaurant has a new location that makes it the most centrally located Thieb while still being one of the best. Owner/Waiter/Barman Mamadou works the 90-seat restaurant with dexterity; I've seen him balance three birthday parties of 20 people in one night. The Senegalese and Ivorian music videos on a flat screen also add a festive if kitschy flavor to the atmosphere. Book this restaurant for your large birthday parties and intellectual dinner discussions.
The most Bohemian Thieb:
Baifall Dream Theranga Salon de Thé
http://www.baifalldream.com
[email protected]
20 rue des Dames
75017 Paris
Tel: 06 60 68 89 54
Metro: Place de Clichy
Thieb starts at 8 p.m. every Friday
Thieb: 12 euros
Every Friday, Baifall Dream creator/artist/clothes designer Mike Sylla invites the artistic community of Paris to his tea salon for a reasonably priced family-style Thieb.
The most historical Thieb:
Chez Aida
48 rue Polonceau
75018 Paris
Tel: 01 42 58 26 20
Metro: Chateau Rouge
Open Mon-Sat 12 p.m. to midnight
Thieb: 10 euros
Aida has retired to Senegal, but the new management still churns out one of the best value Thiebs in Paris, and one that many Senegalese claim as the best in Paris. With 34 years of serving Thieb, Chez Aida is the oldest African restaurant in Paris. It also featured prominently in the 1985 comedy classic Black Mic Mac. Leave all expectations of tropical décor and ambiance at the door, because you are strictly here for the food and its legacy.
The most elegant Thieb:
Moussa l'Africain
http://www.moussa-lafricain.com
[email protected]
25-27, avenue Corentin Cariou
75019 Paris
Tel: 01 40 36 13 00
Metro: Porte de la Villette
Mon-Sun 12 p.m. to 2:30 p.m. and 7:30 p.m. to 11:30 p.m.
Thieb: 22.50 euros
The Moussa l'African raised the standard of African restaurants higher with its recent opening. Its Thieb is also the most expensive I have ever seen.  But the price goes quite nicely with the restaurant's classy décor, which is ethnic (burnt orange walls, wax table cloths), but not tropical (no palm trees). The uniformed waiters, two-room seating (250 seats), and weekend live music complete a high-class package.  Although I have yet to try the Thieb (I passed it over for the 15 euro three-course lunch…a steal at that price), the lunch ensured me that it uses some of the highest quality ingredients (especially rice) of any African restaurant. Plus the head chef, Alexandre Bella Ola, authored the award-winning cookbook on African food Cuisines Actuelle de l'Afrique Noire. So even though he is Cameroonian, he should know how to make a good Thieb.
The best Pre-Party Thieb:
Au Village
86 avenue Parmentier
75011 Paris
Tel: 08 26 10 11 25
Metro: Parmentier
Open everyday from 8 p.m. to 12 a.m.
Thieb: 13 euros
A local Parisian of Senegalese decent told me that Au Village has the best Thieb in Paris, and for only 13 euros. I hold his judgment high, because his brother used to manage Chez Aida!  Its location serves as the perfect jump-off to a night out in Paris.  Eat a Thieb at Au Village and dance the night away in an Oberkampf club around the corner.
Best value Thieb:
Le Nioumré
7 rue des Poissonniers
75018 Paris
Tel: 01 42 51 24 94
Metro: Chateau Rouge/Barbes Rochechouart
Nonstop service from 12:00 pm until 11:00 pm Tues-Sun, Closed Monday
Thieb: 9.50 euros
Coming to La Nioumré on a Saturday afternoon is equivalent to going to a pancake house in America: the line is out the door, but the food is well worth the wait. The restaurant is one of the coziest to eat Thieb, fitting more than 30 people into two tiny rooms.  Try to get the window seat on the right side, as it is a window to life in Chateau Rouge and La Goutte d'Or:  over the course of a three hour lunch, I saw a wedding party (bride included), two Islamic prayer sessions at the mosque across the street and countless mothers, fathers and children.
Copyright © Kiratiana Freelon
 
---
---