There's art… and then there's Art
It is common knowledge that Paris is the destination for lovers. But that deserving reputation could just as easily read art lovers. The city's art offerings are truly mind-boggling. The primary objective of my recent trip to Paris was to soak up as much art as possible in between visits with friends, surreptitious people-watching and the ubiquitous wining and dining.
A brief stop in Lyon before heading up to Paris set the artistic tone for the rest of my stay. An unplanned visit to the The Lyon Museum of Contemporary Art revealed a huge and frankly, unedited, retrospective of Naples-born French artist, Ben. Yes, simply Ben. B-e-n. That is the name the 75-year-old artist goes by. His long and extremely prolific career is characterized by his word art. Simple sentences, usually hand-written, sprawl across canvases, birdcages, paper and just about any surface you can think of. Initially, a common reaction to Ben's work is "anyone can do that". True. But 'anyone' didn't. Ben did. His simple sentences criticize artistic ego and express contempt for the exclusionary elitism of the art world, getting right to the core of what art is or isn't. Ben's subversive statement "Tout est art" (everything is art) was to serve as my mental compass for the remainder of my stay in Paris.

To prove his point, Ben hung an empty frame in the center of one of the museum galleries so that whoever passed by it would in fact be framed, and thus be transformed into an authentic, if fleeting, work of art.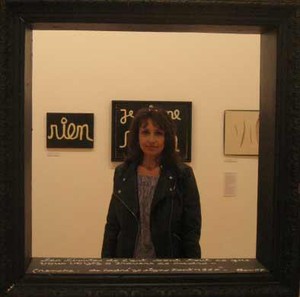 The question of what constitutes art has been heatedly debated amongst academics and art industry experts for decades if not centuries, ever since artists turned their backs on the rigid rules and formulae of the classical art academies. But experts and professionals aside, it is the general viewing public who has become more and more vocal in their disappointment and confusion about the contemporary art being created and exhibited over the past fifteen years or so. Armed with no specific knowledge or background, it takes quite a leap of faith to call a pile of salvaged trash in the center of a museum cutting edge fine art.
There is so much art out there that it is hard to see the forest from the trees. Years of creating my own art, and exposing myself to an unimaginable variety of art forms has led to my own personal definition of what constitutes Art with a capital 'A'. My formula is simple: the artwork in question has to have strong conceptual, as well as aesthetic value. So, though I do not agree with Ben that art is everything and vice versa, I do consider his large black and red word painting of that phrase as Art. With these thoughts in mind, I set off to Paris with my wish list of exhibits to see and discovered some great Art and wonderful second-tier museums along the way.
One of Paris's hidden gems has to be the Musée Bourdelle. This museum is in the gardens and ateliers where Antoine Bourdelle (1861-1929) lived and worked, and features an exceptional collection of plaster, bronze and marble sculptures. Bourdelle rubbed shoulders with the Who's Who in the art world, studying with Rodin and mentoring Giacometti, to name a few. But what is truly refreshing about the Bourdelle Museum is its intimate size and a sense of the artist's lingering presence. The current exhibition running through September 2010 is En Mai, fais ce qu'il te plaît! (In May, do what you feel like doing!) Definitely one of the highlights of my trip, this show juxtaposes the works of 11 contemporary artists amid Bourdelle's classical sculptures. The artists were given free rein in choosing where to place their artwork throughout the museum. What resulted was a real dialogue between artists past and present. A perfect illustration of my definition of Art are Jannis Kounellis' aluminium pedestals, each topped by a bundle of black cloth wrapped around a quantity of coal. His minimalist compositions placed amongst Bourdelle's works suggest universal themes of displacement, remnants of humanity, and loss.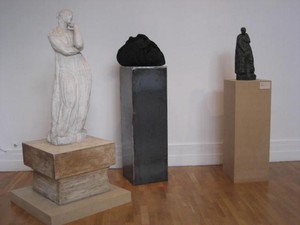 As if this were not worth the entry fee alone, don't pass up the tour of the museum's basement where hundreds of Bourdelle's plaster casts are stored. The museum has created a light and sound show which brings these works to life, reminiscent of an amusement park ghost ride.
On the other side of the spectrum, the Museum of Erotic Art did not offer up much in the way of Art. Don't misunderstand. It can be a welcome diversion from trekking through the Louvre and it does indeed exhibit seven (!) floors of erotic art. My visit to the Musée de l'érotisme was a follow-up to the project I undertook in Paris earlier this year. But like all museums which concentrate on one narrow subject, the theme gets old very quickly. By the time you reach the second floor of the slightly seedy museum, your eyes are glazed and the sight of naked, squirming bodies and sex paraphernalia is more likely to produce a yawn than sweaty palms. However, I did spy a beautifully crafted pair of shoes by master leather artist Carlos Penafiel who creates shoes and handbags in the form of the human body.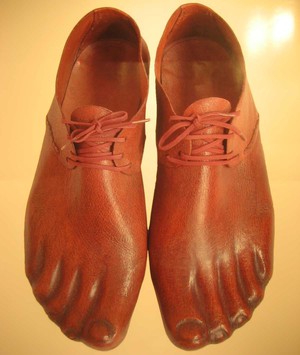 After all is said and done, beauty is in the eye of the beholder, and art is no exception to that rule. So whether your interest is in Art, or art, Paris has something for every taste. Allons-y!
Book your Airport Transfer with Paris-Shuttle.com and save up to 30%.
Leave a reply
Your email address will not be published. Required fields are marked *