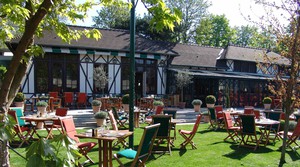 Les Internationaux de France de Roland Garros, The French Open, is a très glam tennis tournament; early round losers happily slink off to shop for designer dudes in plush Peugeot courtesy limos. We check out Le Roland Garros gastronomic restaurant, a ball's throw from centre court AND diarise the 1st Nuit du Gâteau.
Roland Garros, the French Tennis Grand Slam will be played out on the slow sexy red clay courts of the club from May 18th-June 6th.  Winners get equal prize money which should be more than enough to buy them lunch or dinner at Le Roland Garros, the picture-postcard restaurant located in the grounds of the prestigious club. Last year Roger Federer lifted the mens' trophy and the Russian Svetlana Kuznetsova the womens'.
The restaurant, shut during the two weeks of the tournament, is well worth a detour to the Porte d'Auteuil. In a garden setting, with red parasols, olive trees and summer plants, it's an ideal spot for a weekday or a Sunday lunch.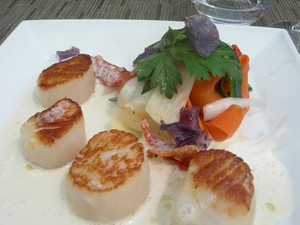 The menu, by Xavier Rousseau (no darling not the character in Cedric Klapisch's cult movie L'Auberge Espagnole) is simple and healthy. Starters include Salade Roland Garros, ventrèche de thon, great for the ladies who lunch, as they can have small or XL and maybe a glass of wine and they're done.
Their guys will go for Jabugo "Iberico de Bellota" or Millefeuille de tomates mozza. Bread is fresh, service elegant and efficient. They'll be serious about Filet de Boeuf, pommes Maxim's réduction balsamique. Rable de Lapin, salade de Roquette et parmesan, jus de veau. A canon, canon d'Agneau, feves, jus au thym. Rouget, risotto comme une paella, pesto maison. Saint Jacques à la plancha, tagliatelles de légumes, sauce coques. Filet de bar, asperges vertes, beurre émulsionné.
Served on wooden tables that are set with elegant silverware, you're in the countryside, version 16th arrondissement. Read posh but unpretentious. Children run around, lovers stare into each others eyes through the Raybans. They'll be off to the boutique to buy their T-shirts and tennis gear or the museum. Perhaps they'll cross the road afterwards and stroll around the extraordinary Jardin des Serres d'Auteuil, the Botanical Gardens of Paris, which opened in 1898 (Roland Garros opened in 1891) and were designed by architect Jean-Camille Formigé.
But not before they've had a dessert or two: Croustillant tout chocolat au guanaja. Sablé citron, Framboisier Maison or Un thé à la menthe dans une crème brulée. Lovely wine list, by the glass 8€ for L'Heritage de Chasse Spleen Haut-Medoc or Rosé Real Martin (7€).
If you want a bottle: Les Hauts de Smith 52€ or the white Bordeaux Gantonnet 27€.
So who was Roland Garros then? He was born in 1882, an aviator and the first Frenchman to cross the Mediterranean by air. He saw active service in World War 1, was captured by the Germans and escaped only to be shot down and killed soon after. So why did they name a tennis tournament after him if he was an aviator? Go figure. They named the airport Charles de Gaulle……and he wasn't an aviator. Or was he? Answers on a postcard please.
Le Roland Garros,
2 bis Avenue Gordon Bennett, 16th
Metro: Porte d'Auteuil,
T: 01 47 43 49 56
Open 7/7 from May-September for lunch
Shut Sunday night dinner
Lunch formula 45€ 50 or A La Carte
Diary Date: Thursday June 3 – La Nuit du Gâteau (Chocolate Night)
For one night only, the Maison du Chocolat boutiques are giving tastings! Gilles Marchal, Director of Creation, wants your advise on his ganache, so silly not to cut along and put him out of his misery. And, for one night only, you can taste his STARTELETTE a divine assemblage of chocolate ganache, fresh ginger, passionfruit and sancho pepper. "They have 'nights' for everything, so why not a Chocolate Night?" reasons Marchal. Similar soirées are planned in NYC and Tokyo.
From 7pm-midnight at:
9 Boulevard de la Madeleine, 9
From 7-9 in all Maison du Chocolate boutiques.
If you're coming to France (or for that matter anywhere) you can reserve your hotel here. To rent a car, Bonjour Paris recommends Auto Europe.
Please post your comments or questions and let them flow. Register HERE to do so if you need a Bonjour Paris user name and password.