The Bristol La Cantine Buzz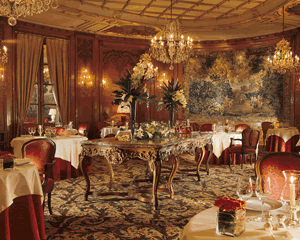 So Sarko's walking out with Carla Bruni then, "he likes 'em tall", remarked the lady reading Le Parisien at the Drugstore, Champs Elysées, ignoring the notice asking you not to. The media's buzzing. "Yeah! sells magazines", said the lady, still not buying.
Poor Sarko, does he never learn, this is the bella ragazza that broke Clapton's heart and ran off with Jagger. Who stole Justine (BHL's daughter) Levy's young husband Raphael, while living with his father (Jean-Paul Enthoven) gave birth to his child, this will run and run…… 
Madonna and Isabelle Adjani love La Cantine de Faubourg, maybe Carla and Nico will pop round there to taste their Grand Vintage Moet & Chandon menu, so handy for the Elysée Palace, n'est pas?  
The state-of-the-art Cantine has glamour, chic, cutting edge décor, just like its' hip clientele. "Moet & Chandon sent me bottles of Grand Vintage 2000, asked me to create a menu around the white and the rosé", explains La Cantine's talented young chef Olivier Godechoul (ex-Pourcels etc.). 
"It's a superbly crafted vintage champagne with honey and yeast flavours, a touch of spice. "The grapes were hand-picked, pressed very gently, only the best juice from the first pressing was used".  
So, in the special "limited edition" private Cantine dining-room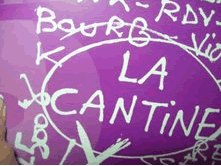 with black patent walls, gold Vitra chairs and black white and gold table settings, Carla, Nico, Isabelle & Co. can only adore Carpaccio de Saint-Jacques, with crème fouette orange, followed by skewered baby duckling, trompettes de la mort and girolles, spinach leaves, chestnuts, jus de Seville oranges; Moet & Chandon's rosé a perfect match for the plump pink duck. Godechoul creates Fig and thyme dessert with mascarpone saboyon, touched with vanilla, dotted with pain d'épices. A triumph! A meal tout Champagne – stunning idea to lift the spirits.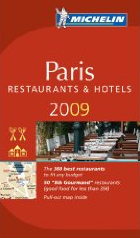 Just along the faubourg, the Oetker family hotel The Bristol is an elegant address. Some wealthy people collect vintage cars/wine/, the Oetkers collect amazing hotels.  
Apart from The Bristol, acquired in 1978 the collection goes: Brenner's Park Hotel & Spa, Baden Baden, Germany (1941). The legendary Cap Eden Roc, Antibes (1969). Park Hotel Vitznau, Switzerland (1980) and the magnificent Chateau du Domaine Saint Martin, Vence (1994). The family fortune was made by Dr. August Oetker who invented yeast based chemicals, baking products and preparations for cakes, the Oetker name was/is a major player in Europe, Germany, the world: and the family love to eat – well. www.oetker.com  
Small wonder the Oetkers fell in love with The Bristol, built over an 18th century mansion, the original building, just behind the Elysée Palace, was once home to the Count of Castellane who built his own private theatre and hosted wild parties. The oval shaped room with handsome oak panelling, wall tapestries and domed skylight, is now The Bristol's Winter Restaurant, and executive chef (MOF) Eric Frechon (2** Michelin) needs no introduction.  
"We are a team", says Frechon. There's Head Pastry Chef, Laurent Jeannin, who worked with Frechon at The Hotel de Crillon. Jeannin's delicate desserts are influenced by time he spends in Japan.  
Gregarious Jerome Moreau, Head Sommelier trained at Alain Senderen's Lucas Carton. "Monsieur S came to The Bristol last week, he enjoyed his dinner and his wine, but said my hair was too long", grins Moreau. "Eric, Laurent and I work together to achieve the best harmony possible between wine food".  
Moreau recommends a White Milly Lamartine 2004 Domaine des Heritiers du Comte Landon (60€) or by the glass (12€). He says clients usually order bottles, not worried about driving – "they all have drivers or are staying here". Try the Gevrey Chambertin Red 2001 Domaine Perrot Mintot at 135€ and 26€", he suggests.  
Both will match say: Frechon's signature Macaroni farcis, black truffles, artichoke and foie gras, a little parmesan. Fat juicy Noix de Saint Jacques, or Lievre de Beauce à la Royale with chestnuts. In house baker Wesley Tulwa's bread selection is mind blowing, warm oat grain, olive, nut and raisin, chorizo sausage and tomato confits. Pay attention to the cheese, the Vacherin is pure heaven. Finish with La Mandarine souffle or Cremeux Noir – chocolate, hazlenuts and just-made ice cream, infused with coffee and caramel. 
During the history of this class-act hotel, Ava Gardner, Marilyn Monroe, Rita Hayworth, Grace Kelly, Josephine Baker (who celebrated her 50th birthday), Chaplin, Orson Welles, Harry Trueman stayed….to-day they won't reveal names, but you can imagine darling! Nah! He only lives across the road! 
Address Book:
Hotel Le Bristol,
112 rue du Faubourg Saint-Honore, 8th
(Metro: Champs Elysées Clemenceau)
New Year's Eve 680€ (+ wine)
Or at The Bar 250€ (+ wine)
Fireworks at Midnight!
Weekday Lunch:: 80€ + wine
A la Carte 200€ (+ wine)
T: 01 53 43 43 25
La Cantine du Faubourg,
Restaurant-Bar-Lounge,
105 rue du Faubourg Saint-Honoré, 8th.
Metro: Saint Philippe de Roule,
Lunch 40€ + A La Carte
Menu Moet & Chandon Grand Vintage 2000 160€ – Ends
15 December – 31 January
Open 7/7
New Year's Eve – 200€
Leave a reply
Your email address will not be published. Required fields are marked *