Spoken Word: English Language Performance Art Club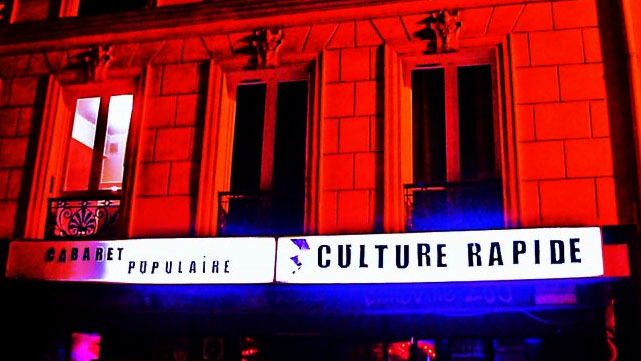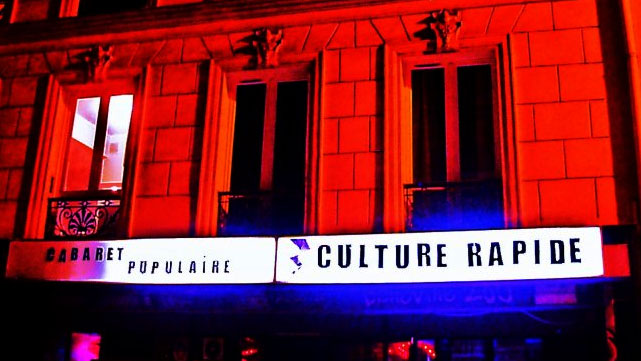 [This is an updated version of a story originally written by Lili Snyder.]
Spoken Word is a Paris "club" open to anyone who wants to watch or join English-speaking performance artists and poets perform on an open stage Mondays-only at Culture Rapide bar in Belleville. When you're in the mood to hear English in a lively Paris club, head to Spoken Word in the 20th. Visitors are more than welcome—they're often part of the show.
Poetry readings in Paris are very popular, and English language events can be hard to find. Whether it's poetry, a short story reading, a song or a stand-up act by a transvestite named Fidelma, you'll find something to love. Some people deserve applause just because they have the guts to stand in front of everyone and read, while other presenters are so fabulous that the claps just pour from you for lack of another way to show appreciation.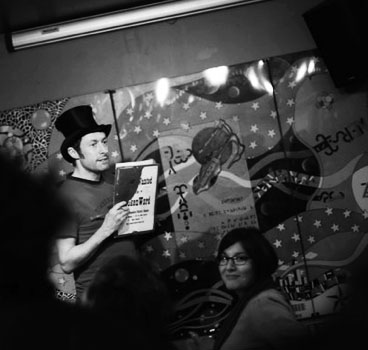 The rotating emcee, usually the top-hat wearing David Barnes, comes around before the show and asks everyone if they would like to perform. After a 5 minute reading or presentation, the emcee rings a bell and asks the audience if they want more. If the audience demands it, the performer's time is extended another 5 minutes.
Spoken Word is located in the Culture Rapide bar in the happening Belleville neighborhood in the 20th arrondissement. If you're hungry before the show, stop at any of the many restaurants in the area. At rue St. Julien Lacroix, look for the tall building bearing the sign il faut se méfier des mots ("beware of the words," English). Don't worry about being late; though the official start time is 8:30 PM, the show begins at 9:30 PM and only gets crowded at the start of the second half at 10:30 PM. Nevertheless, I recommend getting there at 8:30 PM and striking up conversations with people you don't know.
It's an English-language event; and most people there speak or understand English to some degree. It's an interesting place with a close-knit, welcoming community. I met a Russian who spoke nearly perfect French and English, and a Canadian on leave from his army tour.
There's a different theme every week, but no obligation to stick to it. So, if you're feeling brave, go ahead and sign up. I'm usually terrified to read in front of crowds, but I just couldn't resist the theme of "Boundaries." I got up my nerve, read from my thesis and was rewarded with a beer from my new Russian and Canadian friends. Ah, Paris!
Practical Information
Spoken Word takes place at Culture Rapide bar
103, rue Julien Lacroix, Paris 20th
Tel: 01 46 36 08 04
Hours: 8:30 PM until late Monday nights only
Métro: 2, M: Belleville; 11, M: Belleville or Pyrénées
Vélib: stands in the area
About the Writer:
Lili Snyder is a recent Georgetown grad.

Take trips, not chances. For peace of mind each and every time you travel, enroll for MedjetAssist evacuation services.
Leave a reply
Your email address will not be published. Required fields are marked *