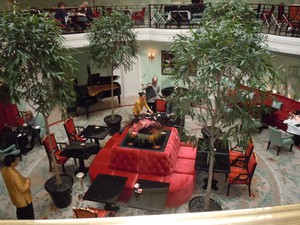 Sweep into the driveway of the just-opened Shangri-La Hotel and you can almost hear the clop-clop of horses and carriages, as they were in 1896, bringing Prince Roland Bonaparte back home to his private residence. Into the lobby, glance up at the vaulted ceiling with original zodiac symbols. "It's not much, but it's home", the Prince probably said. Roly, who are you kidding – it's magic. If only he could see it today.
You need to know, before you go a step further, and you were probably going to ask anyway: Roland Bonaparte was the grand-nephew of you-know-who (1858-1924). He was an explorer, geographer and botanist. In 1880 he married Marie-Félix Blanc, heiress to Monte Carlo Casino and the Société des Bains de Mer (SBM). He wanted to join the army but was barred due to a tiresome law banning relatives of French rulers from military service. So, Prince Roland developed his passion for botany and created a herborium of more than 2.5 million types of herbs and ferns at avenue Iéna and the Natural History Museum, Paris. He also compiled an immense library and a collection of Napoleonic memorabilia. The plants were subsequently transferred to Claude Bernard University, Lyon. As for the books, they were partly destroyed in a fire, and the remaining tomes went to the Geographical Society.
Today, after four years of extensive construction, 10 avenue Iéna once again becomes a meeting place for Paris's artistic, academic and scientific and gastronomic afficionadoes. In 2006 Shangri-La Hotel and Resorts acquired the building to transform into its first European hotel.
The four years of renovations are the same time taken for the building's original construction. Shangri-La worked closely with Monuments Historiques, as you'll realise the minute you step inside. Under the guidance of architect Richard Martinet and interior designer Pierre-Yves Rochon, the project was accented by discoveries that uncovered architectural treasures hidden by previous renovations. The first discovery took place when they demolished the dropped ceiling of a conference room, revealing a magnificent glass and steel structure embedded in the rooftop, which had been covered over by the building's former corporate residents. The structure takes inspiration from the Eiffel Tower (across the Seine, visible from most of the suites and rooms). It's been dramatically reworked and is the focal point of La Bauhinia (an exotic orchid that decorates the Hong Kong flag) restaurant.
Heading La Bauhinia, the first of the three restaurants to open, is chef Philippe Labbé (ex-Plaza Athénée and Chèvre d'Or, Eze where he had 2 Michelin stars). It's a duplex, flooded with natural light from the magnificent Eiffel glass dome. The 50-seater restaurant's menu is a nod and a wink to a Franco-Asian-International entente cordiale. The intricate décor features ancient Asian manuscripts and a Murano chandelier, suspended from the glass dome, which you'll want to hang from.
Begin with a show-stopper: Endives braisées à la crème de truffes. Or "Yam So", salade de crevettes au pamplemousse thai, cacahuètes, vinaigrette épicée. Or tartare de saumon, dorade et huîtres avec sa gelée d'eau de mer. Tourte de Gibier sauvage. Follow with Otak Otak Indonesian, avec sa papillote de cabillaud, sa pâte de curry jaune, son lait de coco, lime, basilic thai, riz gluant, sauces condimentaires. Or plump Saint Jacques de la baie de Seine, juste poêlées et une jolie nage d'aromates. How about Curry Laksa de poulet, crevettes et tofu or Singapore Fried Noodles? From the wine card: Burgundy Blanc 2008 Pessac Leognan, L'Esprit de Chevalier (60€). Or Burgundy Haute Côtes de Nuits from D. Dubrand (58€). Interesting glasses from 12€.
Desserts are signed by patissier Franҫois Perret, ex-Troisgros. Was it just coincidence that Michel Troisgros was eating at Bauhinia last week, keeping an eye on his "boy" perhaps? What did he think of Mille-feuille glace noix de pécan, Tarte au chocolat manjari et yuzu: Mont Blanc marron-cassis, ice creams and sorbets and Croustillants de pamplemousse avec fromage blanc?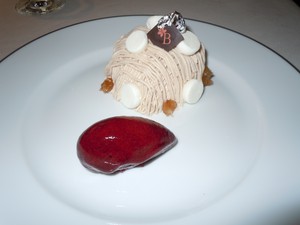 Philippe Labbé heads a staff of 70 across the hotel's three restaurants, three styles of cuisine, three different atmospheres. L'Abeille, the Shangri-La's French restaurant, decorated by Pierre-Yves Rochon in tones of grey and taupe, is dedicated to bees, the imperial insignia of the Bonaparte family, integrated by Prince Roland into the architecture of the residential salons of his Palais Iéna. It's located in a garden setting created by designer Louis Benech. Then, in hommage to Asia, Shang Palace opens soon as Paris's first gourmet Cantonese restaurant. It's the real thing with chef Frank Xu and his team of four Hong Kong chefs, right down to the Feng Shui and choice of the launch date.
Shangri-La with 35 rooms—19 Eiffel Rooms, 10 suites, 14 Eiffel Suites and three signature suites: Chaillot, Panoramique and Impériale—has something to offer all who love to travel and discover new sensations, just like Prince Roland. Ever thought of looking at the Eiffel Tower from your bathtub?  At night when it sparkles?
La Bauhinia, Restaurant Lounge
10 avenue d'Iéna, 16th
Metro: Iena
Average spend 80€ + wine
Open 7/7
T: 01 53 67 19 98
Rooms from 750€ + 38€ for breakfast
Readers are constantly asking for authentic and out-of-the-ordinary experiences when they come to Paris. Experience Paris can arrange unique experiences in Paris and throughout France. When you contact Larry, please use the code BJ001.