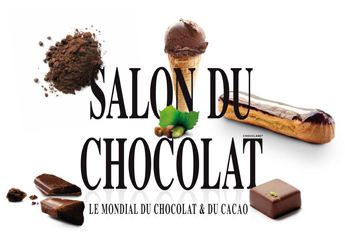 Salon du Chocolat, the world's largest chocolate show, returns to Paris October 20th through 24th for the 17th year. The event gets bigger and better every year, and this year chocoholics will find over 400 chocolate experts assembled and remarkably approachable in this five-day feast at the Porte de Versailles convention center in the Paris 15th arrondissement.
The 2011 theme is pastry making with chocolate and over 200 leading chocolatiers and pastry chefs will create ornate chocolate pastries daily.

Haute Patisserie
First there was haute couture, then haute cuisine and nowadays pastry chefs create ornate haute patisserie, which will be familiar to all who worship at the temple of Pierre Hermé and his contemporaries Sadaharu Aoki, Michel Cluizel, Jean-Paul Hévin and other big names.
One of the big draws for the event is the Chocolate Fashion Show, held nightly at 5p.m. Salon du Chocolat pairs chocolatiers with well-known French designer Chantal Thomass and up-and-coming fashion designers. You'll see plenty of over-the-top chocolate clothing and anything goes—in the past, models have strutted in everything from elegant gowns to risqué bustiers made mostly or entirely of chocolate.
Chocolate makers from Europe, Japan, Canada and South America will fill two sections of the convention center with chocolate-centric displays. They'll be competing for prizes like the Best Chocolate Travel Cake, Best International Cocoa and a Chocolate Sculpture contest, to name a few. The Chocolate Awards will be presented at the Cocoa Show stage on Friday at 4pm.
"Four Hand Pastry" puts media and culinary stars on stage preparing chocolate desserts, which is fun to watch even if you're not fully in-the-know about French celebrities.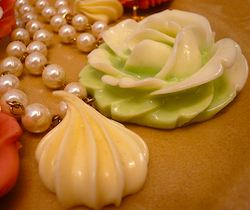 "Duos on the Table & 7 Deadly Sins" pairs chocolate experts like Sadharu Aoki and Jean-Paul Hévin with architects, decorators and jewelry designers to showcase the art of luxurious living.
Of course, like all food, chocolate is very serious business with the French, and guests can choose from many workshops presented at the CHOCOSPHERE. Programs explain nutritional benefits of chocolate, the chocolate manufacturing process and even bio (organic) and fair-trade issues. There's also a full line-up of pastry-making and chocolate-themed demonstrations.
Over in the Cocoa Show area you'll find ongoing presentations about chocolate culture and performers demonstrating dance, songs, rituals and traditions of cocoa-producing countries.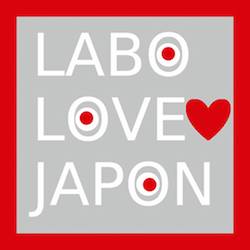 Please make a point to buy something sweet at the Labo Love Japon booth, where some of the top Japanese and French chocolat and pastry experts are raising funds to support Japananese Red Cross Tsunami Relief programs through sales of chocolate and pastries.
The Chocolate Bookshop is always popular, and when else will you have the chance to get a chocolate or pastry book autographed by a celebrity chocolate producer or artisan? Pierre Hermé signs books at 10:30am on Friday, and author Susan Hochbaum (author of Pastry Paris: In Paris, Everything Looks Like Dessert) signs at 2pm on Saturday. Check the full schedule to see if any of your favorites are appearing.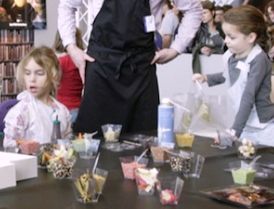 Salon du Chocolat is a family event and ChocoLand holds workshops for kids aged 4-10 years of age from 11am-7pm daily. With only 20 seats per 30-minute workshop, space is limited—go there first to sign up when you arrive. The kids get chefs' hats and aprons to wear while making their own chocolate creations as the grown-ups do the next best thing to "trick or treating" by walking booth-to-booth for samples.
The samples are generous and you'll probably eat even more than you dream, but that's no reason to leave without a few kilos of chocolate. Dieting or diabetic? No worries, there are sugar-free chocolates, too. You can bite or even sip your chocolate.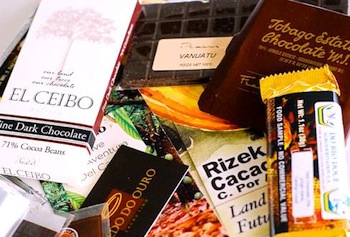 The Salon du Chocolat presents many ideas for those seeking special gifts for friends, clients and coworkers. Yes, the fancy chocolates are expensive but you'll find countless affordable options, too.
The show is a hit with food professionals, shutterbugs, foodies and chocolate connoisseurs. In fact, the event started in Paris but you'll now find Chocolate Shows in New York, Tokyo, Peking, Moscow and Shanghai.
Considering one chocolate dessert in a good Parisian salon de chocolat can cost more than the €12.50 admission price, this event is a don't-miss for anyone who loves chocolate.
Venue: Porte de Versailles
Pavilions 5/2 & 5/3
1, place de la Porte de Versailles, Paris 15th
Métro: 12, Porte de Versailles; 8, Balard
Bus: 39, 42, 169, 80
Open: 10am-7pm Thursday, October 20th through Monday, October 24
Entry: €12.50 adults
Tickets: available at FNAC or Virgin stores or at the door, but the lines are long and advance tickets are recommended
PHOTO CREDITS:
Publicity poster & photo from Salon du Chocolat; past event photos ©cocoinzenl
Dali Wiederhoft is a recovering chocoholic who cannot resist temptations found at the Salon du Chocolat. Click on her name to read her other stories published by BonjourParis.
Subscribe for free so you don't miss a story & don't forget our searchable library of 7,000+ stories about France travel. 50 original stories monthly: travel guides, Paris events, dining, lodging, shopping, French lifestyle, recipes, photography & more since 1995.
Shop direct at Amazon.com (and merci for using our direct link, your support allows us to publish BonjourParis.)
and check our Francophiles Favorites loaded with French-themed items for travelers and Francophiles. Choose your category at the right edge, then click the category's last page number to browse the latest listings.
Short-cut to our 100 TOP SELLING ITEMS

(please wait for widget to load—updated daily)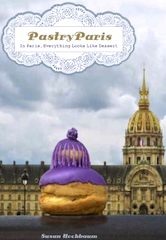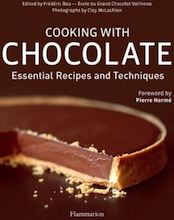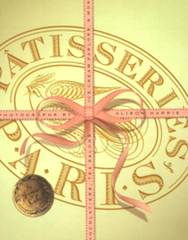 Pastry Paris: In Paris, Everything Looks Like Dessert [October 11, 2011] photos of pastries & guide to Paris patisseries….32% discount for advance-release orders. Grab your copy here for the discount price & take it to Paris for your autograph.
Cooking with Chocolate: Essential Recipes & Techniques (Book & DVD in English) by Clay McLachlan, Pierre Herme, et al  coming Oct. 18, 2011….order now, save 40% on advance-order discount.
Patisseries of Paris: Chocolatiers, Tea Salons, Ice Cream Parlors & More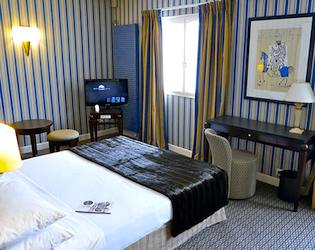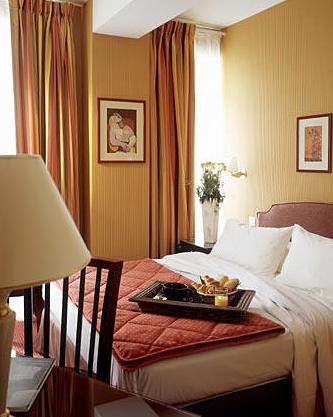 Hôtel Jardin de l'Odéon is a 3-star hotel ideally located where the Latin Quarter meets Saint-Germain-des-Près. It's an elegant hotel, chic & contemporary style w/comforts like free Wi-Fi, AC, LCD TV & some rooms have terraces w/a view. Breakfast buffet, on-site bar, a 24-hour front desk & multilingual staff that receives many compliments in reviews from past guests. Walk 3 minutes to the Luxembourg Gardens. Métro: Odéon & RER to CDG is near—very handy to zip to/from airport! Some rooms were recently remodeled per guest review in August 2011 & satisfied guests rate this hotel 8.5 of 10 at Booking.com.
*** Eligible for the Booking.com best price guarantee.

Be smart!
Bookmark this link to the BonjourParis—Booking.com site & use it every time so your preferences are stored & deals are updated when you return. Book, shop around & if you find a better rate for the same deal, contact Booking.com for your BEST PRICE MATCH GUARANTEE.