Jacqueline Kennedy, Historic Conversations on Life with John F. Kennedy
Jacqueline Kennedy, Historic Conversations on Life with John F. Kennedy Interviews with Arthur M. Schlesinger, Jr., 1964 Hyperion, New York, 2011 368 pages and 8 CDs Jack and Jackie – Still Riveting After All These Years Historian Arthur Schlesinger, Jr.'s recently released book, Historic Conversations on Life with John F. Kennedy, documents a series of conversations with Jacqueline Kennedy recorded in 1964 just months after her husband was assassinated. The book will make fascinating reading for those who grew up during the height of the Kennedy Years, those halcyon days when everyone was young and seemed to be asking what they could do for their country and not what the country could do for them . . . when Jack and Jackie reigned supreme . . . all things Jack and Jackie were à la mode and de rigueur, and all good things seemed possible. Better yet, the eight CDs of the seven conversations with Jackie will make fascinating listening. For the first time, we are able to hear Jackie telling her own story, in her own voice–a voice speaking softly in the minor key of sadness and grief—as she reminisces about life with Jack and the kids, his presidency and its most important and dramatic days, national and international figures who crossed their paths, and what she really thought of some of the people who she, like so many political wives, regarded with dreamy admiration in photos but whose true feelings were quite different, such as when she referred to French president Charles de Gaulle as "that spiteful little man." Jackie dazzled all of Paris when the Kennedys visited May 31-June 3, 1961. So much greater was the attention paid to her than to him that President Kennedy remarked to the press, with some pride and humor, "I do not think it altogether inappropriate for me to introduce myself. I am the man who accompanied Jacqueline Kennedy to Paris." President de Gaulle was dazzled, too, as she spoke French to and charmed him through lunch. But Madame de Gaulle did not seem so impressed with Jack. At a dinner at Versailles, Jackie reported, President Kennedy tried to engage Madame de Gaulle in conversation. Looking at the elaborately laid table, the president said, "This is the most beautiful tablecloth." "The one at lunch was better," she replied, before they relapsed into silence. Here's vintage video of that dinner: Jackie's love of all things French was well known—she used the French pronunciation of Jacqueline—so it sounds discordant to hear her say, "I loathe the French. There's not one French person I can think of except maybe two very simple people….You know, they're really not very nice. They're all for themselves." Surely spoken in a moment of pique. This book covers a vast array of subjects big and small, personal and public, and they span all the years of Jack and Jackie's life together. Readers and listeners will learn about JFK's napping habits and the tensions surrounding the Bay of Pigs, which Jackie saw the president weep over, one of the very few times she ever saw her husband cry. You will hear Jackie, who was known for the softness and breathiness of her voice, bark sharply to her toddler son John, "Out!" when he wandered into the room during one taping. And you will hear what Jackie thought of her role of the wife of the president, and what she thought, at least at that time, of a woman's role in the world. Jackie mentions so many political, literary, and artistic names that you might be forgiven for thinking she's name-dropping. But she was a woman of privilege and this was the sphere in which she traveled. And she was confident enough and intellectually curious enough to thrive in it. It was her natural milieu. What you will not hear in these conversations is reference to the sexual peccadilloes Jack had at the White House. So, knowing what we now know about that subject, much of which Jackie surely knew, one cannot help but wonder whether Jackie had already begun to spin Jack's presidency. For, according to the conversations, you would think no cross word ever passed between them. He seemed always kind and patient, and she, some years younger, so wanted him to be proud of her. And already historians and others are correcting what they perceive to be flaws in the record as remembered by Jackie. None of that diminishes the historical value of these conversations, however. They are the spoken words of one of the most fascinating people ever to bestride this earth. Published in connection with the 50th anniversary of the Kennedy presidency, they are more than just an opportunity to eavesdrop on the memories of a grieving widow. The Foreword by Caroline Kennedy, the sole surviving child of President and Mrs. Kennedy, and the Introduction by historian Michael Beschloss make a valuable contribution to putting these conversations into historical context. As Beschloss…
SUBSCRIBE
ALREADY SUBSCRIBED?
BECOME A BONJOUR PARIS MEMBER

Gain full access to our collection of over 5,000 articles and bring the City of Light into your life. Just 60 USD per year.

Find out why you should become a member here.

Sign in

Fill in your credentials below.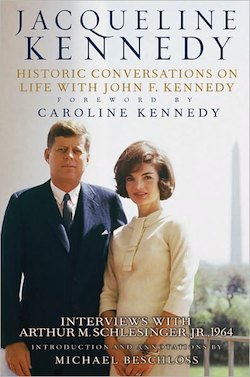 Jacqueline Kennedy, Historic Conversations on Life with John F. Kennedy
Interviews with Arthur M. Schlesinger, Jr., 1964
Hyperion, New York, 2011
368 pages and 8 CDs
Jack and Jackie – Still Riveting After All These Years
Historian Arthur Schlesinger, Jr.'s recently released book, Historic Conversations on Life with John F. Kennedy, documents a series of conversations with Jacqueline Kennedy recorded in 1964 just months after her husband was assassinated. The book will make fascinating reading for those who grew up during the height of the Kennedy Years, those halcyon days when everyone was young and seemed to be asking what they could do for their country and not what the country could do for them . . . when Jack and Jackie reigned supreme . . . all things Jack and Jackie were à la mode and de rigueur, and all good things seemed possible.
Better yet, the eight CDs of the seven conversations with Jackie will make fascinating listening. For the first time, we are able to hear Jackie telling her own story, in her own voice–a voice speaking softly in the minor key of sadness and grief—as she reminisces about life with Jack and the kids, his presidency and its most important and dramatic days, national and international figures who crossed their paths, and what she really thought of some of the people who she, like so many political wives, regarded with dreamy admiration in photos but whose true feelings were quite different, such as when she referred to French president Charles de Gaulle as "that spiteful little man."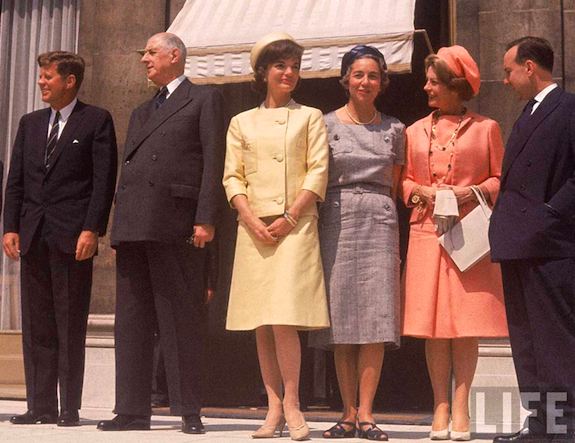 Jackie dazzled all of Paris when the Kennedys visited May 31-June 3, 1961. So much greater was the attention paid to her than to him that President Kennedy remarked to the press, with some pride and humor, "I do not think it altogether inappropriate for me to introduce myself. I am the man who accompanied Jacqueline Kennedy to Paris." President de Gaulle was dazzled, too, as she spoke French to and charmed him through lunch.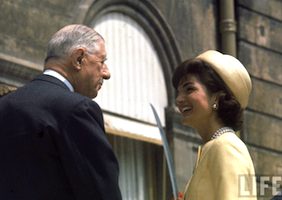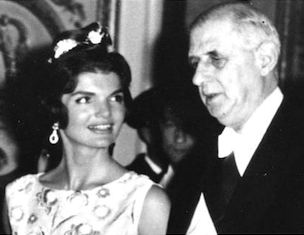 But Madame de Gaulle did not seem so impressed with Jack. At a dinner at Versailles, Jackie reported, President Kennedy tried to engage Madame de Gaulle in conversation. Looking at the elaborately laid table, the president said, "This is the most beautiful tablecloth." "The one at lunch was better," she replied, before they relapsed into silence. Here's vintage video of that dinner:
Jackie's love of all things French was well known—she used the French pronunciation of Jacqueline—so it sounds discordant to hear her say, "I loathe the French. There's not one French person I can think of except maybe two very simple people….You know, they're really not very nice. They're all for themselves."
Surely spoken in a moment of pique.
This book covers a vast array of subjects big and small, personal and public, and they span all the years of Jack and Jackie's life together. Readers and listeners will learn about JFK's napping habits and the tensions surrounding the Bay of Pigs, which Jackie saw the president weep over, one of the very few times she ever saw her husband cry. You will hear Jackie, who was known for the softness and breathiness of her voice, bark sharply to her toddler son John, "Out!" when he wandered into the room during one taping.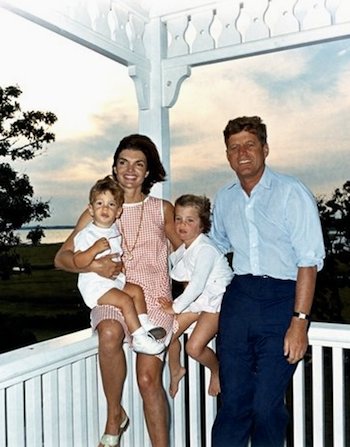 And you will hear what Jackie thought of her role of the wife of the president, and what she thought, at least at that time, of a woman's role in the world.
Jackie mentions so many political, literary, and artistic names that you might be forgiven for thinking she's name-dropping. But she was a woman of privilege and this was the sphere in which she traveled. And she was confident enough and intellectually curious enough to thrive in it. It was her natural milieu.
What you will not hear in these conversations is reference to the sexual peccadilloes Jack had at the White House. So, knowing what we now know about that subject, much of which Jackie surely knew, one cannot help but wonder whether Jackie had already begun to spin Jack's presidency. For, according to the conversations, you would think no cross word ever passed between them. He seemed always kind and patient, and she, some years younger, so wanted him to be proud of her. And already historians and others are correcting what they perceive to be flaws in the record as remembered by Jackie.
None of that diminishes the historical value of these conversations, however. They are the spoken words of one of the most fascinating people ever to bestride this earth. Published in connection with the 50th anniversary of the Kennedy presidency, they are more than just an opportunity to eavesdrop on the memories of a grieving widow. The Foreword by Caroline Kennedy, the sole surviving child of President and Mrs. Kennedy, and the Introduction by historian Michael Beschloss make a valuable contribution to putting these conversations into historical context. As Beschloss says in his Introduction, "this oral history constitutes a fresh internal narrative on John Kennedy's life as senator, candidate, and President" and provides "new detail" about Jack and Jackie's life together.
Jackie Kennedy was that rare person whose personal and natural qualities matched the zeitgeist of her time. Couple that with the accident of history that put her in the right place at the right time, and you have an icon. That she was widowed so tragically and so young makes the myth all the greater. And that part of the Kennedy family business is to preserve and promote that myth only increases the likelihood that the fascination with the family, but especially the Camelot of Jack and Jackie, will continue.
But for all that, the book, with footnotes and photographs, is worth reading and the CDs worth hearing. Jacqueline Kennedy was flesh and blood like everyone else, with all the biases and complicated feelings of every human being. For anyone wanting insight into the thinking and life of this most singular and fascinating woman, the book and CDs will not disappoint.
PHOTO CREDITS: The Kennedys and de Gaulles at official state visit. June 1961. Photographer: Hank Walker for LIFE magazine; Jacqueline Kennedy and President de Gaulle at Versailles. Photo: UPI; President Kennedy and family, Hyannis Port, August 1962. L-R: John F. Kennedy Jr., First Lady Jacqueline Kennedy, Caroline Bouvier Kennedy, President John F. Kennedy. Photograph by

Cecil Stoughton. Public domain.
Diane Stamm is a writer and Francophile who lives in Washington, D.C. Please click on her name to learn more about her and to read other stories by her published by BonjourParis.

Subscribe for
FREE

weekly newsletters with subscriber-only content.
BonjourParis has been a leading France travel and French lifestyle site since 1995.
Readers' Favorites: Top 100 Books, imports & more at our Amazon store
Get to know Jacqueline Kennedy with these selections…click on an image for details.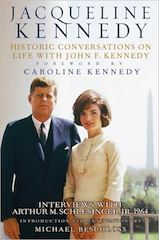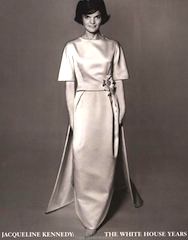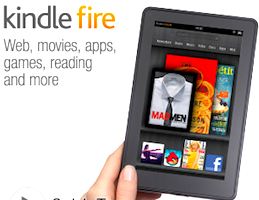 Thank you for using our link to Amazon.com…we appreciate your support of our site.
More in book, new book, Paris book reviews
---
---