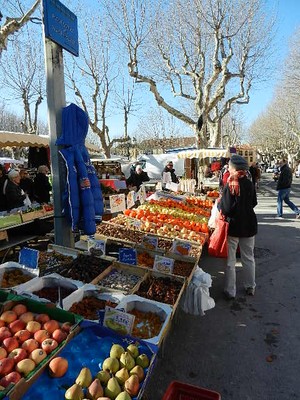 SAINT-TROPEZ, France – Carpenters hammer away, masons move rocks into place and boutique owners unpack carton after carton of new merchandise ahead of a new season about to unfold. Amid the clatter of preparation at the historic Mediterranean village of Saint-Tropez rests a chic community wearing the French winter coat of light snow, drizzle and occasional sunshine pushing through typically overcast skies.
Saint-Tropez out of season offers the visitor a very different experience from the glorious madness of summer.  Residents dressed in fashions from furs to kicky vests and accompanied by every imaginable breed of canine – French Poodles (of course), Weimaraners, Pugs, Italian Greyhounds, French Bulls, Lhasa Apsos – stroll the main square, the Place des Lices.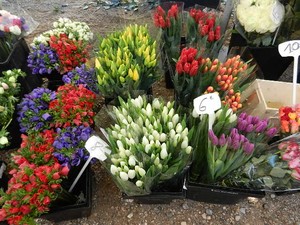 On Saturdays (twice a week in season), the Place des Lices –
graced by its famous plane trees – hosts an open-air market filled with fruits, vegetables, olives, cheeses, clothing, pottery, garlic, fresh chicken, lavender sachets, brightly colored flowers and even fur coats. Merchants cater to the rare tourist who somehow finds great joy in behind-the-scenes travel.
Hotel and restaurant options in winter are minimal, but good.  Across from Place des Lices is a converted mansion called Les Palmiers (palms), whose owner is the personable Christian Guerin.
Monsieur Guerin says his grandfather converted the family home into a three-star hotel in 1953. He describes winter as "renovation and repair time. It's always the same." The rates reflect the activity. A room that runs about 166 euro in season is discounted to about 99 euro in the winter.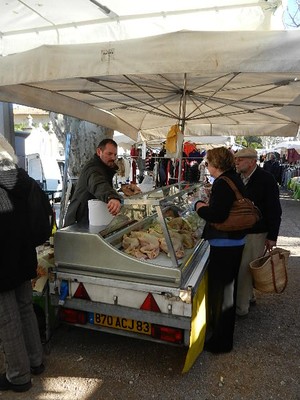 The village attracts all nationalities, Monsieur Guerin says, most recently Russians and others from that part of the world.
"Saint-Tropez is a microcosm, so business is good. For the moment, it's OK," says Monsieur Guerin.
In years past, Saint-Tropez was a jet set haven punctuated by resident Brigitte Bardot. The French bombshell/turned animal activist, now 78, no longer is seen at the port still filled with yachts and small fishing boats, but her presence is practically everywhere. Images of Bardot and other sexpots of her era appear at the tourist office, in restaurants, bars and shops.
Today, though, Saint-Tropez no longer hosts the rarefied set exclusively. Now, as Monsieur Guerin explains, "it's a mélange of rich and all economic classes," who enjoy the town's attributes.
Shopping options are abundant. The top designers – Hermes, Louis Vuitton, Gucci, Carolina Herrera – all have boutiques here. Locally owned shops offer seemingly infinite varieties of designer clothing, shoes, and leather goods.  Dramatically reduced prices are trumpeted in store windows as merchants make the last push to clear dated inventory.
A variety of restaurants and all the basic services a traveler needs are available, including a self-service laundromat. In typically French style, the port-side laundromat has a cafe, where weary travelers can enjoy a café au lait (coffee with steamed milk) as the washing machines drone on. (Price per load is a jaw-dropping minimum of 6 euro for 6 kg and  another 6 euro for a 30-minute dryer.) An internet café is around the corner.
The beaches of Saint-Tropez are world famous for their beauty and seaside accommodations, but they don't spring to life until the season opens in May.
Cannes – the famous resort that hosts the annual Cannes Film Festival – and the sprawling seaside city of Nice are less than 90 minutes away and are a wonderful excursion out of season. Here, you see palm-lined promenades, pristine  beaches, architecturally exquisite hotels, terrific restaurants and a non-stop parade of people of all ages walking, jogging, skating, biking, chatting, sitting on the beach.
Dollar-carrying Americans should bear in mind that one euro is not one dollar. The euro is strong and the exchange rate puts dollar holders at a disadvantage, though traveling out of season in France does give you a bit of an edge.
Still, the splendors of France – especially the South – have an intrinsic value that cannot be overstated and that lure you back over and over. Only in France can we learn the true meaning of oh-la-la! and the elegance of its essence.
Sofia Mannos is an award-winning journalist and a Euro-American, being multilingual and having been schooled partially in Paris.  Mannos' credits include work for United Press International, The Associated Press and CNN. Her work crosses the platforms. Her writing has been read globally and her news broadcasts heard all over the world. While her background is Greek, Sofia Mannos is a second generation Francophile. Her father spoke French and her mother loved it.