Of all the areas
I know in France, the north-eastern corner is visited by the fewest
people. Perhaps this is because of the flat land, rains and seasonal
mud. Maybe it still provokes images of trenches, WWI, cemeteries and
old villages that lack charm. But for me, Picardie and parts of the
Pas-de-Calais have a special meaning, as this was a killing ground
where young men died in the mud for the sake of freedom. Today, it is
the region of Amiens, Armentiers, Arras, Vimy, Somme and Lille, and
filled with pride, heart and legacy.
From
the Belgian border, along the coast near Abbeville, Via Amiens,
Beauvais, Chantilly, France's horse racing capital, the Grand Château
near Paris and the Parc Asterix, you have a treasure trove of beaches,
gentle hills and green meadows filled with poppies. I get a rush when I
see these crimson fields in France, but in Picardie they mean more.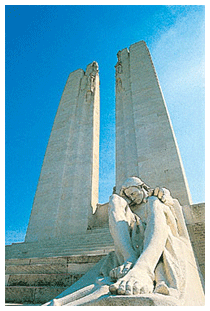 Go
north and inland from Compiègne to Noyon and Arras, with its two
classical Flemish city squares. Here, you will see Cambrai, Douai and
Vimy Ridge. You must take time to drive to the top. From the road below
on the approach to the Douai Plain, the monument and ridge are
dramatically visible. This land was given in perpetuity to Canada as a
tribute to the 60,000 men who died in its capture. From here, it's a
short drive to Lille near the Belgian border. You drive through a
windswept region, dotted with military cemeteries. It's somber but
revealing.
Here on the coast,
you will see rich bird life and inviting beaches near the 19th century
beach at Le Touquet. Horseracing and pine forests have spread to the
coast, where hillside towns with whitewashed houses face the fickle
sea. Because of its proximity to England and Belgium, the land once
boomed with the thunder of cannon, and men dug trenches in a mammoth
struggle for freedom. Dunkerke was once the testing spot for an
invasion of Europe. Places such as Crécy, Agincourt and St-Omer all
felt the wrath of war. Today, the land is productive, people are
hard-working, and life is quiet. In fact, now we see yachts bobbing on
the water and hear the click of golf balls on summer mornings.
At
Boulogne-sur-Mer, there are historical buildings in a walled-in upper
town. Here, near Place de la Résistance, you can visit the domed
basilica and 13th century châteaux. There's also a special aquarium and
sea center mysteriously named Nausicaa. Further north is the Colonne de
la Grand Armée and a panoramic view of the Opal Coast. Calais boasts
museums of fine arts and Rodin's famous Burghers of Calais outside the
Hotel de Ville. The Musée de la Guerre, housed in a battle-scarred
German blockhouse, is well worth a visit as well.
St-Omer
appears to have been untouched by the war, but we know otherwise. Here,
17th and 18th century houses have been rebuilt on cobbled streets. It
is a charming town complete with a fine museum, majestic cathedral and
library, equipped with 1,600 rare manuscripts and early books.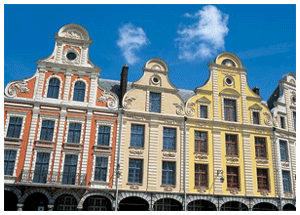 Slightly
inland, Lille is the most important city of the north. It's practically
in Belgium and highly technical in its industrial outlook. But the
charm of this sprawling city is in the old center with its cobbled
squares, such as Place Charles de Gaulle with its Art Deco facades
carrying a French and Flemish flavor. Lille is a business exchange
center with both an "old" and "new" exchange, but art is important here
too, as evidenced by the Musée des Beaux Arts. Look for the Flemish
influence with Rubens, Van Dyck and the charming Van Goyen's "The
Skaters." Of course, French masters, such as Delacroix & Courbet,
are here too.
The citadel fell
to Louis XIV after only nine days and was rebuilt in only four months.
A tour of this bastion, set high above a marsh and encircled by the
Deule Canal for protection against invasion, is well worth the effort.
It's a throwback to another age of warring, as well as an engineering
masterpiece. You can even see the birthplace of Charles de Gaulle, in
1890, whose grandfather's tiny lace factory has been turned into a
museum. You might like to try the driverless computerized subway or
stop for a meal of mussels and beer while you are in Lille.
But,
the highlight for me was Amiens with its majestic cathedral dating back
to the early 13th century. It's a wonder that the great Gothic house of
worship survived two wars. With unequal towers and twice-replaced
spires, this show of man's ingenuity includes weeping angels done in
the 1600's; over 100 oak choir stalls; floors over 700 years old; and a
nave that rises 138 feet and is supported by 126 slim pillars. Just a
glimpse of the 22 statues of the King's Gallery high above the western
doors will leave you awed with wonder.
But
there's more with the city's museums and market gardens. The tourist
office, located at 12, rue du Chapeau des Violettes, will give you a
map and a list of sites. Visit on Thursdays and Saturdays, market days.
South
is Beauvais. Here, too, we find a town rebuilt after the war. Before
you leave, study the rebuilt Cathedral St. Pierre, with its awesome
astrological clock depicting Christ and the twelve apostles, and
mechanical figures performing scenes from the Last Judgment.
You're
almost back in Paris now, even though you have gone less than fifty
miles. Just continue south through Chantilly, the capital of France's
horseracing country. Stop for the famous spectacle each June, and leave
time to visit the fortified Gallo-Roman fortress and theme park near
the Charles de Gaulle Airport on Autoroute AI. Here, the heroes created
by Goscinny and Uderzo will thrill both children and adults alike. Walk
down the Via Antiqua for a cartoonist's view of life during the Gallic
period. It's open daily from April to August daily and on Wednesdays
and weekends from September to mid-October.
Some Important Contact Information
Lille Tourist Information 12, rue du Chapeau des Violettes
Chantilly Information (+ 33) (0)3 44 62 31 31