I hope Honoré de Balzac doesn't mind: I sat in his place at Le Grand Vefour, Paris, for lunch, last week! A plush crimson velvet banquette, with views through Valencienne lace curtains of the Palais Royal gardens and Daniel Buren's black and white columns. Every writer dreams of having a dish/street/perfume named after them. Imagine sitting down to a glass of Taittinger (who now own this monument historique) and a plate of Pigeon Prince Rainier 111, your name in gold letters discreetly nailed to the back of the banquette. Can it get any better?
Impossible not to discuss décor. It's extraordinary, and sorry to go on, but nearly every place setting bears a plaque honouring and remembering things past. Not so the cuisine of Guy Martin who balances the history of the maison, founded circa 1784 as Le Café de Chartres, with dishes that are edgy and traditional at the same time. "The basis of my dishes remains the same, I just think lighter and healthier and know I am playing my part in the evolution of modern French cuisine," explains Martin, awarded the Legion d'Honneur last year.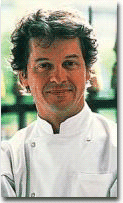 A handsome slim man, very self effacing, Martin greets his clients in the small entrance hall with a shy smile. "I'm so glad to see you, come, come we're just putting the finishing touches to a Parmentier de queue de boeuf with truffles." And with that he disappears into the kitchen, leaving Christian David to seat you where Napoleon & Josephine, George Sand, Colette, Cocteau (a drawing of his decorates the rich thick parchment menu), & co., once kibbutzed.
Maitre 'd hotel, Christian David has been at Le Grand Vefour since Guy Martin took over in 1991, when the restaurant had two Michelin stars. Now all the equipe are happy; for the last three years they have notched up 3***, "the same as when the legendary Raymond Oliver was here," notes David. And here's a nice note: the staff rarely change. "It's true," David confirms. "We consider ourselves the proud curators of a very special museum."
At lunch sitting in the aforementioned Balzac's place, I thought the old boy (whose huge output is collected under the title La Comedie Humaine) might have gone for the jewel-like spiky black Oursin de Bretagne dans un fin velouté, oeuf de caille and caviar (90¤), followed by the comforting Parmentier de boeuf aux truffes (73¤) or one of the suggestions du jour, ris de veau de Correze clouté aux truffes (95¤). A selection of cheeses to clean the palate, including rare and crumbly finds from the Savoie region. To finish, Tourte d'artichauts et legumes confits, sorbet aux amandes ameres (26¤) would inspire him to write a novel based on an original idea by Martin (a dish much copied, as is Balzac). Think crème brûlée sitting on a pastry crust filled with artichokes, confit of carrots, fennel and celery, cut with a sorbet of bitter almonds, "a bit on the side." A portly man, Balzac would enjoy Grandma Martin's gateau de Savoie, and home made chocolates, presented on a silver salver. Patrick Tamisier would propose a suitable French wine to wash it down with. "Not expensive, unless you want a Lafite Rothschild," Tamisier promises.
Born and raised in the Savoie region, Martin first got into cooking working in a mountain pizza parlour during school holidays, "to earn money to ski," he admits. Various jobs took him travelling and then he won first one, then two stars at Château de Divonne, Divonne-les-Bains, before taking on the challenge of Le Grand Vefour.
Martin loves legumes, and maybe this is the secret that keeps the superchef in super shape. "At the end of the afternoon, bite into a fresh tomato, or a tartare of legumes with a few Nice olives chopped in, un regal," he sighs. He also makes "carottes facon osso bucco", a soothing dish at any time. "Carrots have been used and cooked with for 5000 years," he notes in his cookery book Légumes (www.amazon.com).
Where else can you eat a meal that takes in 200 years of French history? It's expensive, but you won't begrudge a penny. You'll be booking up for next time – because you're worth it. And don't forget, lunch is 75 euros and Martin's unifying notes are generous portions, daring flavours and the possibility to discover his exciting new dishes. After all, when did you last have Jus de topinambours, crosnes acidulés, fine purée de pois chiche, menthe et coriander, chip de vitelotte? And that's just a starter, darling.
Le Grand Vefour
17 rue de Beaujolais, 1st. (Metro: Palais Royal)
T: 01 42 96 56 27
Closed Fri dinner, Sat-Sun
I'm not paying that:So there's L'Os a Moelle, where chef Thierry Faucher (ex-Crillon, trained by Christian Constant) proposes a 6-course feast for 32¤ and a smaller offering at lunch, for 27¤. Opposite, La Cave de l'Os a Moelle wine bar will feed you at Faucher's cheery table d'hote (make new BF's) for 27¤ lunch and dinner. So if you don't mind sitting elbow to elbow, reading everything from a blackboard and having to choose a sitting, try it/them. It's hit or miss, but what do you want at these prices – Le Grand Vefour? Funny, they do have something in common — the little lacy curtains — but that's where it stops. Trust me, you get what you pay for.
3, rue Vasco de Gama, 15th (Metro: Lourmel)
T: 01 45 57 27 27
La Cave de l'Os a Moelle,
181 rue de Lourmel, 15th (Metro: Lourmel)
01 45 57 28 28.
—
Born in Britain and now based in Paris, Margaret Kemp graduated from The Cordon Bleu and spent a year working and watching in the kitchens of top chefs from Sydney, Australia via Bangkok, Hong Kong, California, New York and France. Realising she would never win the coveted 3-Michelin stars, she decided to write about the people who do, the "disciples of Escoffier."