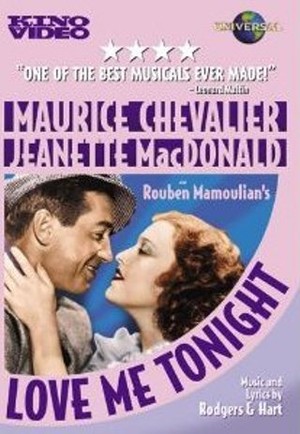 So I'm watching "Dreamgirls" — well, sort of watching; the screen is blurred by my tears of joy at the mere existence of such a dazzling achievement. And I'm thinking that it's ever so slightly familiar. It's not the theme, though this is hardly the first film to show how original art is watered down so it can thrill a mass audience. It's not the music, which starts as strong soul, transits through powerful R&B and ends up as a homogenized vehicle for a star who is, by now, just "passing" as a black woman. Ah! It's the way the story is told, a quasi-operatic style in which dialogue segues into song — and instead of talking to one another, characters sing their thoughts back and forth. And then, because although I have trouble remembering last week, I'm strong on old movies, I got it: "Dreamgirls" is cousin to "Love Me Tonight," a 1932 musical by Rouben Mamoulian. You may never have heard of this film. Blame that on television, which long ago turned away from late-night broadcasts of black-and-white classics. Had "Love Me Tonight" been on and had you seen the opening sequence, you would have been hooked — it's that rare combination: great originality and total fun. We're in Paris. Early morning, as the city awakes. A workman shows up with a pick and starts chipping away at the pavement. Another sweeps. A knife sharpener puts an edge on the first blade of the day. Two cobblers take seats outside their shop and hammer at heels. A woman beats a carpet. It's pure rhythm — street sound as melody. And it's just a little too much for young Maurice Chevalier, who shuts his window, finishes dressing and heads downstairs. But hey, he's Maurice Chevalier; as he walks down the street, he sings to his neighbors. And they sing back to him. Time to get serious: Maurice is a tailor. A good one. And, he thinks, a lucky one — he has just made 15 suits for Vicomte Gilbert de Vareze, the most fashionable man in Paris. His future is assured. You know the punch line: The Vicomte is a penniless deadbeat who has stiffed every tradesman on the block. He lives off crumbs from his disapproving uncle, the Duke d'Artelines. So Maurice charges off to the Duke's chateau to extract payment. On the way, he meets Jeannette MacDonald, and falls instantly in love. Once at the chateau, there is the inevitable confusion about Maurice's identity — the last thing the
Vicomte wants his uncle to know is that a tailor has come to collect a small fortune — and Maurice gets the chance to try his charm on MacDonald, who it turns out, is a widow. Not just any widow. A widow who feels she is, at 21, "wasting away." Her doctor, with an eye on her breasts, disagrees. His diagnosis: She's "being wasted." Throughout, the dialogue is brisk and racy: Jeanette: What are you doing now? Maurice: I'm thinking. I'm thinking of you without these clothes. Jeanette: Open your eyes at once! Maurice: Oh no, pardon, madam. With different clothes. Smart clothes. No wonder the censors snipped some 15 minutes from the film. The music is by Richard Rogers and Lorenz Hart. It includes such classics as "Isn't It Romantic?" and is, as the opening sequence suggests, integral to the film. But let Mamoulian explain: "I decided to make the movie lyrical, thoroughly stylized: a film in which the whole action of actors, as well as the movement of camera and cutting was rhythmic. Then I got Rodgers and Hart to write the music….We finished the whole score before I began to work on the script. We did the whole thing to a metronome, because we couldn't carry an orchestra round with us." Mistaken identity. Stars at their zenith. Classic songs. Double entendres galore. Even a happy ending: "Once upon a time there was a princess and a prince charming…who was not a prince but who was charming…and they lived happily ever after." If you have any weakness for old movies, don't miss "Love Me Tonight." Copyright 2007 by
Head Butler Inc
. 
SUBSCRIBE
ALREADY SUBSCRIBED?
BECOME A BONJOUR PARIS MEMBER

Gain full access to our collection of over 5,000 articles and bring the City of Light into your life. Just 60 USD per year.

Find out why you should become a member here.

Sign in

Fill in your credentials below.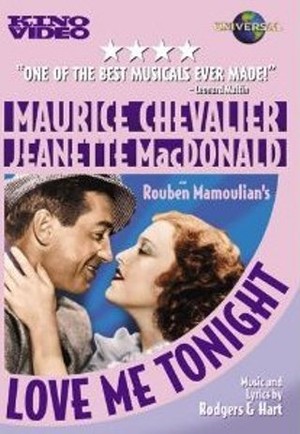 So I'm watching "Dreamgirls" — well, sort of watching; the screen is blurred by my tears of joy at the mere existence of such a dazzling achievement. And I'm thinking that it's ever so slightly familiar.
It's not the theme, though this is hardly the first film to show how original art is watered down so it can thrill a mass audience.
It's not the music, which starts as strong soul, transits through powerful R&B and ends up as a homogenized vehicle for a star who is, by now, just "passing" as a black woman.
Ah! It's the way the story is told, a quasi-operatic style in which dialogue segues into song — and instead of talking to one another, characters sing their thoughts back and forth.
And then, because although I have trouble remembering last week, I'm strong on old movies, I got it: "Dreamgirls" is cousin to "Love Me Tonight," a 1932 musical by Rouben Mamoulian.
You may never have heard of this film. Blame that on television, which long ago turned away from late-night broadcasts of black-and-white classics. Had "Love Me Tonight" been on and had you seen the opening sequence, you would have been hooked — it's that rare combination: great originality and total fun.
We're in Paris. Early morning, as the city awakes. A workman shows up with a pick and starts chipping away at the pavement. Another sweeps. A knife sharpener puts an edge on the first blade of the day. Two cobblers take seats outside their shop and hammer at heels. A woman beats a carpet.
It's pure rhythm — street sound as melody. And it's just a little too much for young Maurice Chevalier, who shuts his window, finishes dressing and heads downstairs. But hey, he's Maurice Chevalier; as he walks down the street, he sings to his neighbors. And they sing back to him.
Time to get serious: Maurice is a tailor. A good one. And, he thinks, a lucky one — he has just made 15 suits for Vicomte Gilbert de Vareze, the most fashionable man in Paris. His future is assured.
You know the punch line: The Vicomte is a penniless deadbeat who has stiffed every tradesman on the block. He lives off crumbs from his disapproving uncle, the Duke d'Artelines. So Maurice charges off to the Duke's chateau to extract payment.
On the way, he meets Jeannette MacDonald, and falls instantly in love. Once at the chateau, there is the inevitable confusion about Maurice's identity — the last thing the
Vicomte wants his uncle to know is that a tailor has come to collect a small fortune — and Maurice gets the chance to try his charm on MacDonald, who it turns out, is a widow.
Not just any widow. A widow who feels she is, at 21, "wasting away." Her doctor, with an eye on her breasts, disagrees. His diagnosis: She's "being wasted."
Throughout, the dialogue is brisk and racy:
Jeanette: What are you doing now?
Maurice: I'm thinking. I'm thinking of you without these clothes.
Jeanette: Open your eyes at once!
Maurice: Oh no, pardon, madam. With different clothes. Smart clothes.
No wonder the censors snipped some 15 minutes from the film.
The music is by Richard Rogers and Lorenz Hart. It includes such classics as "Isn't It Romantic?" and is, as the opening sequence suggests, integral to the film. But let Mamoulian explain: "I decided to make the movie lyrical, thoroughly stylized: a film in which the whole action of actors, as well as the movement of camera and cutting was rhythmic. Then I got Rodgers and Hart to write the music….We finished the whole score before I began to work on the script. We did the whole thing to a metronome, because we couldn't carry an orchestra round with us."
Mistaken identity. Stars at their zenith. Classic songs. Double entendres galore. Even a happy ending: "Once upon a time there was a princess and a prince charming…who was not a prince but who was charming…and they lived happily ever after."
If you have any weakness for old movies, don't miss "Love Me Tonight."
Copyright 2007 by Head Butler Inc. 
More in Jesse Kornbluth, movie, romance
---
---