Shock horror news of the week, it's already a bad year for Marc and Francoise Meneau whose *** L'Esperance, in the heart of Burgundy, has gone pork-belly up. It's the expense of running a sinking cruise ship, these days, apart from a few exceptions, say, Passard, Roellinger, Pacaud, a chef needs big- bucks sponsors to survive. Having lost one * in 1999, regained it in 2004, Meneau declares boldly. "We've been through thick and thin", we will survive". Here's hoping. Meanwhile, Jean Yves Bath is alive and well cooking his delicious Auvergnat cuisine in the 17th! A lot of savvy BP gastronauts were puzzled when he disappeared from Bath's, rue de la Tremoille. To-day he's saying f…Michelin and their stars, I'm sick of paying laundry bills, building theme-park restaurants and keeping my tables 10 miles apart. Meneau may want to take a basil-leaf from Bath's book, he wants/needs to strut his stuff without all that jazz. Bath clocked up his first * in 1983 in the Issoire region of the Auvergne, moved on to Clermont Ferrand and then to Paris where he thawed out frosty Parisians with his friendly manner, country décor and Auvergnat dishes. Fast forward. Bath and son take over Les Beatilles, on the angle of rue Bayen,  near FNAC and rue Poncelet market. Do your marketing, then stop by for a soothing 25€ lunch (see how little 25€ gets in the market, and appreciate the value here). The room is lively, sit at the table d'hotes or one of the tables where the banquettes are antique railway seats, not that comfortable but they look fantastic. If you're stuck for conversation you can always strike up a "I remember sitting at Saint- Donat- sur- l'Herbasse station on one of these, many moons ago, theme".  The décor's really quite cutting edge, mandarin orange walls, beige blinds, daring art-work, a Bellota bar. Read, Bellota hams hanging all over the place, even downstairs, in the glass wine cave, waiting for the return of Francis Bacon.  I would be scared to be locked in at Bath's overnight, do the hams come out and dance a pig-jig when the Baths' have gone home?    The son also rises, Stephane Bath does an excellent job in the salle. Jean Yves's in the kitchen, he's cool, wanders
around discussing the rugby, the elections, the weather with a mixed crowd. Ladies who lunch/dine patting their noses with the latest Bobbie Brown, or, sturdy trenchermen who've heard that Bath is making stupendous stuffed cabbage and they want to taste the bold red Roc des Anges Segna de Cor 2005 (30€). And, before the cabbage, dive into a hearty bowl of lentil soup studded with smoked duck. Or, nod and wink to Basque country, Angulas (Spanish eel) au piment d'Espelette and olive oil. Also note the hearty portions of Bellota, beautifully presented on contemporary white porcelain. Delicious bread for dipping and dunking, which would be better hot, why don't chefs realize there's nothing more comforting than hot fresh bread and mounds of Normandy butter? Don't get the wrong impression it's not all cochon central. The delicate warm galette of Saint Jacques, beurre demi sel melts in the mouth. The toute simple lobster salad is a winner and sushi de saumon is paired with fresh goat's cheese, fennel salad and pistachios. Mains to note include Tatin de pied de porc and endive salad. Bourguignon de joue de boeuf aux carottes. Cepes risotto and a handsome cassoulet of lobster. Call ahead if you fancy the stuffed cabbage, its' a special. But then so is everything. There's something for everyone here, from Dom Perignon 1990 to a Sauvignon MM Fournier at 4€ the glass. Try thus bubbly Bath's, great value, strong flavoured dishes, and a great wine list. You won't be disappointed.   25 Rue Bayen, 17th (Metro: Ternes) T: 01 45 74 74 74 Average Spend: Lunch & Dinner Menu 25€ A la Carte 59€ + wine Valet Parking Shut Sunday  
SUBSCRIBE
ALREADY SUBSCRIBED?
BECOME A BONJOUR PARIS MEMBER

Gain full access to our collection of over 5,000 articles and bring the City of Light into your life. Just 60 USD per year.

Find out why you should become a member here.

Sign in

Fill in your credentials below.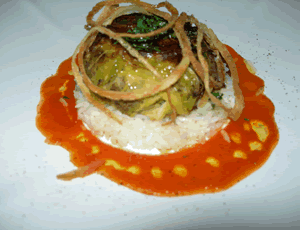 Shock horror news of the week, it's already a bad year for Marc and Francoise Meneau whose *** L'Esperance, in the heart of Burgundy, has gone pork-belly up. It's the expense of running a sinking cruise ship, these days, apart from a few exceptions, say, Passard, Roellinger, Pacaud, a chef needs big- bucks sponsors to survive. Having lost one * in 1999, regained it in 2004, Meneau declares boldly. "We've been through thick and thin", we will survive". Here's hoping.
Meanwhile, Jean Yves Bath is alive and well cooking his delicious Auvergnat cuisine in the 17th! A lot of savvy BP gastronauts were puzzled when he disappeared from Bath's, rue de la Tremoille. To-day he's saying f…Michelin and their stars, I'm sick of paying laundry bills, building theme-park restaurants and keeping my tables 10 miles apart.
Meneau may want to take a basil-leaf from Bath's book, he wants/needs to strut his stuff without all that jazz. Bath clocked up his first * in 1983 in the Issoire region of the Auvergne, moved on to Clermont Ferrand and then to Paris where he thawed out frosty Parisians with his friendly manner, country décor and Auvergnat dishes.
Fast forward. Bath and son take over Les Beatilles, on the angle of rue Bayen,  near FNAC and rue Poncelet market.
Do your marketing, then stop by for a soothing 25€ lunch (see how little 25€ gets in the market, and appreciate the value here). The room is lively, sit at the table d'hotes or one of the tables where the banquettes are antique railway seats, not that comfortable but they look fantastic. If you're stuck for conversation you can always strike up a "I remember sitting at Saint- Donat- sur- l'Herbasse station on one of these, many moons ago, theme".  The décor's really quite cutting edge, mandarin orange walls, beige blinds, daring art-work, a Bellota bar. Read, Bellota hams hanging all over the place, even downstairs, in the glass wine cave, waiting for the return of Francis Bacon.  I would be scared to be locked in at Bath's overnight, do the hams come out and dance a pig-jig when the Baths' have gone home? 
 
The son also rises, Stephane Bath does an excellent job in the salle. Jean Yves's in the kitchen, he's cool, wanders
around discussing the rugby, the elections, the weather with a mixed crowd. Ladies who lunch/dine patting their noses with the latest Bobbie Brown, or, sturdy trenchermen who've heard that Bath is making stupendous stuffed cabbage and they want to taste the bold red Roc des Anges Segna de Cor 2005 (30€). And, before the cabbage, dive into a hearty bowl of lentil soup studded with smoked duck. Or, nod and wink to Basque country, Angulas (Spanish eel) au piment d'Espelette and olive oil. Also note the hearty portions of Bellota, beautifully presented on contemporary white porcelain. Delicious bread for dipping and dunking, which would be better hot, why don't chefs realize there's nothing more comforting than hot fresh bread and mounds of Normandy butter?
Don't get the wrong impression it's not all cochon central. The delicate warm galette of Saint Jacques, beurre demi sel melts in the mouth. The toute simple lobster salad is a winner and sushi de saumon is paired with fresh goat's cheese, fennel salad and pistachios.
Mains to note include Tatin de pied de porc and endive salad. Bourguignon de joue de boeuf aux carottes. Cepes risotto and a handsome cassoulet of lobster. Call ahead if you fancy the stuffed cabbage, its' a special. But then so is everything. There's something for everyone here, from Dom Perignon 1990 to a Sauvignon MM Fournier at 4€ the glass. Try thus bubbly Bath's, great value, strong flavoured dishes, and a great wine list. You won't be disappointed.
 
25 Rue Bayen, 17th (Metro: Ternes)
T: 01 45 74 74 74
Average Spend: Lunch & Dinner Menu 25€
A la Carte 59€ + wine
Valet Parking
Shut Sunday
 
---
---