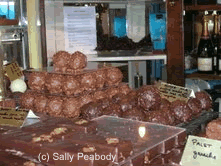 Fabled Biarritz, that soigné seaside resort in the French Pays Basque, attracts visitors both humble and haute and has for centuries. Indeed Le Palais, one of Biarritz' grand seafront hotels which welcomes guests in baronial yet surprisingly homey style, was once a glorious seasonal home to Napoleon the Third and Princess Eugenie. Contemporary visitors to this year-round seaside destination include golfers, buff surfers and myriad other lovers of active sports, plus a variety of summertime sun and beach seekers. As might be expected in a French town of any size and wealth, the historic town centre is full of all manner of adorable shops, cheery winebars, welcoming bistros and beautiful little food shops. Perennially on the prowl for good chocolate, I discovered several chocolatiers in Biarritz in just an hour's exploratory stroll. And my undisputed gem in a crown with several jewels is artisanal chocolatier C. Henriet, located in the heart of town. Henriet, and the other master chocolatiers in this beguiling corner of far southwestern France, have a deeply bittersweet history. It seems that the art of making, eating, and drinking chocolate in France had its origins with the community of Spanish and Portuguese Jews that were expelled from their home countries following the era of the 'reconquista'. A sizeable Jewish community, expert in chocolate making using beans sourced from the then new-world South American colonies, migrated to the Bayonne-Biarritz area centuries ago and set up shop anew. They established a grand and delicious artisanal tradition in France and on throughout Europe. Members of the Henriet family have plied their trade as fine chocolatiers for several generations. Arriving a few days after Easter (one of the top seasons for elaborate and whimsical chocolate specialties all over France) I found the shop to be replete with a veritable chocolate menagerie, including fish, adorable bunnies, chicks, rabbits, even small chocolate sailboats with little candy sailors manning the decks. As with every artisanal producteur in France, Henriet is known for a particular specialty, in this case it is their 'Rochers'. They are named for the rochers, the spectacular large rocks and sea-stacks lining the wild Atlantic coast that create spectacular scenery and surf, and that have also been the bane of shipping for centuries. Rochers of the edible-ilk are nubby textured, dark chocolate golf-ball-like creations that are a sublime blend of high quality dark chocolate, nuanced with tiny bits of 'oranges confits' and chunks of grilled almonds. As the personable proprietaire told me "We aim for equilibrium". Indeed no one flavor predominates in these luscious treats but the sum of the parts blissfully enhances each element, creating a very harmonious gastronomic marriage. Delicious. Henriet also makes a full line of classic French-style chocolates, dark and dark-milk, plus gorgeous 'mendiants', those irresistible chocolate discs with nuts and savory dried fruits topping the chocolate. Most mendiants are simply nuts and fruit atop chocolate disks, these are made extra attractive by dusting the nuts with a bit of sugar to add texture and visual interest. On the more humourous side, Henriet makes small chocolate berets, to celebrate the emblematic cap worn proudly in this Basque region. Once you make a decision, your chosen chocolates, fruit confits or other goodies are attractively packaged in Henriot's signature dark-blue boxes and tied up with deep-blue satin ribbons. You can also buy one or two Rochers or bonbons to taste without committing to a full box. All are alluring to the eye and irresistible to the palate. A winning and very French combination indeed. C. Henriet, Avenue Aristide Bassilour, Biarritz center. France. 05 59 47 58 59 Sally Peabody is a Paris specialist and writer. She works with independent travelers to Paris to craft great trips and leads small-group culinary and tea and chocolate tours to Paris, the French southwest and to the Pays Basque. Visit Sally's website
http://yourgreatdaysinparis.com
for other great articles on tea, chocolate and other hot topics! Questions?
[email protected]
SUBSCRIBE
ALREADY SUBSCRIBED?
BECOME A BONJOUR PARIS MEMBER

Gain full access to our collection of over 5,000 articles and bring the City of Light into your life. Just $60 a year.

Find out why you should become a member here.

Sign in

Fill in your credentials below.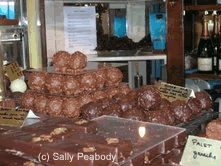 Fabled Biarritz, that soigné seaside resort in the French Pays Basque, attracts visitors both humble and haute and has for centuries. Indeed Le Palais, one of Biarritz' grand seafront hotels which welcomes guests in baronial yet surprisingly homey style, was once a glorious seasonal home to Napoleon the Third and Princess Eugenie.
Contemporary visitors to this year-round seaside destination include golfers, buff surfers and myriad other lovers of active sports, plus a variety of summertime sun and beach seekers. As might be expected in a French town of any size and wealth, the historic town centre is full of all manner of adorable shops, cheery winebars, welcoming bistros and beautiful little food shops. Perennially on the prowl for good chocolate, I discovered several chocolatiers in Biarritz in just an hour's exploratory stroll. And my undisputed gem in a crown with several jewels is artisanal chocolatier C. Henriet, located in the heart of town.
Henriet, and the other master chocolatiers in this beguiling corner of far southwestern France, have a deeply bittersweet history. It seems that the art of making, eating, and drinking chocolate in France had its origins with the community of Spanish and Portuguese Jews that were expelled from their home countries following the era of the 'reconquista'. A sizeable Jewish community, expert in chocolate making using beans sourced from the then new-world South American colonies, migrated to the Bayonne-Biarritz area centuries ago and set up shop anew. They established a grand and delicious artisanal tradition in France and on throughout Europe.
Members of the Henriet family have plied their trade as fine chocolatiers for several generations. Arriving a few days after Easter (one of the top seasons for elaborate and whimsical chocolate specialties all over France) I found the shop to be replete with a veritable chocolate menagerie, including fish, adorable bunnies, chicks, rabbits, even small chocolate sailboats with little candy sailors manning the decks.
As with every artisanal producteur in France, Henriet is known for a particular specialty, in this case it is their 'Rochers'. They are named for the rochers, the spectacular large rocks and sea-stacks lining the wild Atlantic coast that create spectacular scenery and surf, and that have also been the bane of shipping for centuries.
Rochers of the edible-ilk are nubby textured, dark chocolate golf-ball-like creations that are a sublime blend of high quality dark chocolate, nuanced with tiny bits of 'oranges confits' and chunks of grilled almonds. As the personable proprietaire told me "We aim for equilibrium". Indeed no one flavor predominates in these luscious treats but the sum of the parts blissfully enhances each element, creating a very harmonious gastronomic marriage. Delicious.
Henriet also makes a full line of classic French-style chocolates, dark and dark-milk, plus gorgeous 'mendiants', those irresistible chocolate discs with nuts and savory dried fruits topping the chocolate. Most mendiants are simply nuts and fruit atop chocolate disks, these are made extra attractive by dusting the nuts with a bit of sugar to add texture and visual interest. On the more humourous side, Henriet makes small chocolate berets, to celebrate the emblematic cap worn proudly in this Basque region.
Once you make a decision, your chosen chocolates, fruit confits or other goodies are attractively packaged in Henriot's signature dark-blue boxes and tied up with deep-blue satin ribbons. You can also buy one or two Rochers or bonbons to taste without committing to a full box. All are alluring to the eye and irresistible to the palate. A winning and very French combination indeed.
C. Henriet, Avenue Aristide Bassilour, Biarritz center. France. 05 59 47 58 59
Sally Peabody is a Paris specialist and writer. She works with independent travelers to Paris to craft great trips and leads small-group culinary and tea and chocolate tours to Paris, the French southwest and to the Pays Basque. Visit Sally's website http://yourgreatdaysinparis.com for other great articles on tea, chocolate and other hot topics! Questions? [email protected]
---
---