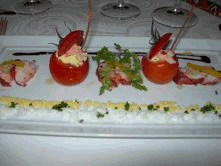 There's always something new in St. Tropez, new look/colours for super-yachts, hair, nails, fashion, arm-candy. This year ze "pipole" are buzzing about Laurent Tarridec flogging his beautiful Lei Mouscardins restaurant, on the edge of the port, to Joseph, who has six canteens where the likes of Pammy Anderson, Jack Nicholson, Ivana Trump, Naomi Campbell & co., chill.
"La Tour" is the flop of the season so far. Maybe Joseph's becoming too ambitious, but make up your own mind.www.joseph-saint-tropez.com Looking for Laurent? He's at his well worth a visit, Bastide des Cabris, Grimaud, T: 04 94 97 25 28.
La Bastide de Saint Tropez, located just above Place des Lices (market days Tues & Sat) is a great address. The owners Jeanine and Boris-Serge Sideroff create a beautiful and luxurious retreat. "This is not a place where people come to be seen, but to relax", says La Bastide's director Fabien Delaffon.
The Bastide boasts a Rolls-Royce and a Mercedes to take you to Vuitton, Pucci, Vilebrequin, Sennequier, the restaurants/bars in the centre ville. Also to the beaches, you need to go to: Plage 55 (ultra-high-net worth types whose lunch ends as dinner begins). Nikki Beach, if you want noise, Tahiti, Palmiers, Jumeaux and La Voile Rouge where at 5pm it's T-Time – 1,000€ bottles of Dom Perignon are used to "douche" la belle cliéntele. Or L'Orangerie, where there's just a warm welcome, sand beneath your feet, and great food; read normal. Rare in St. Tropez. T:04 94 79 84 74.
And, La Bastide's supercars take you to the port to board their sleek super-yacht which can be hired by the day to take you off to, say, the Isles de Porquerolles, Corsica, Italy.
Rooms are sumptuous, some have jacuzzis, terraces and gardens. Ring for room service, breakfast, a juice, it's there within minutes. Eat by the side of the Hollywood-style pool or at L'Olivier, the gazebo style restaurant.
Chef Franck Broc's cuisine is a harmony of local products, balanced with exotic spices. At present his Menu Homard (80€) is a winner – four courses include Mimosa of Lobster, with tomatoes, light herb vinaigrette. Follow with grilled lobster, coulis of carrots with cumin and colza. The main's a feather light lasagne of lobster with raw spinach leaves, jus and parmesan. No lobster dessert, an outsize raspberry macaroon with home-made sorbet.
It's all made to order, and chef Broc will discuss what you want to eat with you, by the pool, in the jacuzzi!. That's the atmosphere, you're the client, they want you to have exactly what you want Because you're worth it.
Across the bay Le Beauvallon is a pink palace, built by Emile Bernheim in 1911. To-day it's owned by Chinese businessman, Victor Hwang, who spares no expense bringing his Belle Epoque jewel into the 21st century.
58-rooms and suites (Bulgari products, pillow menu, darling) need to be booked well ahead. And it's the locals who love this hotel nestling in the shade of mimosa and pine trees. "We come every weekend to get away from the frantic scene in Monte Carlo", said one couple who prefer not to be named.
They come for the Beach Club, relax in roomy cabanas around a 25- meter pool or head off to the quiet sandy beach where the fabulous "rotunda restaurant" serves market fresh dishes, Thai, French. Fab fresh herb-based juices, club sandwiches, salads and smoothies, and "the almost grown up menu" for children. And, if they get bored, there's the boutique, the ice-cream kiosk, the Wendy House (for kids of all ages) and spa or there's the Riva shuttle-boat over to Saint Tropez.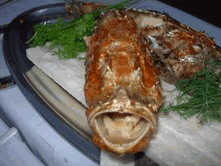 At night best to book the terrace at Les Colonnades, where chef Jean-Michel Belin's menu is exciting, Provence meets the far East. He's ex- California, Ritz-Carlton, Hawaii, Pacific 'O' Kapalua, Chez Paul, Maui, so you get the picture. Belin also does a touch of molecular- meets- the- Med. Velouté de petit pois, black Chantilly and gold leaf. Socca au coulis d'olive vert. Charolais Beef spiked with Bellota, crushed potatoes with truffles and a trace of X.O. Cauliflower tabbouleh with spicy bread. Rascasse with saffron broth, roast lamb with spices.
Contemporary desserts could be variation on a theme of apples, le croquant de fruits rouges, jus de verveine. It's all good and exciting.
And, stunning Provence wines. Chateau St. Roseline Cuvée Baron (Les Arcs) 51€ White. Chateau de Pibarnon 2002 Red. 60€. Dinner is served on the terrace overlooking the bay of St. Tropez. Bliss!
Address Book:
Bastide de Saint Tropez,
Small Luxury Hotels,
route des Carles,
T: +33 (0) 4 94 55 82 55
Room, massage, facial, vitamin cocktails
Dinner for 2 at L'Olivier 550€ for 2
Hotel Le Beauvallon,
Boulevard des Collines,
Saint-Maxime,
T: +33 (0) 4 94 55 78 88