How will you choose the name of your restaurant? Call it, Chez Mimi, Toi et Moi, A Star is Born? Whatever, naming it may be more difficult than obtaining a *. Suppose Tateru Yoshino had named his Stella Maris, something else, would it have made a difference to the Michelin starmakers? But we won't go down that road now.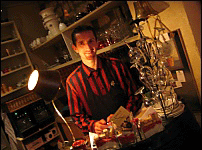 When Philippe Favré took over Le Vent d'Ouest in the 17th arrondissement, naming it was a challenge. "So my wife, the chef Antoine Butez and friends threw a brainstorming party" recalls Favré. They wrote names on pieces of paper, but, while doing this, someone turned on the TV because they wanted to watch Les Racines et les Ailes a weekly must-see tele-magazine on FR3, discussed and dissected the next day in bars and restaurants throughout the hexagon. That night featured a documentary on French gastronomy in the Middle Ages. Up came a section on Chateau de Ripaille, a medieval pile located on the edge of Lake Geneva, built by the first Duke of Savoy. "The Duke wanted to cultivate the vineyards planted by monks", explains Favré.  
These are not just any old grapes but the delicious Chasselas variety producing award winning white wine. Favré continues: "The Duke was also elected Pope for some strange reason, although he apparently never went near the holy city and was certainly never a priest.  This anti-pope decided to abdicate in 1449 because he wanted to live out his last days in style – eat, drink and be merry at Chateau Ripaille". Thus was born the French phrase to: faire le ripaille – read: have a ball and sod them all. 
Meanwhile back at the brainstorming, they were all doing the Ripaille, jumping with joy, Ripaille opened three months ago to excellent reviews. Favré, a sommelier, does the front of house and wine (ex: Faucher and Laurent). Antoine Butez is at the piano, young, very self-effacing and wondering what all the fuss is about. For example, his Legumes d'Autrefois deserve praise. He's searched the market for Jerusalem artichokes, parsnips, parsley roots, Swedes, hedgehog mushrooms and par-cooks them in a jus of Earl Grey tea. As well as blackboard suggestions there's a choice of 5 starters, including Crème de Potimarron au Bleu d'Auvergne. Poele de ris d'Agneau et crevettes au jus crèmé. Or, Tartare de Saint Jacques. Portions are trencherman size. Then choose from five fish mains, three meats and seasonal game. Follow with a salad and a trio of cheeses and then deal with five desserts. This is the difficult part: Moelleus de Chocolat with pear ice-cream. Parfait glacé au Whiskey, Galette de chataigne and Bailey's poured generously on top. Soupe d'Agrumes for the ladies who do. Banana milk shake or warm figs with a granite of hot wine. Wow! I want them all. 
Favre, a sommelier by formation, jokes "I was born in a glass". So, the wines are interesting and, what Favre likes to do is open bottles, say, a nice Saint Julien Lalande Borie 1999 (45€) leave them on the table, the customer drinks what he wants and is charged accordingly.
Say a nice little Chinon Moulin de Beau Puy 2004 at 18€. Discuss the extensive list with Favré, who is waiting delivery of Cuvee Ripaille before the end of the month, which will sell for about 19€. And, for now, he has a rather fruity Val de Loire Saumur red, Cuvee La Ripaille (about 30-35€). 
So hurry to Ripaille for lunch or dinner for two, or, if with friends, book table 11 "Le Presidentielle". 
NOW AND ZEN… 
"I am sure there is room for Chinese Haute Cuisine in Paris", observed Alain Senderens, last year during a delicious Asian influenced dinner at William Ledeuil's Kitchen Galerie.
>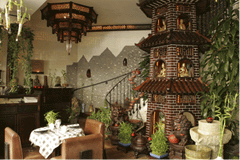 Is the city with the highest concentration of 3* Michelin chefs ready for it? "For most French people Chinese means take-out or a cheap lunch", says Chen Shiming owner of the Zen Garden. Shiming forecasts the formation of a Chinese Culinary Institute, training Paris based chefs in China or France. Applications and CV's to Zen Garden please. 
Chinese New Year (the Dog). Zen Garden is putting on the dog's dinner, in a Feng
Shui setting. Very posh they've got the Centre Culturel de Chine à Paris to organise a cat-walk show with a Canton, Pekin, Sichuan and Shanghai best-of collection. 27th and 28th January two totally different six-course menus, "highlighting the multiple flavours of China", promises chef Shin Ming Chen.  
Ripaille,
69 rue des Dames, 17th (Metro: Rome)
T: 01 45 22 03 03
Open lunch and dinner – Shut Sat-Sun at lunch.
Table 11 is the best table.
Menu: Lunch 11€ – 15€ – Dinner 23-29€ + a la carte + wine
Parking close by at La Mairie.  
Zen Garden,
15 rue Marbeuf, 8th (Metro: Franklin D Roosevelt)
T: 01 53 23 82 82
Chinese New Year Dinner-Specatacle including a glass of wine 68€.
Ends.