New Hot Quarters: the 1st and 13th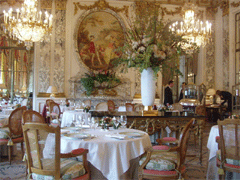 The first arrondissement is probably the one that is most familiar to Americans visiting Paris for one reason; it's where the Louvre, number one visitors' destination, lies.  Oh sure, the Louvre des Antiquaires, Musee des Arts Decoratifs, Musee de la Publicite, Musee de la Mode et du Textile, Jeu de Paume, Orangerie and Pavillion des Arts are also nearby within the first, but it's the Louvre most of us head to straight off.  Aside from the great museum(s), the Tuileries with their relatively new sculpture installations and the Garden of the Palais Royal, which frequently hosts temporary sculpture exhibitions, offer us a chance to mix art, architecture and greenery.  And, I would guess, that for pure walking and gawking, the Place Vendome, Place de la Concorde (technically in the 8th) and Rue de Rivoli are the most popular destinations.  The first is also home to the shops that cater to a cook's every need; from copper pans (E. Dehillerin) to wild and tame serving plates (A. Simon, actually across the street in the 2nd) to ordinary cooking utensils (Bovida and Mora).  Ah ha, but what about food?  Well, as I've noted before (In "Eating in or near Museums") the Louvre has both the Café Marly and a food court; the former best known for its wicked brownie and the latter for the convenience, ability to get in an out quickly, and variety of fast, but fast French, food. But the first is also where some grand restaurants are sited; notably le Meurice, l'Espadon in the Ritz, le Carre des Feuillants and the Grand Vefour.  But these are destination restaurants, and I've found that my friends want to spend the day in the Louvre, making quick business of lunch and want to have grand, languid dinners.  So I've developed a list of places that are good for lunch, where I'll eat happily, but which don't consume the afternoon or your wallet.  If you need quick, head up towards the Marche St Honore, where wonderful oysters accompanied by brisk white wine and the sound of sea-gulls can be had at the l'Ecume St-Honore on the Rue de Marche St Honore – and right across the street is pig heaven, the pork-dispensing Au Petit Theatre – and finally, in the Marche St Honore square itself – there's Le Point Bar, a first rate place run by Alice Bardet of the famous Tours family and a place my wife Colette loves for a light lunch of what she calls "Girls' Food" –  Rouge Tomate.  Even closer to the Louvre and Palais Royal is a new place, A Casa Luna  (aka Casaluna) serving wonderful Pyrenees-focused food. A top-notch place not far away is Pinxo, but I have
trouble getting folks to go there because its atmosphere is hardly old France (it's in the recently renovated Plaza Vendome Hotel) and the food is more like that of Alice Waters than Geirge Auguste Escoffier. Finally, a place I love for its food and days open (Tuesday-Sunday), is l'Ardoise.  What about the most famous foodie place in the first – La Tour de Montlhery aka Chez Denise?  Well, sadly I've never been blown away by it, despite the buzz on the internet from aficionados. Ok, now we make a 180º turn to the 13th (I'm doing this gymnastic manoeuvre in order to squeeze 20 arrondissements into 12 monthly summaries.)   Art: not much here unless you count the Bibliothèque Nationale Mitterand which has special exhibits and the six galleries in back of the B. N. that
Jeff Rian on ArtNet
  said had relocated in 1997 from the Marais: the Air de Paris, Jennifer Flay, ARPS, Emmanuel Perrotin, Art Concept and Bruno Delavallade.  For tourist sights, there's really only the Gobelin Factory (Les Manufactures Nationales des Gobelins) where group visits can be scheduled (usually in French.)  Food is pretty much as spare as the culture too.  Oh, there's Chinatown, one of the biggest bargain restos in the city – l'Avant Gout, an old classic bistrot Le Temps des Cerises and two upscale/up-priced bistro-restos – Le Petit Marguery and Le Terroir but the closest one comes to blow-out food is L'Ourcine, run by an ex-chef of Yves Camdeborde's while he was still at Le Regalade.  But things may be changing, on the Butte aux Cailles a new wine bar serving excellent bio-natural-etc wines – Le Tandem – recently opened and I thought it was quite acceptable.  So, as usual, here are my favorites in the 1st and 13th:   Le Meurice 228 rue de Rivoli, 1st (Metro: Tuileries) T : 01.44.58.10.50 Closed Saturday lunch and Sundays Menus: 68 € lunch, 170 € dinner. A la carte 250 €.  L'Ecume Saint-Honore 6 rue du Marche Saint Honore, 1st (Metro: Tuileries) T : 01.42.61..93.87 Open Tuesday through Friday 8:30 A.M. to 2 P.M. and 4 to 7:30 P.M.; Saturday from 8:30 A.M. to 7:30 P.M.; Sunday from 9 A.M. to 1 P.M. Cost depends on the number and size of oysters. Au Petit Theatre 15 place du Marche Saint-Honore, 1st (Metro: Tuileries) T : 01.42.61.00.93 Closed Sunday and Monday Lunch menu 18 & 22.50 €, at dinner 28 €, a la carte 50 €. Le Point Bar 40 place du Marche Saint-Honore, 1st (Metro: Tuileries, Pyramides) T : 01.42.61.76.28 Closed Sunday and Monday Lunch menus 15 & 25 €, a la carte 35-55 €.  A Casa Luna aka Casaluna 6 rue de Beaujolais, 1st (Metro : Palais Royale, Pyramides) T : 01.42.60.05.11 Closed Sundays Menus 25 & 60  €, a la carte 35 €.  Rouge Tomate 34 place du marché Saint Honoré, 1st (Metro: Tuileries, Pyramides) T : 01.42.61.16.09 Open every day. A la carte 25-35 €.  Pinxo 9 rue d'Alger, 1st (Metro: Tuileries) T : 01.40.20.72.00 Open every day A la carte – 55 €.  L'Ardoise 28 rue du Mont-Thabor, 1st (Metro: Concorde) T : 01.42.96.28.18 Closed Monday and Tuesday. Menu: 30 €.  Le Terroir 11 boulevard Arago, 13th (Metro: Gobelins) T : 01.47.07.36.99 Closed Saturdays and Sundays A la carte: 50 €.  L'Ourcine 92 rue Broca, 13th (Metro: Gobelins) T : 01.47.07.13.65 Closed Sundays Menus: 19.50 € (lunch), 29 € (dinner).  Le Tandem 10 rue Butte aux Cailles, 13th (Metro: Place…
SUBSCRIBE
ALREADY SUBSCRIBED?
BECOME A BONJOUR PARIS MEMBER

Gain full access to our collection of over 5,000 articles and bring the City of Light into your life. Just 60 USD per year.

Find out why you should become a member here.

Sign in

Fill in your credentials below.
The first arrondissement is probably the one that is most familiar to Americans visiting Paris for one reason; it's where the Louvre, number one visitors' destination, lies.  Oh sure, the Louvre des Antiquaires, Musee des Arts Decoratifs, Musee de la Publicite, Musee de la Mode et du Textile, Jeu de Paume, Orangerie and Pavillion des Arts are also nearby within the first, but it's the Louvre most of us head to straight off. 
Aside from the great museum(s), the Tuileries with their relatively new sculpture installations and the Garden of the Palais Royal, which frequently hosts temporary sculpture exhibitions, offer us a chance to mix art, architecture and greenery.  And, I would guess, that for pure walking and gawking, the Place Vendome, Place de la Concorde (technically in the 8th) and Rue de Rivoli are the most popular destinations. 
The first is also home to the shops that cater to a cook's every need; from copper pans (E. Dehillerin) to wild and tame serving plates (A. Simon, actually across the street in the 2nd) to ordinary cooking utensils (Bovida and Mora). 
Ah ha, but what about food?  Well, as I've noted before (In "Eating in or near Museums") the Louvre has both the Café Marly and a food court; the former best known for its wicked brownie and the latter for the convenience, ability to get in an out quickly, and variety of fast, but fast French, food. But the first is also where some grand restaurants are sited; notably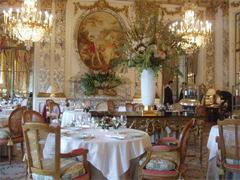 le Meurice, l'Espadon in the Ritz, le Carre des Feuillants and the Grand Vefour.  But these are destination restaurants, and I've found that my friends want to spend the day in the Louvre, making quick business of lunch and want to have grand, languid dinners.  So I've developed a list of places that are good for lunch, where I'll eat happily, but which don't consume the afternoon or your wallet. 
If you need quick, head up towards the Marche St Honore, where wonderful oysters accompanied by brisk white wine and the sound of sea-gulls can be had at the l'Ecume St-Honore on the Rue de Marche St Honore – and right across the street is pig heaven, the pork-dispensing Au Petit Theatre – and finally, in the Marche St Honore square itself – there's Le Point Bar, a first rate place run by Alice Bardet of the famous Tours family and a place my wife Colette loves for a light lunch of what she calls "Girls' Food" –  Rouge Tomate.  Even closer to the Louvre and Palais Royal is a new place, A Casa Luna  (aka Casaluna) serving wonderful Pyrenees-focused food. A top-notch place not far away is Pinxo, but I have
trouble getting folks to go there because its atmosphere is hardly old France (it's in the recently renovated Plaza Vendome Hotel) and the food is more like that of Alice Waters than Geirge Auguste Escoffier. Finally, a place I love for its food and days open (Tuesday-Sunday), is l'Ardoise. 
What about the most famous foodie place in the first – La Tour de Montlhery aka Chez Denise?  Well, sadly I've never been blown away by it, despite the buzz on the internet from aficionados.
Ok, now we make a 180º turn to the 13th (I'm doing this gymnastic manoeuvre in order to squeeze 20 arrondissements into 12 monthly summaries.)  
Art: not much here unless you count the Bibliothèque Nationale Mitterand which has special exhibits and the six galleries in back of the B. N. that Jeff Rian on ArtNet  said had relocated in 1997 from the Marais: the Air de Paris, Jennifer Flay, ARPS, Emmanuel Perrotin, Art Concept and Bruno Delavallade.  For tourist sights, there's really only the Gobelin Factory (Les Manufactures Nationales des Gobelins) where group visits can be scheduled (usually in French.) 
Food is pretty much as spare as the culture too.  Oh, there's Chinatown, one of the biggest bargain restos in the city – l'Avant Gout, an old classic bistrot Le Temps des Cerises and two upscale/up-priced bistro-restos – Le Petit Marguery and Le Terroir but the closest one comes to blow-out food is L'Ourcine, run by an ex-chef of Yves Camdeborde's while he was still at Le Regalade.  But things may be changing, on the Butte aux Cailles a new wine bar serving excellent bio-natural-etc wines – Le Tandem – recently opened and I thought it was quite acceptable. 
So, as usual, here are my favorites in the 1st and 13th:  
Le Meurice
228 rue de Rivoli, 1st (Metro: Tuileries)
T : 01.44.58.10.50
Closed Saturday lunch and Sundays
Menus: 68 € lunch, 170 € dinner. A la carte 250 €. 
L'Ecume Saint-Honore
6 rue du Marche Saint Honore, 1st (Metro: Tuileries)
T : 01.42.61..93.87 
Open Tuesday through Friday 8:30 A.M. to 2 P.M. and 4 to 7:30 P.M.; Saturday from 8:30 A.M. to 7:30 P.M.; Sunday from 9 A.M. to 1 P.M.
Cost depends on the number and size of oysters.
Au Petit Theatre
15 place du Marche Saint-Honore, 1st (Metro: Tuileries)
T : 01.42.61.00.93
Closed Sunday and Monday
Lunch menu 18 & 22.50 €, at dinner 28 €, a la carte 50 €.
Le Point Bar
40 place du Marche Saint-Honore, 1st (Metro: Tuileries, Pyramides)
T : 01.42.61.76.28
Closed Sunday and Monday
Lunch menus 15 & 25 €, a la carte 35-55 €. 
A Casa Luna aka Casaluna
6 rue de Beaujolais, 1st (Metro : Palais Royale, Pyramides)
T : 01.42.60.05.11
Closed Sundays
Menus 25 & 60  €, a la carte 35 €. 
Rouge Tomate
34 place du marché Saint Honoré, 1st (Metro: Tuileries, Pyramides) 
T : 01.42.61.16.09
Open every day.
A la carte 25-35 €. 
Pinxo
9 rue d'Alger, 1st (Metro: Tuileries)
T : 01.40.20.72.00
Open every day
A la carte – 55 €. 
L'Ardoise
28 rue du Mont-Thabor, 1st (Metro: Concorde)
T : 01.42.96.28.18
Closed Monday and Tuesday.
Menu: 30 €. 
Le Terroir
11 boulevard Arago, 13th (Metro: Gobelins)
T : 01.47.07.36.99
Closed Saturdays and Sundays
A la carte: 50 €. 
L'Ourcine
92 rue Broca, 13th (Metro: Gobelins)
T : 01.47.07.13.65
Closed Sundays
Menus: 19.50 € (lunch), 29 € (dinner). 
Le Tandem
10 rue Butte aux Cailles, 13th (Metro: Place d'Italie)
T : 01.45.80.38.69
Closed Sundays
A la carte 35 €. 
---
---