Right Bank: Choosing the Right Bar for an Elegant Evening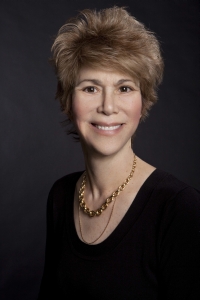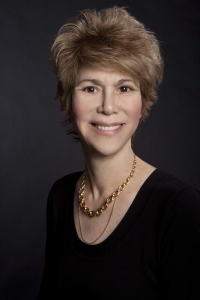 There's the Paris bar scene and then there's the bar scene. Some people want to rock and roll and dance into the wee hours of the night. But not everyone.
In Paris there are bars with surroundings more elegant than the swankiest corporate offices, where you may or may not notice business people discreetly closing deals in hushed tones. Some people go to such bars because they want to hear what their partners are saying and maybe even hold hands. Don't be shocked if you see someone in a corner kissing someone who doesn't radiate the spouse look. Others are on the hunt for places with pianos. Count me among them because I'm an incurable romantic.
Some caveats: The following five bars are expensive. You're paying for the ambience and the fact you're not sitting so close to others that you'll be part of their conversations or feel obliged to get married. People who frequent these bars tend to be the rich. If you're on the lookout for beautiful people or royalty, you may spot a few here. Or you may not.
If they're dressed in true grunge, they might be actors, rock stars or people who are so rich that they're excused for wearing tee shirts and jeans with holes. Or, just as likely, they are ordinary grungy people. Even though Paris is a far less formal than it used to be, it's not a look I happen to like. But then I don't qualify as being rich or famous and simply wish they'd take their hip look elsewhere.
This is my favorite Parisian getaway. I love its opulent, elegant look and feel. The service is impeccable and when the pianist is playing in the lobby area, you can either savor the music or let it be background. Ten years ago the hotel's nineteenth-century architecture underwent a massive renovation by French designer Philippe Starck, who maintained the building's integrity while bringing it up to today's standards.
Bar Tender (yes, that's his title) William Oliveri has been overseeing the main bar for nearly 30 years. When the hotel closed for renovation, it retained his services because management was well aware his clients would follow if he set went elsewhere. If any man has a book in him, William is it. But he's more than discreet; he just smiles when you ask a none-of-your-business question. Drinks are expensive, but the accompanying nibbles can suffice for dinner if you're on a diet.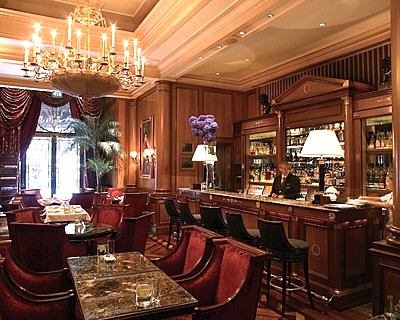 The Four Seasons – George V, Paris 8th:
Hotel Four Seasons-George V has an elegant bar with table seating plus a lobby bar where you can watch the comings and goings of its clientele. One of the things that makes this hotel so special is its incredibly beautiful floral arrangements. They're constantly changing, which always makes me pause to ponder how the in-house Artistic and Floral Director, Jeff Leatham, manages to create such effects. Leatham was one of the first designers to break the floral mold, utilizing out-of-the-ordinary vases and containers, some of which he designs himself. Sometimes he mixes flowers you wouldn't anticipate pairing or displays the same type of flower in groupings with many different arrangements and postures.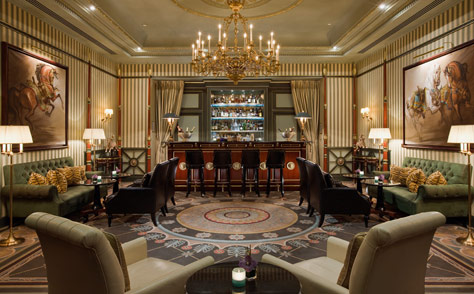 If you're into history and classic 19th century French architecture, an evening at the Shangri-La puts you inside the former residential palace of Prince Roland Bonaparte, Napoleon Bonaparte's grandnephew. Located in the Paris 16th opposite the Eiffel Tower, the former residence was recently restored by architect Richard Martinet and interior designer Pierre-Yves Rochon, who converted it from palace to hotel, parts of which are classified as a monument historique.
The hotel has a bar and numerous quiet lounges where you can enjoy drink with conversation. When I was last there, couples were sipping Pink Ladies (the hotel's signature drink) and Asian Touch cocktails that remind guests that this premier hotel group is headquartered in Hong Kong. The lounges are intimate and inviting; and you can hear yourself think. If you've had enough to drink, perhaps you may fantasize about living in this grandeur. Pourquoi pas?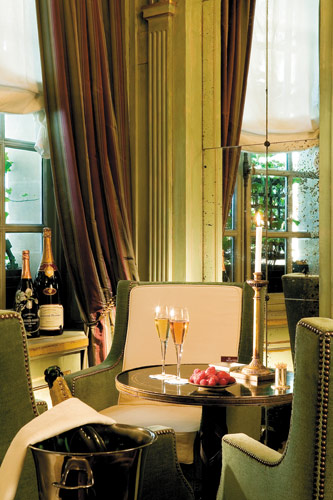 Radisson Blu Le Dokhan's Hotel, Paris 16th:
If you're a Champagne lover, you'll think you've died and gone to heaven when at the first Champagne bar in Paris. Le Dokhan Bar's understated decor includes celadon wood panels adorned with antique mirrors in gilded frames. The room softly glows at night. Sommeliers introduce patrons to a different Champagne vintner each week and serve three different cuvées. There are also monthly Champagne tasting events that offer your choice from more than 50 Champagnes. Call this romantic… and how.
Hôtel Fouquet's Barrière, Paris 8th:
The hotel's bar Le Lucien is contemporary but elegant. For people who want to stay or spend an evening on the Champs-Élysées, this is in the thick of the action and shopping. Business travelers with business at La Défense are a short RER ride away. From 5:00-7:30pm, you'll spot businessmen and women discussing contracts and business deals. Or they may be celebrating after the signatures are already on the dotted line. After that hour, the lights are dimmed and the bar becomes well … more of a setting for lovers.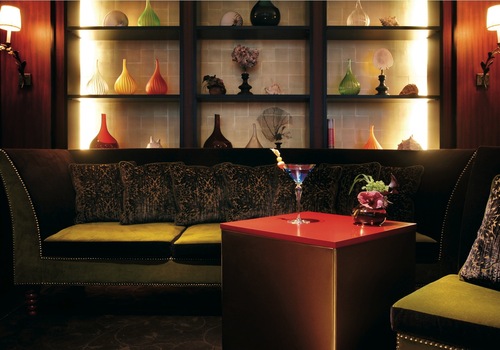 All of these hotels are located on Paris's Right Bank, which tend to be larger than those on the Left Bank. Perhaps it's because they have more space that they can have more intimate areas where people may be more private. If you have too much to drink, you can reserve a room for the evening and not worry about taking the Métro or driving.
© Paris New Media, LLC
Do you have a story or review to share with our readers? Please contact us.
Subscribe for free so you don't miss a story. Search our library with 7,000+ stories and 50 original stories published monthly. BonjourParis has been a leading online France travel and French lifestyle site since 1995.
Thank you for using our direct link to: Amazon.com. Your supports allows us to publish BonjourParis.
Check Francophiles Favorites for French-themed items for travelers and Francophiles. Most recent listings at last pages. 
Short-cut to our 100 Top Selling Items

(Please wait for widget to load—updated daily)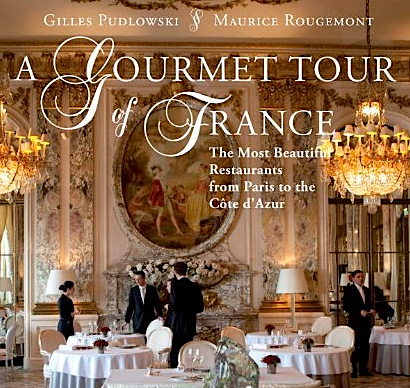 Prominent restaurant critic Gilles Pudlowski leads the reader on a gourmet tour of France, sharing menu selections from his favorite restaurants along with the stories behind the accomplished chefs and their kitchens. From the Carré des Feuillants nestled between Place Vendôme and the Tuileries gardens in the heart of Paris to the elegant château of les Crayères in Champagne that takes the visitor back to another era, and from the idyllic setting of Auberge de l'Ill in the verdant Alsatian countryside to breathtaking views across the sparkling water from the terrace at Le Petit Nice in Marseille, these are legendary restaurants that bring dreams to life. Illustrated with Maurice Rougemont's enticing photographs, this finely researched bible of French gastronomy offers a feast for the eyes and the palate. World-renowned chefs include Paul Bocuse, Alain Ducasse, Guy Savoy, and Anne-Sophie Pic, and each has divulged two signature recipes to enjoy at home. Addresses for all of the restaurants are included in the book for readers who wish to embark on their own gourmet tour of the finest in French dining experiences. To read more or to order A GOURMET TOUR OF FRANCE from our Amazon.com French Marketplace, please click HERE.
Leave a reply
Your email address will not be published. Required fields are marked *