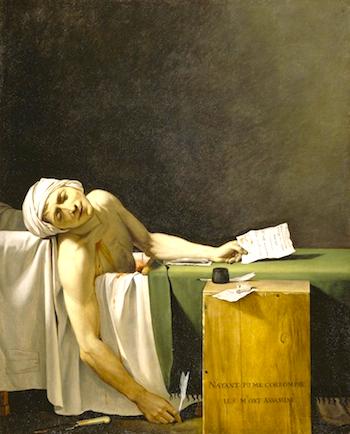 Expats in Paris like to say, "the city is at its best in August—you get Paris without the Parisians." In late July, you can already feel the effects of the city's annual population transfer. Métro seats are easier to come by, even at morning rush hour. Sand has been dumped and volleyball courts erected along the banks of the Seine, creating an urban beach for the enjoyment of city-bound natives and August visitors alike.
But Paris was not always the peaceable summer enclave enjoyed by tourists the world over.
Cherchez la Femme
More than two centuries ago, the city was gripped by Revolution. The summer of 1793 marked the Revolution's full-on turn to terror, for now it had its martyr: the propagandist Jean-Paul Marat. He was killed on July 14th, four years to the day after the sacking of the Bastille, by a knife-wielding lass, only 24 years old, who could no longer tolerate the wanton violence he championed. Little could Charlotte Corday have known that her decision to sacrifice herself would backfire so spectacularly.
Now, on your August visit, you can discover Revolutionary Paris with the murderess herself in the first interactive StoryApp Tour ever to hit the streets: Beware Mme la Guillotine: A Revolutionary Tour of Paris.
Beware Mme la Guillotine combines the traditional power of storytelling with the latest in mobile technology to bring the world's most popular tourist destination to life. Peppered throughout with treasure hunts and trivia challenges, map quests and other games, it represents a new concept in tourism. All you need is an iPhone or iPod Touch, a comfortable pair of walking shoes and a penchant for adventure. You will never see Paris quite the same way again.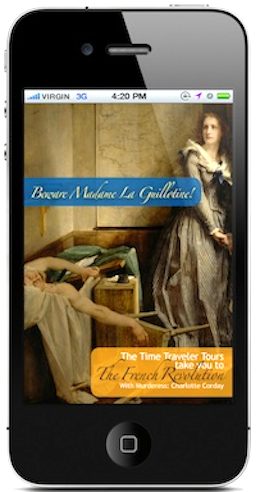 Visit sites where the French Revolution began
Follow in Charlotte's footsteps as she recounts her motives while revealing the story of her age. Begin your day at the Palais Royal, a glorious garden right in the heart of Paris that, though well loved by Parisians, remains largely undiscovered by tourists. Considered the birthplace of the Revolution, it is also where Charlotte bought the knife she used to kill Marat. Spend a leisurely morning listening to Charlotte spin her tale as you crisscross the grounds looking for historical treasure.
Then, leaving the gardens on route to the scene of Charlotte's crime, search for elements of the art installation that memorializes the post-Revolutionary figure Arago. Cross the Louvre Courtyards, always humming with activity even in the August heat, as you ogle I.M Pei's famous glass pyramid and take a cooling break by its surrounding fountains.
Make your way the to the Pont des Arts, spanning the river Seine. Continue searching for Arago medallions as you enter one of Paris's hubs of hip art galleries and trendy boutiques. Find your way to the Procope, Paris's oldest café, a veritable museum of the French Revolution and one-time hangout of Marat and his fellow radicals. His printing press was once located just across the alley. Successfully complete the Procope Treasure Hunt to find, among other things, the bell rung by Marat's workers to let him know when the presses were ready. Win a 10% discount off lunch for your efforts.
From the Procope, head for the Ile de la Cité, the island upon which ancient Paris was founded and the site of the palace of medieval French kings. Your focus at the palace, now the Palais de Justice, will be on its former prison, La Conciergerie, known during the Revolution as the "antechamber to the guillotine." Charlotte's tale and tour conclude here with a treasure hunt through its chambers and prison cells to the stone table in the ladies courtyard from which, it turns out, Charlotte recounts this memoir. Learn the course that the Revolution finally took, and the fate of Queen Marie Antoinette, upon Charlotte's own death at the base of Madame la Guillotine.
Beware Mme la Guillotine: A Revolutionary Tour of Paris, the debut StoryApp in a series by Time Traveler Tours, is due for release this Tuesday, July 26. Created expressly for mobile format and targeted to youth (12+), families and the young at heart, Time Traveler Tours StoryApp itineraries are the next generation of travel guide for a new generation of traveler.
Sarah Towle has written several stories for BonjourParis, most recently a two-part series about painter Paul Cezanne. Learn more about Time Traveler Tours' ground-breaking StoryApps at Time Traveler Tours, Facebook and @ParisAppTours on Twitter. Get the app at iTunes.
Image Credits:
David, Jacques Louis (1748-1825), (studio of). Death of Marat, 1793. Oil on canvas, 162 x 130 cm. Inv.: RF 1945-2. Photo: G. Blot/C. Jean. Louvre, Paris, France. Photo Credit: Réunion des Musées Nationaux / Art Resource, NY.
Splash page, Beware Madame la Guillotine. Time Traveler Tours, 2011, using: Baudry, Paul (1828-1886). Charlotte Corday. 1860. Oil on canvas, 203 x 154 cm. Inv. 802. Photo: Gérard Blot. Musée des Beaux-Arts, Nantes, France. Photo Credit: Réunion des Musées Nationaux / Art Resource, NY.
Sarah Towle is the founder of StoryApps at Time Traveler Tours. Click on her profile to learn more about ordering the iTunes app see other stories published by BonjourParis.
Sign up now for your own free subscription to BonjourParis & we'll send you Wednesday & Sunday newsletters that link to original France travel stories, news, recipes and travel photography. 50 original stories monthly from your most complete online France travel & Francophile lifestyle eZine. RSS feed available.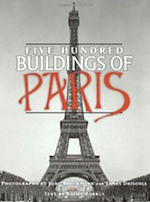 Five Hundred Buildings of Paris contains photographs and neighborhood tours of the greatest buildings and monuments in Paris. Information includes the building's name, location, year of completion or renovation and historical highlights. Order Five Hundred Buildings of Paris [Sept 2010 release] at our amazon.com French Marketplace.

One-stop shopping for air, hotel & car rental deals:
Car rentals at competitive rates, no drop fees & a 5% discount for BonjourParis.com readers who use this link to Auto Europe Car Rental
Don't over look Auto Europe for international flights, click Auto Europe Flights
To rent a hotel, click Auto Europe Hotels