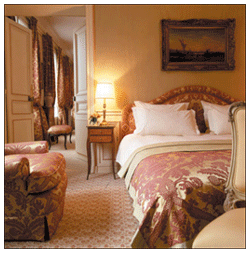 When
my godmother was a young girl, she arrived in Paris with her mother and
sister, chauffeur and governess, and trunks filled with white lace
gloves, sheet music, and parasols. For three years they lived in the
center of Paris at 7, rue de Berri, where my godmother labored over her
French and practiced the piano daily. However, she was limited to
particular hours of practice, as her neighbor, Sophia Loren, would
knock hard at the door, begging my godmother, in her patent-leather
Mary Jane's and pigtails, ignorant of Ms. Loren's status, to "please
keep it down." Ms. Loren learned to enjoy the plunkety-plunk of my
godmother's tiny fingers on the black and white keys, as did other
neighbors, including Rex Harrison.
My
godmother's face lights up whenever she talks about her years in Paris
as a young girl. Her very best friend still lives in the 14th
arrondissement in an apartment overlooking the cemetery. And my
godmother has promised to come and pay us both a visit on which she
will stay in the same quarter where she lived so many years ago at 7,
rue de Berri in the Lancaster Hotel.
Over
the week of Thanksgiving, my mother and brother came to Paris for a
visit, during which we ate no turkey, but their company filled me more
than any amount of stuffing or mashed potatoes ever could. My family
was invited to stay at the Lancaster Hotel; however, I decided it would
too much of a hassle to carry a change of clothes down my seven flights
of stairs, so I planned to reside in my small studio for the week….that
was until on the early Sunday afternoon of their arrival, when I was
introduced to the Lancaster.
I
woke up every 20 minutes the night before my mom and brother Travis
arrived in Paris. I was paranoid that somehow both of the alarm clocks
I had set would manage to malfunction, and I would be robbed of the
time necessary to properly groom myself and run to Paul bakery to
purchase a few delightful snacks, so that Travis and my mom would not
be starving while they unpacked.
I
gave myself 45 minutes to find the hotel, even though its website
showed that the métro stop was George V, only two stops from my
studio–I wasn't sure how long it would take me to find the hotel once
out of the métro. I mapped out my route on my Plan de Paris and was
prepared to go and rescue my family from their temporary foreign home
and take them someplace quiet and charming (probably in the 6th
arrondissement) where my brother could pretend to listen to me and my
mom chat over a pot of tea.
I
was met at the top of the George V on the Champs-Elysées stairs by huge
gusts of icy wind, causing my slightly warm Paul bag, filled with
miniature bread men with cranberries for eyes, to rustle and the pages
of my Plan de Paris to fly all over the place. Too cold to deal with
trying to find the right map again, I hurried away from the Arc de
Triomphe and waited on the corner for the light to change so that I
could cross the street. I peeled my eyes for the rue de Berri sign and
was pleasantly surprised to find it on the very next corner. I made a
left and arrived at number 7 only moments later.
I
laughed at my paranoia of not being able to find the hotel–me with no
sense of direction. Well, if I hadn't followed the extremely simple
directions offered on the site, I would have bumped into the hotel by
chance.
A very tall, thin
doorman held the large glass doors for me. I walked along the beautiful
polished white floor, luminous from the soft light of the coachmen's
lanterns, into the reception area, where I was greeted by two smiles
and a warm fireplace. I asked if my mother, Madame Guenther, had
arrived and was told that she and my brother were taking coffee in the
Salon Berri.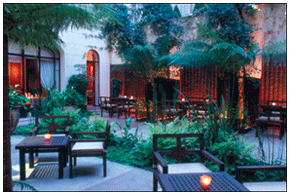 I
walked straight ahead through another pair of glass doors, these
propped open. This time I was greeted by preserved antiques and
exquisite paintings ( all originals), a library-like bar that reminded
me of the one in Cole Porter's High Society in which Bing Crosby and
Frank Sinatra sing "Well, Did You Evah?" My mom and Travis, drinking
cappuccinos, were seated around a low table and looking out onto a
gorgeous patio filled with greenery. I could only imagine what it must
be like in the summer when the flowers are in bloom.
The
three of us sat in the Salon Berri while I had a café crème and they
each ordered another cappuccino. They told me about the movies on the
plane that they were able to stay awake for and the meals they ate or
rather picked at. I was so relaxed, I didn't want to get up when the
man with the endearing smile behind the reception desk called us to say
that the suite was ready.
Mom,
Travis, and I followed him into the elevator–they had to tell me to
hurry up as I was distracted by the case of precious jewelry that I am
sure someday someone who loves me will purchase pour moi. Even the
elevator was beautiful. Generally, even in some of the nicest hotels in
Paris the elevator is worn–missing panels of wood here or there, or
the floor has splinters–one hotel even had some sort of strange
astro-turf like material protecting the elevator chamber floor.
The
elevator took us up to the 4th floor, where at the end of the hallway
we were met by a huge pair of double wooden doors, the kind that always
requires one of those ancient giant gold keys. The plaque on the door
read "Emile Wolf" suite.
Monsieur
Emile Wolf was at one time the owner of 7, rue de Berri, which was not
originally a hotel but four separate apartments owned by the Castillo
family.
When Wolf purchased
the property in 1925, he did so with the intention of turning it into a
grand hotel during his ownership, which is exactly what he did, naming
it after the city of Lancaster in England. Wolf added four more floors
to the hotel in three years and filled every one of them with marvelous
antiques and pieces of art. Today, the Lancaster Hotel, owned by Grace
Leo Andrieu, still offers the same luxurious home-away-from-home
privacy as it did in the day of Emile Wolf.
As
I watched the man slip the large gold key into the lock, my breath
caught in my throat. And when he opened the doors, my eyes opened
wider. There in the corner under a chandelier to the left of the
fireplace was the piano where my godmother had disturbed Sophia Loren
so many years ago.
The living
area is huge, and filled with wonderful old pieces. It's clear that
everything has been carefully chosen: the drapes, the tapestries the
velvet on the chairs. In the corner there is a cart with an espresso
machine and a little pale celadon green box that could only be from
Ladurée. I guessed that Mom and Travis wouldn't be needing the little
Paul bread man I'd purchased on my way over.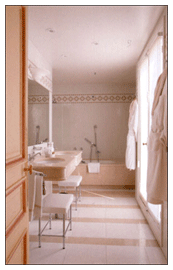 I
hurried into the bedroom, only to find more splendor–huge mirrored
armoires and a giant king-sized bed bedecked with silky sheets,
probably Porthault. The bathroom is huge, divided into two parts in a
very dignified manner so that there would be enough room for two to
prepare for an evening out on the town comfortably. Two bathrobes were
hung in the corner above two pairs of slippers.
It was at this moment that I decided I would be spending the night.
The
rest of the afternoon we were lazy, mostly enjoying our little
apartment in a 19th century townhouse. Later in the afternoon we took a
walk. Our mouths watered at the colorful pyramids of macaroons in the
window of Dalloyau, and our purses begged to be lightened at Louis
Vuitton and Hermès.
We returned
to the hotel, where we dressed for dinner and then had a cocktail in
the Salon Berri. Revived, we set out for a marvelous meal in the City
of Light.
On our walk to the
restaurant L'Alsace, recommended to us by the concièrge for the
particularly good bowl of onion soup my brother was craving, we passed
the V.I.P. lounge, a popular nightclub; a Bistro Romain, a restaurant
chain in France that I've never tried but that's always packed; and
more than one mall-like complex open at 9 p.m.
The
week of my family's visit I put on at least five pounds, and not just
from the meals I overate at in the many restaurants we dined in. I
believe it was the Lancaster breakfast each morning where I indulged
the most. I'd never seen anything quite like it: fruits of every kind,
some of whose names I didn't even know. Cereals, meats, brioches,
cheese breads, croissants, yogurts, orange juice, pineapple juice,
crêpes, jams, marmalade, eggs any which way! But my favorite part of
the breakfast was the dried apricots soaked in a honey sauce and topped
with walnuts. Scrumptious!
Throughout
my stay at the Lancaster, I was treated as part of the Lancaster
family, as though I lived there and had been living there for quite
some time. The staff knew our names and our occupations, and would
converse with us about San Francisco and particular parts of Paris my
family might find interesting–knowing that my mother is a
photographer. They were more than generous with their time and
information.
We were offered
tours of the hotel during which I saw other chambers that I found
equally as charming as our grand suite. The same attention to detail
had been given to the standard rooms as to the Emile Wolfe suite. The
sheets on the beds were just as silky and the bathrobes as soft. The
sizes of the rooms varied, but none of them was small or cramped; all
were a generous size. In fact, on the Lancaster's web site they even
list the exact square-footage of each room–very helpful when deciding
how many suitcases to bring, or whether to leave the kids at home.
Though a six year-old could probably sleep rather comfortably at the
bottom of one of the antique armoires.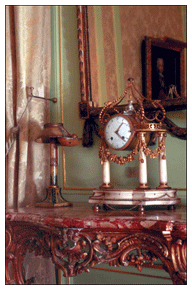 Individual room rates range from 470-1,650 Euros per night.
The
rooms are equipped with individually controlled air-conditioning, two
telephone lines and one fax-modem line with DID Telephone and Fax
numbers, Voice Mail, Fax machine on request, Multi-system Combi TV-DVD,
Cable 1 Sateltte channels, Personal Safe, Hair-dryer, Mini-bar. Suites
also have a Hi-Fi Tuner/CD player set and Wifi Internet connection (but
WiFi access is quite expensive).
My
stay at the Lancaster was brief, but in that short time it had become
sort of a habit with me: my early-morning espressos in the living room,
listening to classical music and threatening to play a few notes on my
godmother's piano, followed by another (unnecessary) coffee in the
Salon Berri before meeting my mom and Travis for apricots in the
breakfast room.
We would then
dress and leave the hotel and were in a matter of minutes at the Louvre
or the Orsay. I now understand why my godmother has such fond memories
of her home in Paris. In just a few days, I came to regard the
Lancaster Hotel in the same warm light.
For more information about the Lancaster Hotel:
---
Kirsten
joins Bonjour Paris from Los Angeles, California where she recently
graduated from the University in Southern California with a BFA
in Acting. Last year Last year she co-wrote the book and lyrics to a
new pop musical which expects to open in Los Angeles next spring. Two
years ago, while studying at a conservatory in London, Kirsten fell in
love with Paris and decided that she was destined to return for some
time. She's thrilled to experience this dream come true.