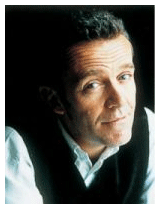 It takes guts to jump out of a plane and free-fall parachute. It takes guts to transform a seriously successful 3-star restaurant, when you could just settle down, leave it to the sous-chefs and party in the Porsche. Two-years ago 3-star Michelin superchef Alain Passard banned beef from his left-bank kitchen, causing a right old kerfuffle in the corridors of gastronomy. He was apparently sued by Rungis Food Market when he questioned the freshness of the veggies, and suggested their beef could have the dreaded mad cow malady.
Passard breaks the rules. Whereas most Parisian chefs content themselves with variations on classic themes, not so Passard, who takes a more personal, more exotic and riskier approach to haute cuisine; he has no fear of flying. "For one year chez Passard, I re-learned everything I was taught in cookery school," admits Pascal Barbot, now creating his own eclectic cuisine at L'Astrance. In spite of exotic touches–say, smoking or flambé-ing his organic home grown vegetables, Szechuan peppers, licorice, honey, making mustards, you name it–Passard's plats cohere to a rigorous harmonious palette of flavours and colours. He's passionate about slow-cooking, simmering vegetables because, "steaming is too violent." Since the "strictly vegetarian" announcement he's relented somewhat, and game, poultry, seafood and fish feature on his menus. "I'm experimenting daily, creating new types of dishes, inspired by textures of produce, transparency in the layers of, say, onions," he explains. (His gratin of Cevennes onions au parmigiano and Sarawak pepper is sublime.) "I compare it to removing a woman's make-up, then the real beauty emerges."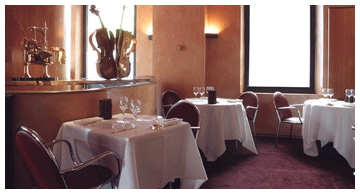 "Come and have lunch," Passard suggested last week. "I've just finished a vegetable tourte…" I was there. Lunchtime chez Passard is magic. He pops in and out of the kitchen as people arrive. "Yes it's true, I'm more relaxed. I love the lunch service which many chefs don't. I don't feel pressure. If a dish doesn't work out, I've got time to re-do it." L'Arpege is a tiny space, no reception area, no bar, no flowers to detract from the food, just some important sculptures by César.  Luminous light shines through Lalique glass windows, the golden dome of Les Invalides makes a dramatic backdrop, as does the Musée Rodin opposite.
This is the most contemporary, least formal of the top Paris restaurants. It's like wearing Galliano, not Valentino; holidaying in St. Tropez, not Monte Carlo. "It's old money," I suggested to my friend. "No," the friend retorted, "lots of money!" Looking around the room you'll see a mixture of "men from the Ministry", men lunching with stunning women, definitely not their spouses, and, in the corner, a woman of a certain age lunching/launching her grandson. One assumes she's initiating him into his first 3-star, while Grandpapa will be charged with initiating him into his first sexual encounter. That's Paris for you.
As a prelude to the tourte, there's l' Oeuf, the house-classic freebie starter, with the white whipped and replaced in the shell, the organic yolk (from the Farm de la Bigotiere) coulant, then a splash of maple syrup at the base. "I'll give you a few things to taste before–and after–the tourte," teases Passard. He explains that since lightening up on the bovines, he's had to re-think the wine cellar. So we're tasting a Bergerac Chateau Tourmentine 2002, which will match everything. Paper-thin ravioli floats on a cinnamon broth and is followed by the tourte packed with aubergines, turnips, celery, and carrots, in a light brioche pastry. There's a herb and spice vegetable stuffing, spiked with cumin, coriander, a dash of fleur d'oranger et voila! All the ingredients arrived this morning from Passard's potager in the Sarthe, near Le Mans, where the earth is tilled by horses, and you know the rest!
Grandma Passard's portrait looks down from the wall, next to the kitchen. Her eyes, like the Mona Lisa , definitely follow each dish. The staff in the salle, led by the genial Fréderic Le Clair ("I've been here for 11 years.") know every pinch of salt, spice, blob of St. Malo butter that make up the dishes they present. Lobster from the island of Chausey is lightly covered with transparent shavings of black radish, and anointed with acacia honey. A frothy velouté of chestnuts is paired with black sesame, the perfect prelude to a single jewel-like sea-urchin, sitting in a froth of capucine flowers. "The oursins were amazing this morning, I had to cook them," is the chef's quasi-apology. Endives are braised with jambon from the Black forest, drizzled with 25-year old balsamic vinegar, while raw scallops and truffles form a "damier pattern on the white plate" (just like my Vuitton handbag). To balance the vegetables, wild turbot, slow-grilled for two hours, there's almost a round of applause as its' schlepped into the salle, it's crosshatched skin gleaming like a wrestler. Served in a wedge, surrounded with a pale sauce with ginger, fresh herbs and vin jaune from the Jura region. I note the grandson's enjoyed it all, now he's tucking into a fleur d'oranger soufflé, and so are we.
It's 4pm and we're still in the restaurant, having just popped in the taste the tourte. "What happens if lunchers are in a hurry", I enquire. "No problem, we serve them fast if they want. Just the other day a client rang to say he was in a rush, more or less ordered his lunch on the telephone. At 4.30 he was still here, because in the meantime, I'd come out to talk to him and Jicquel, the sommelier, had chosen some superb wine!" Passard's culinary boldness does not always appeal to conventional customers. One night four Americans ordered green salads, picked at the main course and left before the dessert. "It doesn't pretend to be a stereotype French restaurant, but for those fascinated by the evolution of haute cuisine, it's a state-of-the-art laboratory that delivers instruction as well as sophisticated pleasure," writes The Wine Spectator.
Have you ever wondered what goes on behind the kitchen doors? Would you have the guts to work in a 3-star kitchen? You can–just contact Relais & Chateaux about their Ecole des Chefs scheme for wannabe chefs (or complete masochists). Many of the members of Relais & Chateaux participate, including L'Arpege. "I love having new people in my kitchen," says Passard. The courses are two days (1,550€) or five days (2,900€) and you'll be there for at least eight hours a day, so it's not for the faint-hearted, but you will observe a great kitchen in full swing, and you do get to keep the chefs whites, guaranteed to impress your dinner party guests. But if you can't stand the heat… Find out more
at the website
.
Passard himself admits that even after 30 years of cooking, he doesn't know exactly why he decided to become a chef. "Maybe it was to leave the confines of my small Breton village, where my Grandmother Louise did all the cooking. I think I really wanted to be a musician–my father played in a band–but it was much easier to get a job in a restaurant, because in my area there were more good places to eat than to make music!" he recalls. Passard's first formation was as a pâtissier, and his apprenticeship was with the great legends of traditional French cuisine, Michel Kerever, Jean Maillan (in Belgium), Gaston and Gérard Boyer, and Alain Senderens. "I'm not a monk, but I have dedicated my life to L'Arpege. It's a love affair, and I tenderly watch the evolution of the place," says the boy from Brittany, brandishing his 2004 Licence to Parachute Jump with great pride.
Christian Constant's third canteen is romantically dubbed Les Fables de la Fontaine. It's a tiny (20-seater) former oyster bar where Constant's concept is fish and fruits de mer. In the kitchen is his nephew, the talented Olivier Rossi, ex-Ducasse, Taillevent, Martinez, Cannes, Inter-Continental, Madrid.
Six starters (7€) include sardines farcies, salade de mesclun Nicoise, petit friture du jour, oysters + blackboard suggestions. Six mains (16€) include Saint-Jacques roasted in the shell, au beurre demi-sel (dead ringers for the expensive ones along the road at Le Violon d'Ingres). There's a rather classic Merlan Colbert, persil frit and a mouthwatering Saumon soufflé des Fables de la Fontaine. The blackboard starter last Thursday was Blinis de pommes de terre and caviar de hareng (7€); mains were Ravioli de Langoustine au pesto (16€), langoustine mayonnaise (10€) and Oysters. All to be mopped up with pain Poujarin.
Stunning desserts are displayed in the refrigerated window; get the table nearby and, when nobody's looking, you can have a ball. Opéra chocolate café, tarte Tatin, Paris Brest, Millefeuille a la vanilla, macaron chocolat, vanilla, café. Wines are by the glass, carafe or bottle; the most expensive is 34€, I liked the Chateau Haute Selves 2000 (32€).
I'm not paying that.
There's no booking but you can try.
01 44 18 37 55
131 rue Saint-Dominique, 7th (Metro: Ecole-Militaire)
Shut Sun-Mon (Gone fishing!)
Bon Appetit.

---
Born in Britain and now based in Paris, Margaret Kemp graduated from The Cordon Bleu and spent a year working and watching in the kitchens of top chefs from Sydney, Australia via Bangkok, Hong Kong, California, New York and France. Realising she would never win the coveted 3-Michelin stars, she decided to write about the people who do, the "disciples of Escoffier."