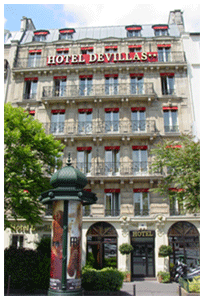 I have a confession to make. Please don't freak out. Or call me names, but….I can sometimes be a little high maintenance. It's not that I'm difficult to maintain. I just like things the way I like them and want things the way I want them. I prefer things clean, rather than dirty. And cloth napkins–are simply better for the environment. Some mistake this "self-awareness" or "self-knowing" for snobbery.
But au contraire…I am not a snob. I just have a particular taste and tend to indulge it.
Okay, so here it goes. The confession? I have never stayed at a hotel that has less than four stars. Well, that's not entirely true. I once stayed at a three-star in the 7th, but they put me up in Lauren Bacall's suite.
So you can imagine how nervous I was when I received this week's hotel assignment from my editor: Hôtel Devillas . Paris, 75005. Two stars. (!!!!!!!!!!) I packed the bottle of 409 I had shipped overseas and a roll of paper towels in my bag.
I mean, who knew what kind of conditions I'd be camping in? Located between Gare d'Austerlitz and the Saint-Marcel métro (lines 5 & 10), across the street from Hôpital La Pitié, and half a block up from Jardin des Plantes, where one can visit kangaroos and ostriches seven days a week, is the family-owned Hôtel Devillas.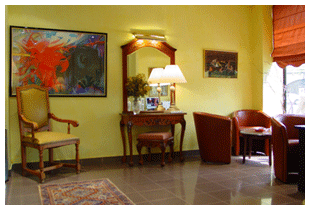 I enter through two sets of sliding glass doors. The floor is perfectly polished charcoal-black tiles. To my left is an area where brochures and maps are placed, carefully and magically arranged so that they don't look tacky. On either side of me are identical sitting areas that look out onto the street. Reddish-brown leather chairs surround a small table that holds an ashtray and an elegant dish containing potpourri. There is a soda machine hidden against the wall.
I approach the tall reception desk, where I am greeted with the warmest smile. Dressed in a trendy white and brown striped button-up shirt and brown tie, the young man introduces himself and gives me the key to my room, 602.
I step into the newly renovated elevator, which has a glass case filled with information about the hotel and events going on in Paris, just in case I get bored on my way up to the 6th floor. I now know what I'm doing in Paris next week.
I step out of the elevator onto the hardwood floors of the hallway. Hardwood?! Magnificent! Finally, someone who understands that carpet is not sanitary when you have hundreds of people trekking back and forth daily. Unless the rugs are being shampooed on a daily basis, my shoes stay on at all time while in the hotel room.
These hardwood floors are a beautiful light wood that, along with the sunrays coming in through the window by the elevator and the newly painted walls, makes the space feels very large.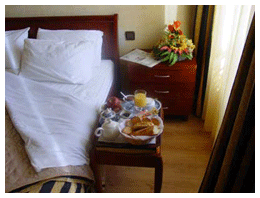 My room is at the end of the hallway. I hold my breath as I put in my key card. I unlock the door. Everything is just right. Exactly how it should be. And clearly designed by a woman. Hardwood floors, to-the-floor green and gold floral draperies guarding a view of the hospital across the street, "Doctor, Doctor…" (wink). A balcony with iron railings for resting breakfast on in the morning.
The furniture is all dark polished wood. Not a scratch on it anywhere. My favorite piece is the vanity across from the bed, where I'll put my make-up on in the morning, and sit on the charming little stool that will bring me to the perfect height. And the incredible flood of natural light will (unfortunately) allow me to examine myself in the mirror accurately. But at least my makeup will be put on right, for once.
There is so much storage space—I can put everything away in a particular place so that the room looks as neat as when I entered it. A tall armoire that I can fill with my coats. A shoe cubby to its left. Drawers in the night stands and a place to rest my suitcase, under which I can store my computer.
A safe, adjustable heat, air conditioning, WiFi access and cable television. I'm in heaven.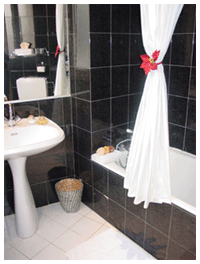 I open the door to the charcoal-tiled bathroom to reveal a bath and a shower (many hotel rooms in Paris only have showers), a white pedestal sink and beaucoup, beaucoup towels. The window to my left brings in more natural light and a charming view of a courtyard and the balconies overflowing with flowers on the building next door.
There are sachets of shampoo and conditioner and several bars of soap arranged neatly on a shelf above the toilet. Oh! And the in the bath the shower head can either be American, and remain stationary above one's head, or it can be removed for a European shower or bath.
I touch up my make-up–I didn't really need anymore lip gloss but I wanted an excuse to sit at the vanity for a few minutes, before meeting the hotel manager for a coffee in the hotel bar.
The bar is quaint and charming. Candle lit, there are only two tables and about five chairs, which allows for some peace and quiet. A television showing CNN at an appropriate volume rests on top a chest against the wall. The bar itself is a walnut-colored wood, carved in a tall, thin elegant shape. I sit at in one of the low, comfy leather chairs at the table, sipping my café crème (which is excellent, made with Italian espresso) and leafing through one of the many books available for the guests, while I wait for Yamile.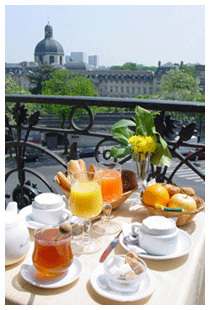 When Yamile enters, it is apparent where the hotel gets its warmth and class. Her voice is light and friendly. She wears an elegant brown suit, and a pair of chic specs perch on top of her head, holding back her hair. She is the type of woman that makes me want to go back up to my room and put on my pearl earrings. We sit down and chat about the details of the hotel for a few minutes. Her English is better than mine, and she has a lovely French accent that goes with it.
She makes me want to learn French. And to really get to know Paris. She tells me the story of the hotel–she grew up here. Her parents owned it. In fact, the bar we're sitting in used to be her living quarters when she was a student. Now she and her two brothers have taken over, though the parents have never really retired; this is their life.
For Yamile and her family, this truly is their home. I feel fortunate to be welcomed here.
Their guest rooms…a few notes.
*The 1st, 2nd, and 3rd floors have the largest rooms.
*The furniture is more or less uniform in all of the rooms; however, the wood is darker in some.
*All rooms have great natural light, full length mirrors, safe-box, telephone, TV with cable, WiFi access, hairdryer.
101: Royal blue and gold striped drapes and bedspread. Gray tiles in the bathroom.
102: Royal blue and gold striped drapes and bedspread. 3 twin beds. Fantastic for families or friends wanting to stay together. Gray tiles in the bathroom.
201: Orange and gold striped drapes and bedspread. Tons of light. Gray tiles in the bathroom.
202: A small hallway takes you into this large room. Three twin beds. Orange and gold. Gray tiles in the bathroom.
302: A small hallway leads you into this large room. Three twin beds. Green and gold. Bath and shower with gray tiles.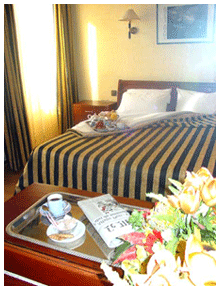 303: Large room. Two twin beds. Green and gold. Bath and shower. Big balcony facing the hospital.
304: Large room with double bed. Green and gold. Balcony. Bath and shower.
306: Large room. Green and gold. Courtyard view. Shower only. Gray tiles.
403: Yellow and white stripes. Balcony. Shower with gray tiles.
405: Yellow and white stripes. Balcony. Shower with gray tiles.
406: Yellow and white stripes. Bath and shower with gray tiles.
407: Large room. Yellow and white stripes. Courtyard view. Shower with black tiles.
502: Red and gold stripes. Twin beds. Shower with gray tiles.
504: Red and gold stripes. Balcony. Shower with gray tiles.
505: Red and gold stripes. Balcony. Shower with black tiles.
506: Red and gold stripes. Balcony. Bath and shower with gray tiles.
The breakfast room is large, with high ceilings and filled with light—though not natural, as it is downstairs. There is a small TV in the corner, for those who are interested. And on a long table there is a huge buffet. The breakfast is only 8 euros, which is almost unheard of—especially considering that you get coffee or tea plus a juice, plus a yogurt, fresh baked croissants and breads, toast, cereals, and more. The best deal I've found for breakfast in Paris. And when the weather's nice, you can take your breakfast on your balcony.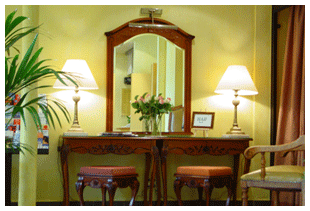 Special "pluses":
*Two non-smoking floors
*Air conditioning
*Handicap access
*3 parking lots, at 20 € a day
*Small, but fully equipped business facility
*They will order out food for you
So…I've been invited to spend another night…and I'm actually considering it—hey, I may even move in. A month at this place just about equals my rent in the 16th. Plus they have airconditioning!
Nearby restaurants:
L'Avant- Goût, rue bobillot, metro: Place d'Italie
La Coupole, THE French Brasserie known since the 1930's- Art Deco. 10 min by Bus ( line° 91 ) the station is right in front of the Hotel door.
La Closerie des Lilas, same bus line, same direction, but closer: Piano bar, wonderful service, and lots of artists.
La Tour d'Argent , much more expensive, 15 min from the Hotel, by La Seine.
La Boulangerie Monge, one of the best Boulangerie in the 5th; 10 min by walk from the Hotel, near Mouffetard.
Be sure to visit:
China Town, Only two stations away the best Chinese food in Paris is waiting.
Le Panthéon, 15 minute by walk ( cross Mouffetard Market & The Church Saint Medard "Old Paris").
La Seine & Bateaux Mouches, 5 minute walk, in front of Jardin des Plantes
Les Gobelins – 5 minute walk: restaurants, cafés, cinemas, shopping etc.
Jardin des Plantes, there really are Kangaroos here!
La Grande Mosquée
Hôtel Devillas, 75-120 € per night
4, Boulevard Saint- Marcel, 75005 Paris
Telephone: 33 (0) 1 43 31 37 50
Fax: 33 (0) 1 43 31 96 03
Website: www.hoteldevillas.com
Email: [email protected]
Kirsten joins Bonjour Paris from Los Angeles, California where she recently graduated from the University in Southern California with a  BFA in Acting. Last year Last year she co-wrote the book and lyrics to a new pop musical which expects to open in Los Angeles next spring. Two years ago, while studying at a conservatory in London, Kirsten fell in love with Paris and decided that she was destined to return for some time. She's thrilled to experience this dream come true.