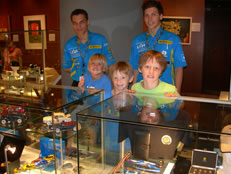 'Wicked' and 'awesome' was the Frank brothers' verdict on The Renault Restaurant and Showroom on the Champs Elysées, Paris.
"We liked it because:
There were lots of activities to do: a screen which showed all the noises a car makes; a computer where you could design your own Renault; an area where you could choose and touch all the different materials in the interior of the car.
There were also lots of things to look at: a Renault Clio covered in sweeties and an Espace covered in silver shiny squares; there were giant TV screens everywhere showing Renault races and a small gift shop selling Renault toys and things.
The food was really good too. We sat in big funky chairs, had delicious steaks for our main course, and there were rice crispies sprinkled on the salad! It was all served on cool trays instead of plates. There was delicious ice cream for pudding with lots of whipped cream on it, and chocolate sauce. That was the best bit!
And what was also good was when the grown ups were eating their dinner we could play in the lift and look at all the cool stuff. And after dinner we had our photo taken with the Renault men".
Felix, Penn & Milo (aged 10,8 and 6) Oxford, UK.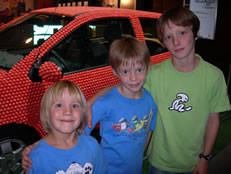 You don't need to have kids to go to Atelier Renault, it's buzzing with car-crazy anoraks of all ages from 9months to 90. But it helps, let's face it the world is so much brighter seen through the eyes of children. 
Renault, founded 1898, have been on the Champs Elysees since 1911. The huge 700- square meter multi-story building re-opened in November, 2000, transformed into a stunning hi-tech transparent airy space, by architect Franck Hammoutène, think Brand Renault. 
"We've created a flexible space to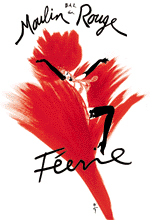 illustrate the identity of Renault, welcome car enthusiasts, show-case exhibitions, spotlight new Formula 1 and prototype models, exhibit art, promote culture, design, and sport. There are live concerts, book-signings, media events, fashion shows, and a boutique. It's the automotive future, to-day, a constantly evolving high-tech world, based on the Renault brothers' incredible invention", explains Hammoutène. 
The first-floor restaurant, with olive tree terrace for warm days, overlooks the Champs Elysées, where nearly every other car passing is: Renault. 
Chef Pascal Bernier (ex-Laserre, Dalloyau, Clovis and collaboration with Marc Veyrat at Le Roland Garros restaurant) directs a Formula 1 culinary team whose aim is to send out the best of contemporary French and World cuisine.  On Grand Prix Sundays menus are dedicated to the participating country. For the British Grand Prix: Fish & Chips, for Monaco, Filet de Rouget, washed down with appropriate wines, beers or "Atelier Renault" mineral water, to take away if you want. 
Of course the Grands Prix are transmitted everywhere, on giant screens, with in-house commentaries and yes, that may be Fernando Alonso, Giancarlo Fisichella and Heikki Kovalainen schmoozing with team manager Flavio Briatore, in the corner, or at the bar, when they're in town, if it's not a Grand Prix day of course.
Catch the Atelier atmosphere:
Italian Grand Prix – 10th September
Japan Grand Prix – 1st October
China Grand Prix 8th October
Brazil Grand Prix 22 October
Atelier Renault,
53 Champs Elysées, 8th (Metro: Franklin D. Roosevelt)
T: 01 49 53 70 70
www.atelier-renault.com
Average Spend 30€ + drinks
Fast track menu 22€ – Formulas @ 23 & 29€
Children's Menu 9€
Sunday Brunch – 25€
Additional reporting by Felix, Penn and Milo Frank.