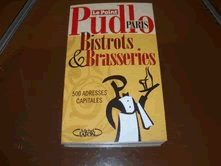 How much difference does a high rating in a food-guide make? This week Gilles Pudlowski launched "Pudlo Paris Bistrots & Brasseries" a neat little tome (Michel Lafon 9€) with 500 delicious addresses for your consideration. "Not a great deal", thinks Jean Claude Arabian, whose "Cameleon" bistro came top as "event of the year" and quite right too. "I like to think it brings people, but after forty years in the business I am more interested in welcoming old, new and interesting friends than worrying about guides".
"Yes, yes, yes", said a delighted Quentin Hoffman (no relation, ex-Guy Savoy) of Le Cantine de Quentin (10th) voted best quality-price. It puts us on the gastro-map. We're not a grand restaurant just a wine-bar bistro where you can eat lunch for €14 and have fun". Make sure you go to 52 rue Bichat, Pudlo's marked it down as 6, rue de Belzance. Spot the deliberate error, or what?
Pudlo's a lovely bloke, slim, looks like a detective when he dons his Burberry and trilby. He says Claude Lebey is his hero, because he began the bistro ratings long before anyone else. "We must defend the quality of the oeuf mayo, the andouilette AAAAA, tete de veau, while looking forward and enjoying the evolution in Parisian bistros and brasseries. This guide is a table d'hôte and you're all invited", grins Pudlo.
Claude Lebey was there to toast the new guide, at the re-vamped Flo-owned Boeuf Sur Le Toit (seducing the likes of Coco Chanel, Jean Cocteau and Gaultier since 1931). www.leboeufsurletoit.com Reserve on line get 15% reduction: it's worth it: so are you. "Décontraction, convivialité, efficient service, good food and innovation", that's what we want to-day. Twenty years ago it was not thus, diners are looking for a smiling cuisine, with personnel to match", Lebey has spoken!
Apart from Cameleon (6th) and La Cantine de Quentin the winners are:
WARMEST WELCOME:
Le Vaudeville (2nd)
AU TOP DE LA QUALITE GASTRO:
Géraud (16th)
WINE BISTRO OF THE YEAR:
Au Coin (8th)
LE PLUS CONVIVIAL:
A l'Abordage (8th)
BEST REGIONAL COOKING:

Les Lyonnais (2nd)
Bitching in the kitchens since Fabrice Desvignes chef at Le Senat, (not a restaurant for the likes of you and I, but THE SENAT!) won La Bocuse d'Or, 2007 having given up every spare minute to train like an athlete. Seems German entrants in the neighbouring kitchen at the competition swear Desvignes received pre-cooked products just after concours began. They have just five hours to produce their entry: one meat dish and one fish. All the contestants start with the same raw ingredients. The Danes, who came 2nd, were up in arms, collaborated with the Krauts by saying "Desvignes created something that was so beautiful it was impossible to do that in the given time. Ve have written to ze jury to protest – but zo far ve have received no reply", they sniff. Go figure. Next they'll be testing the chefs for doping – just like the Tour de France.
Alain Ducasse's Chateaux & Hotels de France 2007 adds 49 new addresses in Paris and throughout France. Worth noting, Le Jules Verne (7th) and Rech (17th) both of which are now under the umbrella of AD. www.chateauxhotels.com
Forget LOVE (not your true love) the restaurant. Too many bad reports, "those that talk about it don't get it", says one disappointed diner. "Too expensive at 40€ + wine, and size does count, the dishes are too mingy", rants another. Anyway, who the hell wants to nibble an "orgasm sous les tropiques," can't they think of anything better to do with their mangoes?"
Within the next month Dominique Bouchet opens next door to his eponymous 1-star Michelin restaurant: Wa-Bi, read, something a little Japanese. And watch out for Christian and Catherine Constant's new concept, next door to "Violon", rue Saint Dominique. Les Cocottes de Christian Constant, opening June, think long, long bar with food served in bright coloured casseroles. They also plan a take home service and maybe an ice-cream bar for the long hot summer. And, if you rushed down to Goldenberg in the Marais for a chopped liver/ lakshun soup/salt-beef fix, sorry! It's been bought by Les Freres Costes – oy veh is nothing sacred already.