Well they're not saying at Le Prince des Galles, the Art-Deco palace on Avenue George V, Paris, if HRH and The Duchess of Cornwall have visited recently, but if their subscription to www.bonjourparis.com has not lapsed and they're reading this (we're not confirming their subscrption either) don't hesitate. It's Royal!


 

If they hurry the Royal couple have time to discover divine Art-Deco patio/garden, Le Jardin des Cygnes, where they might want to take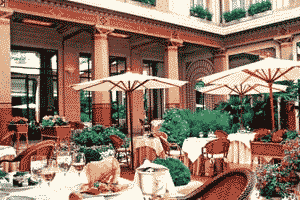 advantage of a delicious lunch not forgetting an excellent selection of French wines, to which the newlyweds are reputed to be rather partial. For The Duchess a Chablis J. Drouhin 2003 (32€), for Charles, Chateau Belorme Haut Medoc 1999 (46€).  I suggest Camilla takes La Salade d'asperges vertes au parfum d'agrumes, copeaux de parmesan Reggiano. Charles will enjoy Les grosses crevettes poelées au gingembre et sa petite salade César. For mains he'll definitely go for the Médaillons d'agneau en feuilles d'aubergine, jus au romarin with a sublime Fricassée de legumes aux pousses de soja (worthy of your own potager, sir, if I may say so). Camilla's L'Aiguillette de canette rôtie, jus laqué aux olivettes, grenailles au beurre demi-sel de Guérande will put feathers on her chest after a hard mornin's huntin' in Hermes. The plateau of excellent cheese will not be dismissed lightly, nor the fresh warm bread. No point in resisting the dessert trolley, so much better than at home sir!


 

Afterwards young chef Benoist Rambaud will come out to doff his toque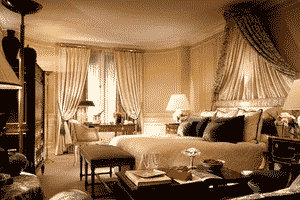 . Respect! Rambaud, trained by Gerard Vié (Les Trois Marches at The Trianon Palace, Versailles) another good address for HRH. Chef Patissier, Emmanuel Dialo will also take a bow. His patisserie is the talk of le tout Paris who come to taste the exceptional gateau croquante chocolate, with a nod and a wink to his native Antilles.


 

Post partum perhaps a little whisky is in order. The noble barman keeps at least 23 in Le Bar Regency through which have passed most of the crowned heads of the world. Or they could hang on 'til 4pm when Dialo's patisseries maison go well with a nice cuppa Earl Grey.


 

Should they have a little time on their hands, the royals could enquire about Do You Speak Paris? I beg your pardon! Yes, well sir, it's a neat idea. Le Hotel Prince des Galles

has got close and personal with Berlitz and, stay one night, the special exclusive formula entitles you to a half or one day course to brush up or initiate you in the language of Baudelaire, Proust and Michel Houllebecq. It could be called Do You Speak Shopping because, should you choose not to stay in the hotel for your Coaching Linguistique, they'll take you to Hermes, Vuitton, Gucci, although you may be rendered speechless at the prices, at least you'll be speechless in French cherie!


 

Now owned by Starwood Hotels & Resorts, there are 138 rooms and 30 suites,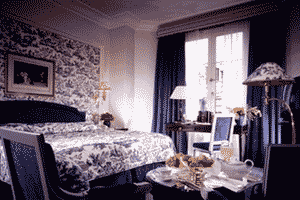 junior suites, champagne suites, no smoking floors, and even Prince des Galles and a Presidentielle suites, all exquisitely revised and corrected by Architect-designer Pierre-Yves Rochon. Toile de Jouy gives the impression of a country house hotel in the heart of Paris.  Guests include Jerry Hall, Jean-Paul Belmondo, Leonard Cohen, Fat Boy Slim, Jerry Springer, Catherine Denueve, Woody Allen, Jean Alesi, Brooke Shields, André Agassi. But not, one hopes, all at the same time. HRH and The Duchess wouldn't like that, would they?


 

 

Hotel Prince des Galles,
33 avenue George V, 8th (Metro: George V)
T: 01 53 23 77 77
www.luxurycollection.com/princedegalles
Restaurant Le Jardin des Cygnes – T: 01 53 23 78 50
Lunch Monday to Saturday from 49.50€
Brunch Sunday from 12h00 to 1500 (55€ including wine)
Coaching Do You Speak Paris about 299€ per person.