Pineau d'Aunis & Offbeat French Wines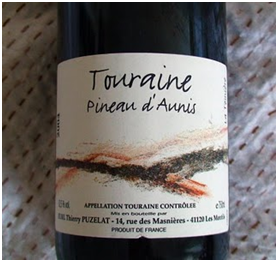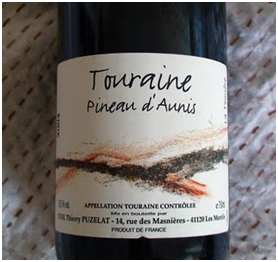 Ink, Tar, Pine Trees, Black or White Pepper…
Aromas and flavors of ink, tar and pine trees? Ever tasted a wine described like that before? Probably not. The grape variety Pineau d'Aunis (also called Chenin Noir) is little known these days and not much of it makes its way out of the Loire Valley in France. It used to be a quite common variety there and has practically fallen off the charts with only a handful of winemakers now taking it very seriously as it's been replaced by more commercially viable varieties.
The ones who do hold onto it, do it very very well. Christian Chaussard and Thierry Puzelat, considered mavericks by many, are two winemakers who know what is possible with this wild and crazy grape variety and both work in the method of biodynamie. Most of the time this grape is blended with other more common Loire varieties like Cabernet Franc and/or Arbois (menu pineau) with outstanding results evidenced in the rosé Coteaux du Vendômois and in Thierry Puzelat's Touraine Pineau d'Aunis and sometimes (when you can get it) rosé.
The Puzelat Touraine Pineau d'Aunis is a light to medium bodied wine with aromas of white pepper and a lovely bright cherry fruit and a lively acidity. Truly perfect with a slight chill on this one and it becomes a perfect hot weather red. Gorgeous and exciting in the glass. The wine is truly alive. Great with Mediterranean foods and lighter fare.
Another incredible example of this crazy grape is Christian Chaussard's Patapon. This one truly embodies all the wildness that is Pineau d'Aunis. Ink, tar, pine trees, white pepper. It is gorgeous and crazy at the same time, hence the crazy clown on the label.
This wine has a medium body and is normally slightly more extracted than some other pineau d'aunis out there. It is quite complex and offers a wonderful pairing opportunity with venison, wild boar, lamb and other game. Also good with a slight chill on it, making it a fantastic warm weather option in a red wine.
Both of these wines are Louis/Dressner Selections and can be found in many major cities throughout the USA and also online if they aren't currently in your local marketplace.
Learn more about these wines and winemakers at www.louisdressner.com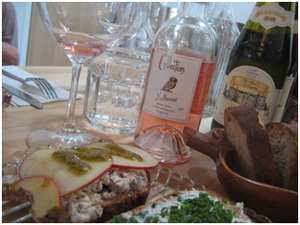 Another wonderful, yet under-appreciated grape is Négrette.  Most commonly found in the South of France, the Fiefs Vendéens a tiny area in the Loire Valley also permits the use of this grape variety along with Pinot Noir and Cabernet Franc among others. In the Vendée it is also called pinot ragoutant. The characteristic aromas of Négrette evoke cassis (black currants) and licorice. A very nice example of the use of Négrette is in the wines of J. Mourat Collection. They have a red and a rosé that both incorporate Négrette, usually in equal portions with Cabernet Franc and Pinot Noir.
The J. Mourat Collection Red is a gorgeous deep red-violet with medium body and a lush mouthfeel. Aromas of herbs, licorice, and deep purple, ripe berries on the nose along with spice/black pepper. The flavors are just in line with the aromas. The finish is long and complex with lingering hints of cassis and spice. This wine is quite quaffable on its own but is lovely with medium-savory foods, especially lamb.
The rosé is a gorgeous very pale pink with quite subtle nose. The aromas and flavors are subtle and complex. Bright fruit, great acidity, lovely minerality. The distinctive J. Mourat bottle, based on an ancient bottle they dug up on the property, is quite striking. Even the owl on the label is significant to the Vendée. Story has it that during the revolution, the Vendée supported the royals and they would make a friendly call to each other in the fields to alert each other that they were friends. They used the call of an owl.
This site is in French only but has great info on the J. Mourat Wines.
Raelinn Schmitt writes the following wine blog:
Wine Ophelia http://wine-ophelia.blogspot.com

Ummmm….no, sorry, we really can't think of better pairing for wine than French chocolates made by hand using recipes of the World Champion Chocolatier and Meilleur Ouvrier de France. Which means, of course, we can only be speaking of Pascal Caffet of  z-Chocolat. Order yours here & Santé!
Leave a reply
Your email address will not be published. Required fields are marked *