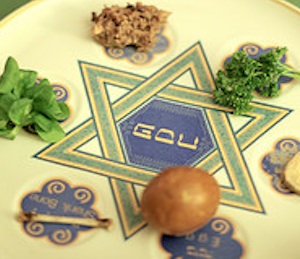 Passover
arrived in my small corner of Provence this week. Hardly a big holiday here. The French refer to Passover as Pâques Juive, Jewish Easter. OY! My friend Michael e-mailed from New York, What's a French seder like? Jewish, but with better wine. We were fourteen the first night–French, Belgian, English, Scottish, Australian, Danish, American–but only two Jews counting myself. Jews are not plentiful in this part of the world, just as they aren't in the more rural areas of the U.S. Two houses down, the street where I live becomes the Rue Juiverie –oh, for that address!– which dates to the 1400's. My street was once populated by wealthy Jewish merchants. During World War II, Nyons sheltered Jewish families from Northern France for three years before the Gestapo deported them to concentration camps. None returned. All that remains today is a grim stone memorial in the center of town and the renamed Rue des Déportés, where the families hid in underground abandoned sewers and passageways dating from when Provence was part of the Roman Empire. There is a magnificent 1741 synagogue (Orthodox) in
Carpentras
and another in
Avignon
(also Orthodox), both under an hour's drive from Nyons. The once-famed Jewish community of Carpentras has shrunk to barely a minyan, for the High Holy Days they import a rabbi from Lyon or Marseille. Finding Passover supplies in Provence is next to impossible. My friend and neighbor, the cooking teacher
Lydie Marshall
, brought back Manischevitz egg matzohs ($7 a box!) and matzoh meal from the Rue des Rosiers (Jewish quarter) in Paris. Every year I make brisket the way my grandmother, Ruth Fieldsteel made it, for the seder. There is no such cut in France; meat here is cut differently. That first year, Monsieur Dinelle and Monsieur Ghys, our local butchers, were anxious to help. The French cut of paleron seemed closest to what I needed. Dinelle supplied the chicken fat for my matzoh balls and chopped liver (also Grandma Ruth's recipe); the meat and shank bone for the seder plate I got from M. Ghys. Everyone was eager to help make my first seder in Provence a success. Mme. Kittler, one of a handful of Jews living here, lent me her French-Jewish cookbooks. One, a tattered and worn paperback, was inscribed to her mother with the date Passover 1946. Mme. Kittler, whose first name is Daisy, was born in a concentration camp. Her mother had wanted to give her new baby a "typical" American name in honor of their liberators. Finding fresh horseradish root for the seder plate isn't possible–raifort is not in season, so I use grated horseradish cream found in the Exotic Foreign Foods section of Hypermarché LeClerc, on the U.K. shelf, not far from Paul Newman's Salad Dressing and Old El Paso Burrito Mix, on the U.S. shelf. For my first Passover in Provence, I had decided I would make gefilte fish from scratch as none is available here. After two separate attempts, suffice it to say even the two feral cats who came with my house turned their noses up and walked away. The morning of the seder into the poubelle (garbage) it went. The next year, my friend Tara airmailed giant-sized jars of Manischewitz sweet gefilte as a gift, in time for the seder. It was an enormous success. The goyim, especially, loved it! The next year she did the same, though afterwards I found small jars of gefilte (not as good as Tara's) at the Auchan Hypermarché in LePontet. That first year, I made a matzoh-ball emergency call to my friend Deanna Basch in Greenwich Village. When I lived in New York, I always spent Passover with the extraordinary Basch family. Deanna's matzoh balls are ambrosial–light, fluffy, melt-in-your-mouth perfect. I did not want a gefilte-like repeat. Deanna went over the finer points of matzoh-ball craftsmanship and reassured me all would go well. When I mentioned the gefilte fiasco, her only response was, "I made it once." By now, I am a matzoh-ball pro, though I doubt mine will ever be as good as Deanna's. Lydie and her husband Wayne insisted on supplying the wine. Lydie was worried I might serve "that awful Manushkywitch" as she calls it. Fat chance! I couldn't find it if I wanted to (which I didn't). Wayne is an oenophile par excellence–his wine cellar is considerably larger than most New York studio apartments–and I knew whatever they brought would be a lot better than Manischevitz Malaga Grape. The famed Carpentras strawberries are always just coming into season at Passover as is local asparagus–green, white and violet–and they have both become an important part of the traditional meal at my Provence seders. One year I made my own
Haggadahs
on the computer, abbreviated, to be sure as there are no Jews to saver and ponder the longer version. (Savor, ponder and periodically check to see how many pages are left till we eat!) It is easy in New York to take Passover for granted along with the easy availability of unlimited choice in ethnic, cultural and religious observance, dining and traditions. New York has Passover seders to fit everyone's needs, be they Jewish-Buddhist vegetarian or ultra-Orthodox Satmar Hassidic. One year I went to five seders, three…
SUBSCRIBE
ALREADY SUBSCRIBED?
BECOME A BONJOUR PARIS MEMBER

Gain full access to our collection of over 5,000 articles and bring the City of Light into your life. Just 60 USD per year.

Find out why you should become a member here.

Sign in

Fill in your credentials below.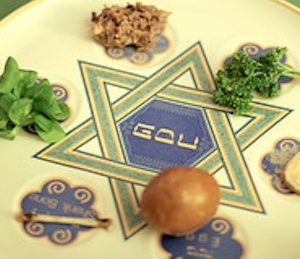 Passover
arrived in my small corner of Provence this week. Hardly a big holiday here. The
French refer to Passover as
Pâques Juive
, Jewish Easter. OY! My friend Michael e-mailed from New York, What's a French seder like? Jewish, but with better wine. We were fourteen the first night–French, Belgian, English, Scottish, Australian, Danish, American–but only two Jews counting myself. Jews are not plentiful in this part of the world, just as they aren't in the more rural areas of the U.S. Two houses down, the street where I live becomes the Rue Juiverie –oh, for that address!– which dates to the 1400's. My street was once populated by wealthy Jewish merchants. During World War II, Nyons sheltered Jewish families from Northern France for three years before the Gestapo deported them to concentration camps. None returned. All that remains today is a grim stone memorial in the center of town and the renamed
Rue des Déportés
, where the families hid in underground abandoned sewers and passageways dating from when Provence was part of the Roman Empire.

There is a magnificent 1741 synagogue (Orthodox) in
Carpentras
and another in
Avignon
(also Orthodox), both under an hour's drive from Nyons. The once-famed Jewish community of Carpentras has shrunk to barely a minyan, for the High Holy Days they import a rabbi from Lyon or Marseille. Finding Passover supplies in Provence is next to impossible. My friend and neighbor, the cooking teacher Lydie Marshall, brought back Manischevitz egg matzohs ($7 a box!) and matzoh meal from the Rue des Rosiers (Jewish quarter) in Paris. Every year I make brisket the way my grandmother, Ruth Fieldsteel made it, for the seder. There is no such cut in France; meat here is cut differently. That first year, Monsieur Dinelle and Monsieur Ghys, our local butchers, were anxious to help. The French cut of paleron seemed closest to what I needed. Dinelle supplied the chicken fat for my matzoh balls and chopped liver (also Grandma Ruth's recipe); the meat and shank bone for the seder plate I got from M. Ghys. Everyone was eager to help make my first seder in Provence a success. Mme. Kittler, one of a handful of Jews living here, lent me her French-Jewish cookbooks. One, a tattered and worn paperback, was inscribed to her mother with the date Passover 1946. Mme. Kittler, whose first name is Daisy, was born in a concentration camp. Her mother had wanted to give her new baby a "typical" American name in honor of their liberators.

Finding fresh horseradish root for the seder plate isn't possible–raifort is not in season, so I use grated horseradish cream found in the Exotic Foreign Foods section of Hypermarché LeClerc, on the U.K. shelf, not far from Paul Newman's Salad Dressing and Old El Paso Burrito Mix, on the U.S. shelf. For my first Passover in Provence, I had decided I would make gefilte fish from scratch as none is available here. After two separate attempts, suffice it to say even the two feral cats who came with my house turned their noses up and walked away. The morning of the seder into the poubelle (garbage) it went. The next year, my friend Tara airmailed giant-sized jars of Manischewitz sweet gefilte as a gift, in time for the seder. It was an enormous success. The goyim, especially, loved it! The next year she did the same, though afterwards I found small jars of gefilte (not as good as Tara's) at the Auchan Hypermarché in LePontet.

That first year, I made a matzoh-ball emergency call to my friend Deanna Basch in Greenwich Village. When I lived in New York, I always spent Passover with the extraordinary Basch family. Deanna's matzoh balls are ambrosial–light, fluffy, melt-in-your-mouth perfect. I did not want a gefilte-like repeat. Deanna went over the finer points of matzoh-ball craftsmanship and reassured me all would go well. When I mentioned the gefilte fiasco, her only response was, "I made it once." By now, I am a matzoh-ball pro, though I doubt mine will ever be as good as Deanna's.

Lydie and her husband Wayne insisted on supplying the wine. Lydie was worried I might serve "that awful Manushkywitch" as she calls it. Fat chance! I couldn't find it if I wanted to (which I didn't). Wayne is an oenophile par excellence–his wine cellar is considerably larger than most New York studio apartments–and I knew whatever they brought would be a lot better than Manischevitz Malaga Grape.

The famed Carpentras strawberries are always just coming into season at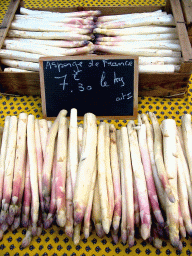 Passover as is local asparagus–green, white and violet–and they have both become an important part of the traditional meal at my Provence seders.
One year I made my own
Haggadahs
on the computer, abbreviated, to be sure as there are no Jews to saver and ponder the longer version. (Savor, ponder and periodically check to see how many pages are left till we eat!) It is easy in New York to take Passover for granted along with the easy availability of unlimited choice in ethnic, cultural and religious observance, dining and traditions. New York has Passover seders to fit everyone's needs, be they Jewish-Buddhist vegetarian or ultra-Orthodox Satmar Hassidic. One year I went to five seders, three of which were on the first night: the family seder at the Basch's, another seder for Jews without families and a feminist seder in which everything "patriarchal" was deleted from the Haggadah, which did not leave much, other than a table full of radical feminists fighting.

People still ask, do I miss New York, do I miss the States? My answer is always the same–No. I deeply love my new home. Provence for me is Paradise. I confess now, when everyone else said "Next Year in Jerusalem!" at the end of the seder, I quietly said to myself, "Next Year in Provence!"
Auto Europe is the savvy visitor's best bet for planning a trip to Europe. Whether you're looking for the best deals in car rentals or air travel, hotels or GPS rentals, just go to Auto Europe and you're on your way.
More in Bonjour Paris, Holidays in France, Jewish history, Paques Juive, Passover, Provence
---
---