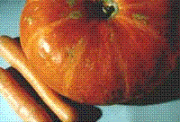 Have you noticed how everyone's going green? Not like the French at all, organic restaurants like La Ferme with bucolic/organic formulas. Marc Veyrat, the uber-herb magician, is making vegetarian sandwiches which can be delivered to your door (not by Veyrat, unless you're Emmanuelle Béart, darling).  www.laffiche.fr


 

At the recent Salon de l'Agriculture, the 10-member Vienna Vegetable Orchestra (founded 1998), gave a concert playing music on home-made vegetable instruments instead of guitars and drums! They played cover versions of Kraftwerk and their own compositions on cucumbers, carrot flutes, fennel pipes, pumpkin drums.  Whacky or what?


 

"With our new cd automate, a cuke-o-phon, and radish marimba instead of laptop and sampler, our music is a transfer of electronic music and structures to the instruments of the vegetable garden", explains Jorge Piringer and Nikolas Gansterer who are not vegetarians and, "please don't ask that question again, we've heard it 2 million times! We are serious musicians!" Hmmm. "So, Jorge, what's the last instrument you developed then?" "A radirimbafrigglelegiggle", sighs Jorge. "We constantly develop new instruments, each time we perform we experiment with new variants, so it is more like an evolution than new creations".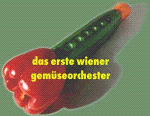 At the last count there are 8 musicians, a chef, and a sound technician in the orchestra. Vegetables are ordered ahead as they travel to each new city. And if certain veggies don't arrive? "We improvise", shrugs Jorge.


 

The VVO produce sound that cannot be produced by other instruments. "Sometimes it sounds like animals, sometimes just abstract sounds, which you can hear in our new CD. "Automate", says Jorge brightening up a bit. Maybe he's really like the late President Reagan, hates broccoli, or perhaps he just hates vegetables, loves music. Go figure.


 

After the concert, the stage is left to the VVO chef who transforms the instruments into a tasty vegetable soup which audience and musicians slurp together. The audience once again enjoys what they have just heard, examining any remaining instruments more closely and bonding with the band. Right!


 

And who do you think was watching all this? None other than Alain Passard, BUZZ's favourite chef. Unless you've been on the moon lately, you'll know how Passard feels about veggies.  It's obvious he loves music, probably why he calls his restaurant L'Arpege? "I am fascinated, I want to invite them to play in my potager, serenade my swedes", he sighs.  "My father played in a band, he was a fine
musician", recalls Passard. "Yes, I love music, play the saxophone, but it does not really inspire my cooking, which is a very visual craft. Although of course you need sharp ears to hear the sizzle", he says.  "I am inspired by the texture of the produce, the transparency of the layers of onions, shapes and colours. I was in the cold room this morning when the vegetables arrived.  I am turned on by the products, the herbs with the soil still on the roots, the colours are still in my mind. Formidable!"


 

Just as well then that the Vienna Veggies thank Passard but due to a strenuous world tour coming up are not able, at this time, to make a firm potager date. Chef, it will be easier to get Moby; and he's vegetarian!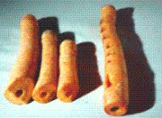 With eggplant claps ringing in my ears, I'm off to have a nice vegetable lunch chez Passard. The only Michelin 3-star on the left bank is not like a 3-star. The welcome is warm and friendly, the room minimal and masculine, the boy himself nips out, red-cheeked from the kitchen to see if we're happy with his "Collection Légumiere". "The vegetables are simmered in water, because steaming is too violent,"  he explains. Happy as Larry, we are, with the sublime ravioli d'oignon doux aux cacahuètes, served with a glass of yellow chardonnay. Then a velvety velouté of parsnip, rutabaga, celery, topped with a soufflé of cream and lard. Next a beautiful beetroot, slow baked with sea-salt, drizzled with 12 year balsamic. Passard's bread is perfect with the Comté (2000) and we finish with an avocado souffle with pistachio and hot chocolate sauce.


 

A triumph! The bad news is the dishes are expensive.  If you have to ask the price you can't afford it. But you're worth it, who needs a flash car or designer clothes, better eat chez Passard; it's much more fun.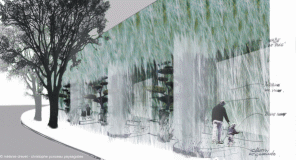 Now for the good news. From 12th May-5th June, "Printemps goes Green" and Passard is setting up his "restaurant ephemere" on the third floor. Now we can all afford to go to the ball, prices are divided by 10! The restaurant is part of an event thought up by the powers that be at Printemps dubbed "Parenthèse Végétale".

Designer Matali Crasset has designed the space for Passard, which will seat about 40. No booking, just turn up and tune into the green.
See you there then.


 

L'Arpege,
84 rue de Varenne, 7th (Metro: Varennes)
T: 01 45 51 47 33
www.alain-passard.com


 

Le Printemps,
64 Boulevard Haussmann 9th (metro: Havre Caumartin)
T: 01 42 82 50 00
www.printemps.fr


 

The Vienna Vegetable Orchestra,
www.vegetableorchestra.org
And also:
BAM – bar à manger
85 rue La Fayette 9th (Metro: Chausee d'Antin)

T: 01 44 63 02 86