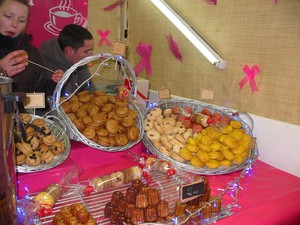 In Paris, this year's Marché de Noël on the Champs-Elysées competes with frequent and accumulating snowfall. From the end of November until early January, vendors from all over France install themselves in one of ninety-plus white chalets that line either side of the avenue from the rond-point down to Concorde. Trees lining the Champs-Elysées are decorated in blue shimmering lights and a huge Ferris wheel, La Roue, glitters at Concorde. Live music keeps pace with the energy coming from the huts, where aromas tempt even the most disciplined passer-by. Cooked Toulouse sausages, confit de canard from Dordogne, gingerbreads from Alsace, macaroons from Provence, nougats from Montélimar, and of course mulled wine help with any gastronomic urge that might arise.  There are also hundreds of varieties of clothing for sale—most hand-made—as well as gallery-style displays of paintings, kitchen crockery, candles, wall hangings, even wood sculptures.
As our frozen toes were reaching the point of no return, a display of 'Macaroons de Provence' caught our eyes for its stunning hot pink and silver décor and wonderfully oversized and varied macaroons piled in open silver display baskets.  A sister and brother team behind the counter watched us with what could only be called classic French blasé, and I wondered whether our business was even of interest.  Approaching nonetheless, I tried to gauge our chance of a sample taste and quickly realized these two were on their last leg for the day.  Hanging from rafters, macaroons in packages of two and three were wrapped in simple clear cellophane with bright pink bows.  The girl explained that the threesomes were four euros each.  Calculating how many would serve for an upcoming New Year's gathering, I asked could they prepare an assortment of ten packages.  Without expression she commenced organizing three at a time onto brochettes—chocolate, ginger, chocolate, then handed them to her brother who wrapped and bowed.  The effort took some time and as other customers approached, the girl ignored them.  At one point, she asked me to explain in English to an Asian woman that to customize would take time.  The Asian left with a pre-prepared bag of three.  We sampled a few that had accidentally crumbled during the assembling process (a caramel and a coffee) and the perfect mix of sugar and almonds touched my senses immediately, claiming that wonderful simplicity of hand-to-mouth that I find at times missing from some of the more touted macaroon labels.  I mentioned how I enjoyed the flavor, better than one very established name.  The girl answered, "Everyone says that. Ours do not have that starchy taste."
"Do you come every year?" I asked.
"Every year.  We are here twelve hours a day, every day, until January 3," she said, taking a second to blow into her black gloves.
"Do you sell online?  Or in a shop back home?"
"No.  Only here, for the Marché.  Then we return to Provence, to Avignon."
The brother nodded and continued his assembling.  I understood later from friends that many of these vendors count on the Marché for over 80% of their revenue.  This tourist venue for them represents hard work and long hours in order to continue to sell their down-home wares and make a living.
We strolled back towards Concorde, our stuffed silver bag of festively packed macaroons in hand.  And along with them, a deeper appreciation of the back-story to one of Paris's traditional holiday venues.
http://www.parisinfo.com/sorties/996077/marche-de-noel-des-champs-elysees
Kathleen Comstock is a writer and lover of France who lives in Paris and Massachusetts. Her most recent book on France is "Vieilles Filles and Other Tales from France
See more of Paris! Here are some of our favorite tours:
Medieval Churches of Paris: Discover some of Paris's most beautiful and lesser-known churches in the company of a medievalist, a perfect theme for the holiday season.
Louvre French Masters: Escape the cold and the crowds in the Italian wing of the Louvre by learning about the evolution of French art from the late Gothic period to the monumental 19th century paintings of David and Delacroix, accompanied by an art historian.