Oth Sombath, Paris 8th
Oth Sombath's restaurant, launched in 2008, is often buzzing with celebs, small wonder when his partners are Eddy Mitchell, the much-loved French actor/singer/songwriter, and film producer Jacques Konckier (Tarzan, Conan, etc.). Chic minimal gold, saffron, glass and wood décor is by architect Patrick Jouin, with discreet references to chef Sombath's native Thailand.
The concept is a blend of Asian and European influences, contemporary Thai cuisine that originates somewhere between land and sea, with rice and fish the basic ingredients.
"Over the centuries, Thai cuisine has become enriched by foreign additions, with noodles introduced by the Chinese, chilli by the Portuguese and curry and spices by the Indians," explained Sombath one night last week.
"The Thai people were inspired by all of these culinary movements to create unique flavors and exceptional recipes," he added.
The 40-something chef has a light and luscious way with dishes from Thailand, revised and corrected for delicate palates. Choose one, two or three levels of spicy or even "plats diététiques" for the ladies who do.
"A typical Thai meal is very much a communal affair, all dishes are served at the same time with steamed rice, everyone dives in with their fingers," explains Oth.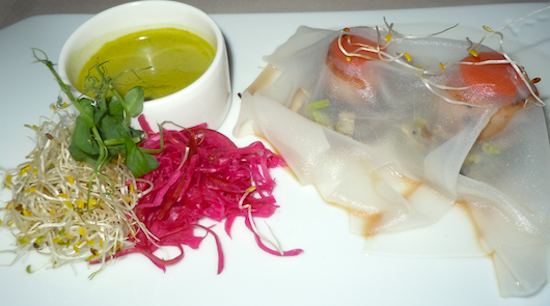 Just tell him you want this experience and he'll do the rest. Try his signature dish, Tom Kha Kai, Langoustine à la vapeur, sauce basilic thai. Filet de boeuf au curry orange. Saint Jacques, roasted and delicately flavored with orange and Thai spices. Pia Yang, tiny moist daurade grilled and wrapped in a banana leaf, is epic. Kai Neung, cabbage stuffed with chicken, pineapple sauce. Tasty chicken, beef, crevette curries, washed down with 2006 Pokdum Shiraz from Siam Winery (32€) cultivated at the "Floating Vineyard" on the Chao Phraya River delta. Desserts: Paris-Phuket, chocolat mousse. Bangkok-Tahiti, banana nems, coffee ice cream, red wine and ginger sauce.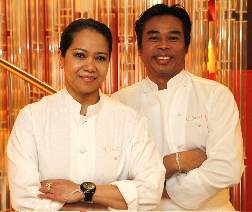 The self-taught chef works alongside his wife, and it's not unusual to see one, or all, of their four children "playing chef." The couple see their restaurant as a bridge between the culture and cuisine of France and Thailand and the theme continues in St. Tropez at Hotel Benkirai where Sombath is executive chef.
Oth Sombath
Tél: 01 42 56 55 55
184, rue du Faubourg Saint-Honoré, Paris 8th
Métro: Saint-Philippe du Roule
Lunch formula 28-35€ –
Tasting Menu Les "Hit" de Oth 70€
A La Carte about 60€
Shut Sunday – Valet Parking

Margaret Kemp is a British-born Cordon Bleu graduate who traveled the world and worked in the kitchens of the world's top chefs in Australia, Asia, the USA and France before becoming a food and restaurant writer. Her Sunday BUZZ columns feature interviews with prominent chefs plus the latest restaurant and entertainment news published exclusively for BonjourParis Premium Members.
You are reading an excerpt from PREMIUM CONTENT sent first to Premium Members who read our Sunday BUZZ column for the latest top chef news, restaurant and hotel events, trends and happenings in Paris, London, Nice, Cannes, New York and other international destinations. Please consider an annual Premium Membership with exclusive content and members-only benefits.
Would you like to submit a story or share a tip with our readers? Send us your stories & ideas.
NEW:
Subscribe for free
exclusive content for subscribers in every newsletter.
Click on image for more info about these foodie favorites.
Thank you for using our link to Amazon.com…your purchases support our free site.

Paris Shuttle is a leading provider of Paris airport transfers…save up to 30% by booking your airport transfers in advance online.