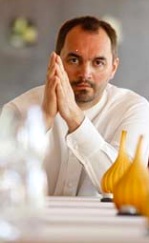 Opera House
Garnier's magnificent Opera House was inaugurated in 1875. Architect Charles Garnier planned a restaurant, but, the story goes, they ran out of funds. Fast forward to 2007 when then-director Gerard Mortier decided it was time to get up there with all the other international opera houses, especially in UNESCO's land of gastronomy. By 2009 the project had the rubber stamp and architect Odile Decq's design was approved by the very strict Commission Nationale des Monuments Historiques.
Only 136 years of tension and L'Opera will raise the curtain on 27th June when all will be revealed by the Opera's Director Nicolas Joel.
So who's wearing the whites? After rumors, when nearly every chef and his plongeur were rooted for office, it's 2-star Christophe Aribert of Restaurant Les Terrasses, Uriage, near Grenoble. A quiet, media-shy talent, very excited to "be the first to create a menu in this incredible location, it's the ultimate challenge of my career so far."
More in our next visit.
Velvet par le Bistrot d'Antoine
Not a lot of people know Andy Warhol once managed the Velvet Underground, the iconic band headed by Lou Reed. They've had more than their 15 minutes and must be one of the most influential rock bands in history; wonder what happened to Nico, remember "Peel slowly and See?"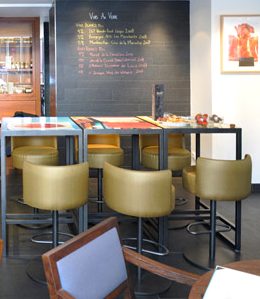 Alert readers will remember I flagged up Velvet the Brasserie a few weeks ago. The concept is: the South of France arrives on the Champs Elysées. Velvet's located at 20, rue du Colisée, Paris 8th, on a long narrow street, off the CE that leads to avenue Franklin D Roosevelt. Lou Reed, if you're out there, do look in next time you're in Paris (5th July 2011 Grand Rex).
The Velvet neo-bistro story reads like a Lou Reed chanson. En bref, as they say here, Armand Crespo worked with chef Alain Parodi at his Michelin–starred Lou Cigalon bistro in Valbonne near Nice, definitely the best restaurant in the South of France, even grouchy Franҫois Simon agreed. Five years ago Parodi, a bit of a mad artist, shut Lou Cigalon, traveled, made babies, set up Bistro d'Antoine in the old part of Nice with Crespo, and, as luck would have it, decided to give his culinary input to Grace Leo in her latest Paris project.
Paris Velvet par le Bistrot d'Antoine, Nice, is located on the ground floor of Grace Leo's newly transformed Hôtel Beauchamps. GLA gutted two townhouses behind the Champs Elysées, made one six-floor 89-room and suite Pret-à-Porter hotel whose mascot is the quirky Balthazar Beauchamps, a passionate traveller. All objects, artwork and scuptures throughout the hotel are the spoils of his imaginary travels. The contemporary décor is by Pascal Allaman who's collaborated with GLA on Mustique, at The Cotton House, Bel-Ami, Paris and Royal Riviera, St Jean Cap-Ferrat.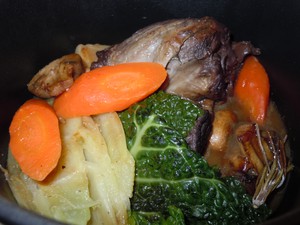 Interpreting Alain Parodi's dishes is talented Pierre Denoyer, who hails from the Isère region, a graduate of the prestigious L'Ecole Hôtelière de Grenoble, ex-Anassa, Cyprus and some top English and French addresses. The salle, in tones of beige and anthracite, has blackboards with food and wine noted, open wine racks, comfy banquettes and, in the center, two tables d'hôtes for making NBFs.
The Mediterranean-inspired dishes include Tomato salad (four different types) with herbed goat cheese and warm brioche. Market salad Antoine, read, Niҫoise with a Paris spin. Artichoke soup with gambas. Tomato risotto, ham, rocket and parmesan or Saffron and Cuttlefish risotto. Nice with a rosé Le Petit Ramatuelle VDP du Var (16€). Mains could include a chorizo-spiked Bilbao cod-fish casserole with fennel, herbs and spices. And a delicious slow-cooked lamb shank, fresh market vegetables. Or Rognon (kidney) à la plancha, celeriac purée. Irish Angus entrecôte steak is grilled and comes with chips and salad. Try Domaine Richeaume Columelle 2007, a robust Côtes de Provence (57€). Desserts feature Baked Alaska, vanilla ice cream with orange zests, Praline mousse, crumble, mango sorbet or Café Gourmand.
Sometimes, when you've had a lovely lunch/dinner, you sigh, "If only they had rooms we could stay a few days." Well, here you can do just that, and the breakfast croissants and homemade jams should not be missed. Do you hear me Lou?
Velvet by the Bistrot d'Antoine
Hotel Beauchamps
24, rue de Ponthieu, Paris 8th
Métro: Franklin D Roosevelt
Tél: 01 53 89 59 10
Dessert 27€ with water and coffee
Starter + Main + Dessert 33€ with water and coffee
Average Spend A La Carte 45€
Open Lunch-Dinner
Shut Sat-Sun
Bistro & Bar d'Antoine
Tél: 04 93 85 29 57  
27, rue de la Préfecture, Old Nice
Shut Sun-Mon
No website.
La Maison d'Aubrac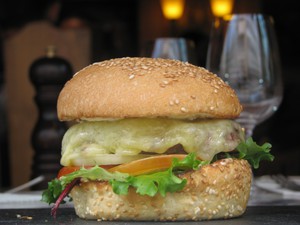 On the other side of the Champs Elysées where Abercombie & Fitch bring a new angle to the art of conspicuous consumption, discover La Maison d'Aubrac. Motto: "From Farm to Fork." The place to go for a good French bovine blow-out. Beef is matured from six to eight weeks in custom-built fridges, just like NYC. Next door is Aubrac Corner, their take on an eat-in/take-away deal. Try the juicy Aubrac-Burger made with free-range beef from the family Farm des Vialars, Laguiole, the Massif Central region. It's topped not with a dodgy Kraft cheese slice but a delicious tranche of Laguiole fromage. 9.50€. Also an excellent selection of salads, sandwiches, filled bagels, wraps, muffins, cookies and, below stairs, a wine cellar.
Maison d'Aubrac and Aubrac Corner
37, rue Marbeuf, Paris 8th
Métro: Franklin D Roosevelt
Tél: 01 43 59 05 14
Terrace

Need to know: Galeries Lafayette
During the French Open, at Roland Garros, Galeries Lafayette is creating a red clay court on the store's roof. They plan exhibition matches to bring out your inner Djocovic, lend shoes, raquets and balls as giant flat-screen TVs transmit the matches live and en direct du central de Roland Garros. Like!
When: 23rd May-4 June
Where: 40, boulevard Haussmann, Paris 9th
Each year Daily Telegraph readers vote for the "Ultras," their choice of top luxury hotels, airlines, cruise companies, spas and destinations. In Paris it's our favorite Hôtel de Crillon that takes "Best City Hotel in the World" gong. "Old-fashioned service, delivered in a charming style, will never go out of fashion," confirms Ultratravel editor Graham Boynton.
Margaret Kemp is a Cordon Bleu graduate who has worked alongside the world's top chefs, from Sydney, Australia via Bangkok, Hong Kong, California, New York and France. Realising she would never win the coveted 3 Michelin stars, she decided to write about the people who do, the "disciples of Escoffier." Margaret keeps tabs on the latest European trends, restaurants and hot-spots.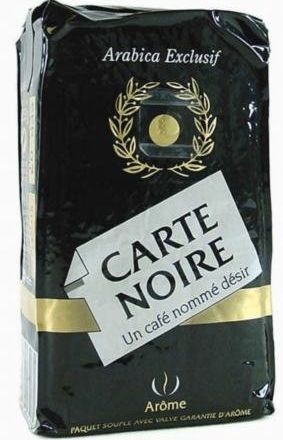 Six 1-pound bags of the very best French coffee some of us cross an ocean to get. Oui, Carte Noire is that good…and now it's available here at our Amazon.com French Marketplace. Enjoy!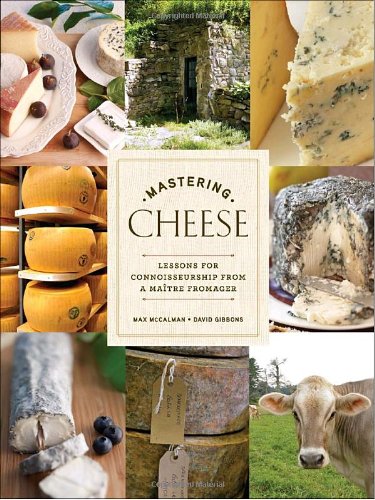 A BonjourParis bestseller . . .
Mastering Cheese: Lessons for Connoisseurship from a Maître Fromager by Maître fromager Max McCalman, author of The Cheese Plate and Cheese, is steeped in the world of artisanal cheeses like no one else. In Mastering Cheese, he shares the wealth of his expertise to help cheese lovers on their path to connoisseurship. After years of teaching courses for amateurs at the Artisanal Premium Cheese Center, where he is Dean of Curriculum, McCalman has developed a compelling set of classes for understanding and experiencing cheese. A full master's course in a book, Mastering Cheese covers the world of cheese in twenty-two distinct lessons. To read more or to order this book from our Amazon.com French Marketplace, click here.