October 2011 Events in Paris

ASSORTED PARIS EVENTS
Through October 5th Ready-to-Wear Spring/Summer 2012 Collections
Chateau de Versailles  Grand Fountain Shows
The Versailles Fountains, Saturday and Sundays through October 30th

Le XIIIe Siècle au Goût du Jour, through October 9th in the Grand Trianon
Venet à Versailles, through November 1st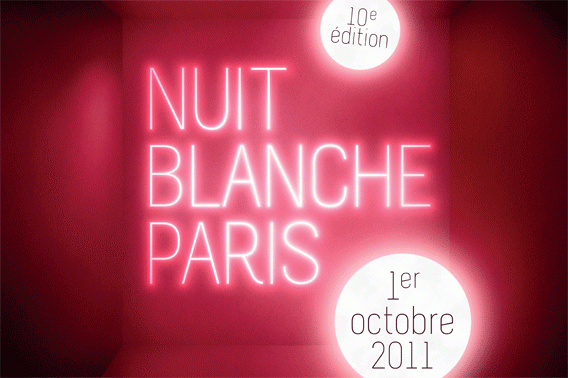 01 The museums and galleries stay open all night for those who enjoy seeing art in a different light
See our Nuit Blanche guide to free apps for iPhone & Droid, complete schedule
2 The 90th Prix de l'Arc de Triomphe is held at the Hippodrome de Longchamp with a winning purse of over 2 million Euros
Through October 9th– Concerts will be held all over the Ile de France in celebration of the end of summer.
Fêtes de Vendages à Montmartre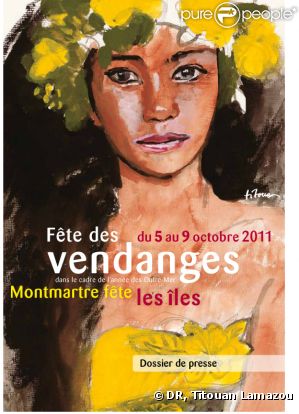 5-9 The first festival was in 1934 and the tradition carries on.  Come and celebrate the vintage at the annual wine festival
5-16 The circus comes to town and sets up just outside of Paris for the show.  This is the 7th year of this circus passing through Paris.
6-9 All things gourmet come together at this salon fittingly held to fill out the Porte de Versailles
Akiko Ebi and Jay Gottleib, pianos
8 Playing at Le Centquartre Salle 400
8 Thé à la Mode – tea and high fashion come together at Le Hôtel Bristol
10-16 There are various food-based experiences to take part in all over the city of Paris from a tasting village on the Esplanade des Invalides to Les Tables dans la Rue on rue Cler – check the website for various offerings
17 Meet at Trocadéro for rally that started in Paris in 1987 with 100,000 gathered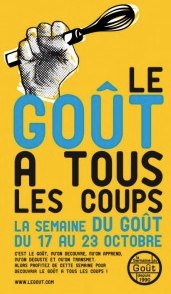 17-23 A celebration of all things fabulous about French food.  Top chefs, as well as producers, bring their best to the public at large.
20-23 Usually considered to be the lead-up to FIAC, this is the 6th edition of this contemporary art fair featuring emerging artists with talks and workshops.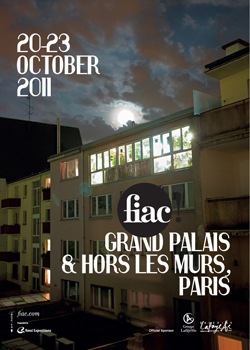 20-23 A panoramic view of modern and contemporary art coming together under one roof
David Lebovitz Book Signing
22 Monsieur Lebovitz will be at the Sugarplum Cake Shop signing copies of his book, The Sweet Life
Norman Rockwell comes to the Anagama Gallery in Versailles
Through October 23rd There is little doubt Norman Rockwell's work crossed your path at some point in your life…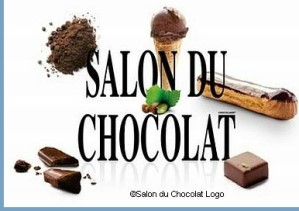 20-24 Need we say more?  The Salon du Chocolat is not to be missed if you enjoy chocolate!
21-24 Contemporary art as well as street art all come together for a fantastic showing.  This is the debut of this art fair with over 50 galleries exhibiting
MUSEUM EXHIBITIONS (ART, FILM, PHOTOGRAPHY & MORE)
Archaeological Crypt of Notre Dame – Crypte Archéologique du Parvis Notre Dame
Et Lutèce devint Paris, through February 26, 2012
Branly Museum on Quai Branly — Musée du Quai Branly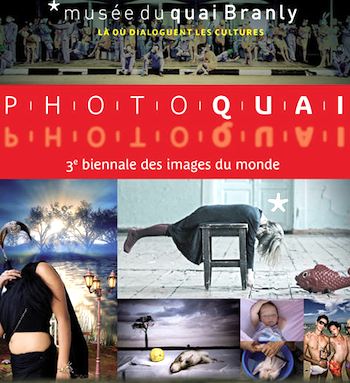 Maya, through October 2nd
Photoquai 2011, through December 4th
Bourdelle Museum — Musée Bourdelle
Upcoming Exhibition: Antoine Bourdelle / Que du Dessin, opens November 9th through January 29th 2012
Cartier Foundation Gallery — Fondation Cartier
Mathematics – A Beautiful Elsewhere, opening October 21st through March 18th, 2012
Château de Versailles – Grand Trianon
The 18th Century Back in Fashion, through October 9th
Children's Interactive Art Museum – Musée en Herbe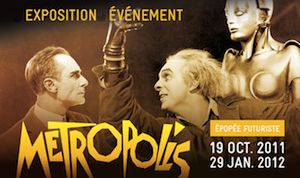 Keith Haring Hieroglyphs, through Dec. 31
Metropolis, opens October 19th through January 29th 2012
City of Science & Industry Museum & Children's Museum — Cité des Sciences et de l'Industrie
Tous Connectés, through December 31th
Santé et Jeux, through October 2nd
Océan, Climat et Nous, through June 30th 2012
Costume & Theater Set Design Museum — Centre National du Costume de Scène
L'Art du Costume à la Comédie-Française, through December 31st
Decorative Arts Museum — Musée des Arts Décoratifs
Hussein Chalayan, Récits en Mode, through November 13th
Plastique Ludique: Libuse Niklová, through November 6th
Animal, through November 30th
European House of Photography — La Maison Européenne de la Photographie  (AKA "MEP")
No current exhibition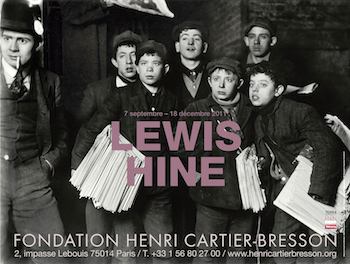 Fondation Henri Cartier-Bresson
Lewis Hine, through December 18th
Giverny Impressionism Museum  (near Monet's gardens) — Giverny Impressionists Museum
The Clark's Collection, from Manet to Renoir, through October 31st
Grand Palace Museum, Palace of Discovery — Grand Palais  / Palais de la Découverte
Vouz Avez Dit Chimie?, through October 30th
Holocaust Memorial Museum — Mémorial de la Shoah
No current exhibit
Jacquemart-André Museum — Musée Jacquemart André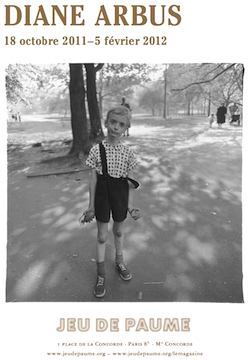 Fra Angelico et les Maîtres de la Lumière, through January 16th 2012
Diane Arbus, opens October 18th through February 5th
Audrey Cottin: Charlie & Sabrina, opens October 18th through February 5th
Blow Up / Cycle "Side Effects", through March 15th 2012
Jewish Art & History Museum — Musée d'Art et d'Histoire du Judaïsme
Walter Benjamin Archives, opens October 12th through February 5th 2012
Legion of Honor Museum — Musée National de la Légion d'Honneur
Permanent collection on view
Louvre Museum  — Musée du Louvre
Medieval and Renaissance Illuminations, through October 10th
From Fininguerra to Botticelli, The Early Italian Workshop of the Renaissance, through October 10
Luxembourg Garden Museum — Musée du Luxembourg
Cézanne et Paris, opening October 12th through February 26th 2012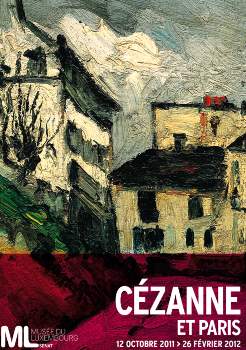 Maillol Museum; Dina Vierny Foundation — Musée Maillol
Pompéi, through February 12th 2012
Maison de la Culture du Japon à Paris
Huit Maîtres de l'Ukiyo-e, through December 17th
Maritime Museum at Palais de Tokyo — Musée Nationale de la Marine
Paquebot France, through October 23rd
Georges Rohner et la Guadaloupe (1934-1936), opens October 19th through January 16th 2012
Modern Art Museum of Paris — Musée d'Art Moderne de la Ville de Paris
Baselitz Sculpteur, through January 29th
Mona Bismark Foundation  & American Cultural Center/Gallery
The Wyeths, Three Generations of American Art, opening November 10th through February 12th
Montparnasse Museum — Le Musée du Montparnasse
Pierre Seghers. Poésie, la Vie Entière, through October 7th
Art Tunis-Paris, opens October 11th through the 30th
Museum of Armor –Musée de l'Armée
Napoléon III et l'Italie, opens October 19th through January 15th 2012
Musée de l'Orangerie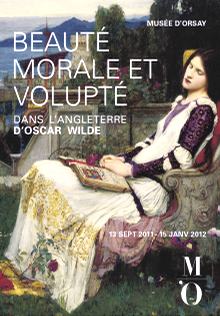 L'Espagne Entre Deux Siècles de Zuloaga à Picasso, opens October 7th through January 9th 2012
Natural History Museum — Muséum National d'Histoire Naturelle

Parcours à la Ménagerie, through December 31st
Invisible, Zoom sur le Plancton, through December 31st
Kayapó, through October 31st
Beauty, Morals and Voluptuousness in the England of Oscar Wilde, through January 15th 2012
No current exhibition
Paris City Hall Gallery — Hôtel de Ville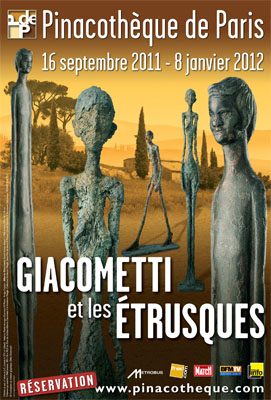 No current exhibition
Petit Palais Fine Arts Museum of Paris —  Petit Palais — Musée des Beaux-Arts de la Ville de Paris
Cranache et Dürer  Graveurs: rivalité et émultation, through November 13th
Pinacothèque Art Museum of Paris — Pinacothèque
Giacometti et les Etrusques, through January 8th 2012
Pompidou Modern Art Museum — Centre Georges Pompidou
Accrochage, Histoire de l'Atelier Brancusi, through November 7th
Edvard Munch, l'oeil Moderne 1900-1944, through January 9th 2012
Des Années 1960 à Nos Jours, through February 13th 2012
Red House Foundation (Albert de Galbert Foundation) — La Maison Rouge
Mémoires du Futur, opens October 22nd through January 15th 2012
Romantic-Writers Museum — Musée de la Vie Romantique
La Nouvelle Athènes, permanent exhibition
Paris Proche et Lointain, Patrick Faigenbaum, indefinite duration
Skilled Arts & Crafts Museum — Les Arts et Métiers
History of the Paris Métro, through January 1st 2012
Versailles Palace — Château de Versailles
Venet à Versailles, through November 1st
Le XVIIIe au Goût du Jour, through October 9th
Zadkine (sculpture) Museum & Garden — Musée Zadkine
Closed Sept. 5-Dec. 2011 for maintenance
POPULAR MUSIC VENUES (POP, ROCK, R&B, JAZZ)
1   Booba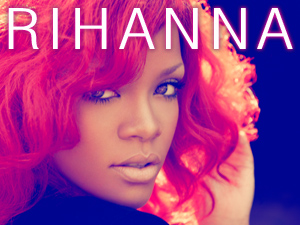 3, 4   George Michael
6   Brittney Spears
8    La Nuit d'Outre Mer
17   Bob Dylan & Mark Knopfler
18, 19   Red Hot Chili Peppers
20, 21   Rhianna
22   Hubert Felix Thiefaine
1   Black Beautes Awards 2011
2   Rock n Roll Legend
3 – 5   Cabaret Burlesque
7   Cascadeur
8   Paul Comelade + Male Instrumenty
9   Steve Hackett
10   Jehro
12-15   Arthur
12   Staind
18   Steve-O
19   Imany
20   Asaf Avidan
21   The Bewitched Hands
22   Caravan Palace
23, 24   Groundation
25   Fink
26   Imelda May
27   Guillaume Grand
28   Tremplin Milonga 2011
29   Oldelaf
30   Battle Afro
Olympia Concert Hall — L'Olympia
3, 4   Pink Martini
7–9    Serge Lama
10   Status Quo
11   Staff Benda Bilili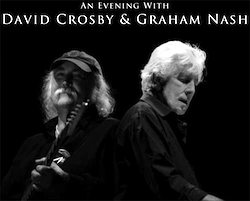 13   Milow
14   Crosby & Nash
15   Zaza Fournier
19   Avisha Choen
20   Feist
21-23   Stephane Rousseau
24, 25   Julien Dore
26   Nikki Yanofsky
28-30   Pierre Perret
31   Brigitte
Le Palais des Congrès de Paris
8   Thomas Dutronc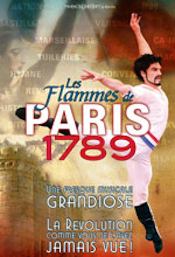 13   Robin Gibb
16, 17   Les Flammes de Paris
21   Les Solistes du Ballet de l'Opéra Nationale de Paris
23   Oui Oui et le Cadeau Surprise
24-30   Une Femme Nommée Marie
Dracula, through October 30th
1, 8   Orchestre Pasdeloup
1, 2, 6, 8, 12, 13, 19, 20, 22   Orchestre de Paris
2   Orchestre de Colonne
3   Royal Concertgebouw Orchestra
4   Juan Diego Floréz
5   Aldo Ciccolini
7, 14, 21   Orchestre Philharmonique de Radio France
8   Lucerne Festival Orchestra
9   Perspectives Pollini
11   Jorge Luis Prats
15, 16   Weekend Schubert/Korngold
17   Russian National Orchestra
18   Orchestre National d'Ile de France
22, 23   Beethoven: Intégrales des Symphonies
24   Orchestre Révolutionnaire et Romantique
25 26,29, 30, 31   The Cleveland Orchestra
27   David Krakauer
No concerts in October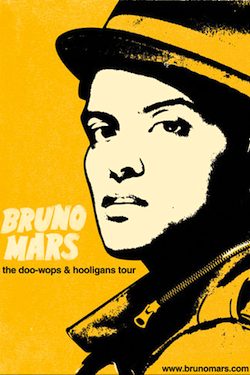 1   Paris Kompa Fest Indies
8   Reggaeton Festival
12   Abba Mania
14, 15    Gregoire
20   Bruno Mars
21   Mademoiselle K
28   James Blunt
Châtelet Theater Grand Foyer Concerts — Grand Foyer du Châtelet
14   Soirée Classique: violin, Jean-Jacques Kantrow & piano, Pierre-Alain Volondant
Jazz Concert & Jazz Clubs
AUTHORS, BOOK-SIGNINGS & LITERARY EVENTS
4   Evenings with an Author: Ann Mah and Lisa Pasold
12   Evenings with an Author: Anne Marsella
19   Evenings with an Author: Joan Nathan
4   Martha Dow Fehsenfeld & Lois More Overbeck discuss their published work, The Letters of Samuel Beckett
13   Philip Weinstein on the question of race and art in the life of William Faulkner
18   Janine di Giovanni and Tahar Ben Jelloun discuss, Granta 116: 10 Years Later
6   Mark Tungate launches his 6th book, Branded Beauty
20   Susan Hochbaum presents and signs, Pastry Paris
No events scheduled
OPERA, BALLET & THEATRE PERFORMANCES
La Clémence de Titus Conductor Adam Fischeropens – through October 8th
Lifar/Ratmansky – through October 6th

Serge Lifar choreographs Phèdre  / Alexi Ratmansky choreographs Psyché

La Source – Choreographer Jean-Guillaume Bart, opens October 22nd through November 12th
Faust – Conductor Alain Lombard – through October 25th
Tannhäuser – Conductor Sir Mark Elder, opens October 6th through October 29th
Lulu – Conductor Michael Schonwandt, opens October 18th through November 5th
Royal Opera House of Versailles
No performances in October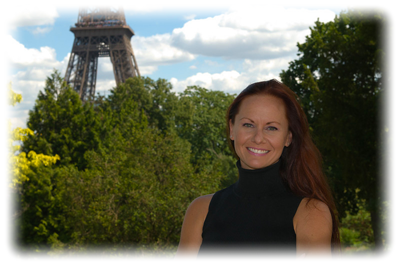 Lisa Buros-Hutchins is the owner of Your Paris Experience, a private travel consultancy offering a wide array of services, from trip itinerary planning and phone consultation to specific itemized services. Please visit Lisa's website for further information.
Add an event to the calendar:
If you know of other special events in Paris, or if you would like to have your event featured in this monthly column, please send an email with your notice and photos attached by the 15th of the month prior to the event to:  [email protected]. Your Paris Experience is pleased to offer the Premium Members of BonjourParis a 10% discount on the public price of all services.
Subscribe for free so you don't miss a story & don't forget our searchable library of 7,000+ stories about France travel & Paris events, dining, lodging, shopping, French lifestyle, book news, recipes, photography & more.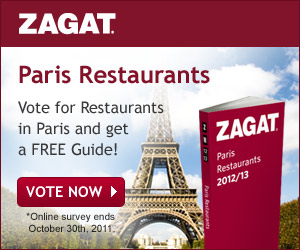 Get a
free

copy of

ZAGAT Paris Restaurants 2012/13

Just click and write a few clever remarks about your favorite Paris restaurants …

Need inspiration? Check our Dining, Bars & Tea Salon reviews.

You might be quoted in the next issue that you'll receive for free just for participating.

Hurry! Online survey ends October 30, 2011.

 

Shop our Amazon.com Boutique for the very latest books, travelers essentials & everything else available at Amazon.com. New items added daily. BonjourParis has been published since 1995 thanks to your support.

Search hint: start at the back pages for the most recent stock.
Short-cut to our 100 TOP SELLING ITEMS

(please wait for widget to load)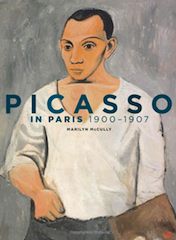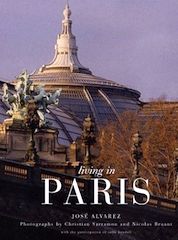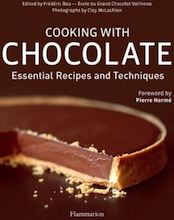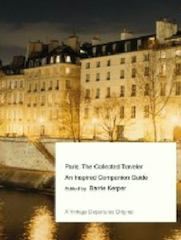 Picasso in Paris: 1900 – 1907 [September 2011 release, hardcover]
Living in Paris, New Edition Beautifully illustrated guide to Paris
Cooking with Chocolate: Essential Recipes & Techniques (Book & DVD in English) by Clay McLachlan, Pierre Herme, et al  coming Oct. 18, 2011–order now & get 39% discount for advance orders
Paris: The Collected Traveler (Vintage Departures) [July 2011 release, collections features writers Alexander Lobrano, Patricia Wells, Susan Herrmann Loomis, Ina Garten & many more.]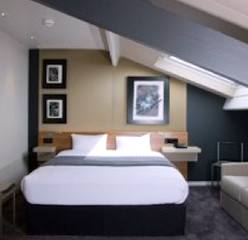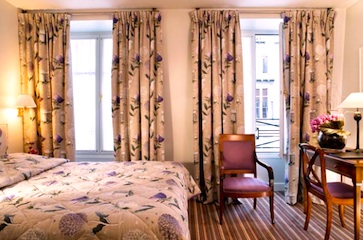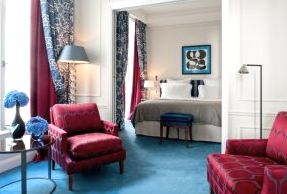 Photos left to right:
Fred Hôtel, 2-star, Paris Left Bank, 14th (Montparnasse), rated 8.7 of 10 by past Booking.com guests
Hôtel Relais Madeleine, 3-star, Paris Right Bank, 9th (Opéra/Madeleine), rated 8.7 of 10
Le Burgundy, 5-star, Paris Right Bank, 1st (Louvre-Champs-Elysées ), rated 9.2 of 10
Bookmark this

Booking.com link & use it every time you shop for a hotel anywhere in the world.
Your preferences & BEST PRICE GUARANTEE details will be stored & updated when you return.