Paris Day Trips: Giverny, Versailles, Paris Disney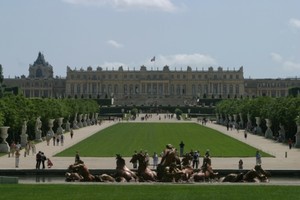 Between the giant gregarious mice of Disneyland, Claude Monet's delicate rose gardens and Louis XVI's sumptuous palace, there are plenty of attractions to keep you amused if, perish the thought, you need a break from the City of Light for a few hours. The Palace of Versailles: With a convenient location just 20 km southwest of central Paris, it's easy to see why the Palace of Versailles is one of the most popular day trips from Paris. Once you get there, however, you'll discover that Louis XIV's taste for all things gilded and OTT have more to do with its enduring charm than its closeness to the city, although it does help! Louis XIV, "the boy of the throne," dreamt up the excessively opulent Palace of Versailles with the help of architect Louis Le Vau at the beginning of the 17th century. In the 1680s, after development on a grand scale (a whopping 25,000 workers were involved), Louis XIV announced that he was moving the base of the French monarchy from Paris to Versailles. From then until the French Revolution, both the government and the French aristocracy were headquartered in Versailles. Louis XVI and Marie Antoinette are easily the palace's most famous residents. The pampered pair set up home in Versailles in 1774 and swiftly set about breaking all records in terms of self-indulgent decadence. They say pride comes before a fall, though, and indeed it was their ostentatious displays of wealth that would ultimately play a pivotal role in the demise of the power couple. Today the buildings and gardens attract visitors from all over the world. Highlights of the palace include the Hall of Mirrors (Galerie des Glaces), a magnificent ballroom measuring over 60 metres (200 metres in length). It was designed with 17 mirrors lining one side so that frescoes on the ceiling could be reflected and guests could check their appearance as they were waltzed and twirled around the dance floor. The Clock Room is a must-see. It is most famous for being the room where Mozart performed at the prodigal age of seven. The opera house is another beautiful attraction. It is an oval-shaped theatre where the French monarchy and their guests watched many candle-lit performances. Meanwhile, The Chapel Royal is unmistakably romantic and where King Louis XVI and Marie Antoinette were married in 1770. The Chateau de Versailles opens Tues-Sun 9:00 a.m.–6:30 p.m. (April–Oct) and Tues-Sun 9:00 a.m.-5:30 p.m. (Nov-March). The Domaine de Marie Antoinette opens its doors every day except Monday from 12:00 p.m. to 6:30 p.m. (April to Oct), but buildings close at 6:00 p.m. daily; 9:00 a.m.–5:30 p.m. (Nov-March), but many buildings close at 5 p.m. Meanwhile, the beautiful Versailles Gardens are open daily from 9:00 a.m. to sunset. Directions: Take the ring road that runs around the periphery of Paris (the Périphérique), then follow the A13 autoroute towards Rouen and follow the signs to Versailles. The journey takes around 30 minutes each way. Drivers should note that there is a paid car park at the Palace of Versailles. Monet's Garden It's one of the world's most famous back-gardens and it's yours to explore for an afternoon. The village of Giverny is situated just 80 km (50 miles) from Paris on the border between the province of Normandy and the Ile de France. The house and gardens in Giverny first caught the eye of Claude Monet as he was looking out of a train window. In that instance, he made up his mind to move there and within weeks he put his plans into motion and rented a house in the area surrounding it. By 1890, he had saved up enough money to purchase the house and the land outright and decided he'd found the gardens that he wanted to paint. Some of his most famous paintings including the Water Lilies and the Japanese Bridge were inspired by Giverny. Monet lived in the house at Giverny from 1883 up until his death in 1926. The house and gardens were first opened to the public in 1980, following an extensive restoration project. Today the gardens offer a rare glimpse into the artist's pastel-coloured world of peonies, delphiniums, lupins and poppies. Strolling over the green arched bridges to the peaceful water lily pond feels surreal and not unlike wandering into one of Monet's world-famous paintings. If anything, though, the gardens provide a wonderful source of inspiration for artists. Monet's House and Gardens are open Tuesday-Sunday from April 1st to November 1st. Last admission is 5:30 p.m. Directions: From Paris, follow the A13 towards Rouen. Take Exit 14 to Vernon and follow signs for Centre Ville and Giverny. Disneyland Paris If they didn't love the Louvre or appreciate the Eiffel Tower, there's only one place left to bring the kids—that's Disneyland Paris. Paris's version of the Magic Kingdom is split into five distinct areas including Main Street, Frontierland, Adventureland, Fantasyland and Discoveryland. Make sure you're in line to see the giant floats and bobbing Disney mascots winding their way down Main Street in front of Sleeping Beauty Castle on weekdays at 4 p.m. and on weekends at 5 p.m. during the Once Upon a Dream parade. Evening events are crowned by lively fireworks displays over the summer months. Without doubt, the park's main draws are its 45 exhilarating roller coasters and entertaining theme park attractions. Pirates of the Caribbean, Indiana Jones and the Temple of Peril and Space Mountain are definitely worth queuing for. Prefer your theme park attractions a little more gentle? It's A Small World offers you the chance to experience what it would be like to live in an all-singing, all-dancing utopia, as governed by Walt Disney. The nearby Walt Disney Studios offer daily stunt shows, an Armageddon special effects exhibit and a building dedicated to the history of Disney animation. Just in case you've got withdrawal symptoms, there's also the Rock 'N' Roller Coaster featuring Aerosmith, a thrilling indoor attraction with throbbing rock music, flashing strobe lights and 360-degree loops. Directions: To reach Disneyland from…
SUBSCRIBE
ALREADY SUBSCRIBED?
BECOME A BONJOUR PARIS MEMBER

Gain full access to our collection of over 5,000 articles and bring the City of Light into your life. Just 60 USD per year.

Find out why you should become a member here.

Sign in

Fill in your credentials below.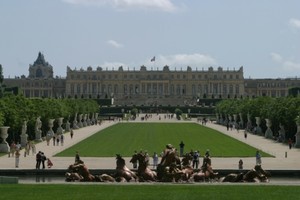 Between the giant gregarious mice of Disneyland, Claude Monet's delicate rose gardens and Louis XVI's sumptuous palace, there are plenty of attractions to keep you amused if, perish the thought, you need a break from the City of Light for a few hours.
The Palace of Versailles:
With a convenient location just 20 km southwest of central Paris, it's easy to see why the Palace of Versailles is one of the most popular day trips from Paris. Once you get there, however, you'll discover that Louis XIV's taste for all things gilded and OTT have more to do with its enduring charm than its closeness to the city, although it does help!
Louis XIV, "the boy of the throne," dreamt up the excessively opulent Palace of Versailles with the help of architect Louis Le Vau at the beginning of the 17th century. In the 1680s, after development on a grand scale (a whopping 25,000 workers were involved), Louis XIV announced that he was moving the base of the French monarchy from Paris to Versailles. From then until the French Revolution, both the government and the French aristocracy were headquartered in Versailles.
Louis XVI and Marie Antoinette are easily the palace's most famous residents. The pampered pair set up home in Versailles in 1774 and swiftly set about breaking all records in terms of self-indulgent decadence.
They say pride comes before a fall, though, and indeed it was their ostentatious displays of wealth that would ultimately play a pivotal role in the demise of the power couple.
Today the buildings and gardens attract visitors from all over the world. Highlights of the palace include the Hall of Mirrors (Galerie des Glaces), a magnificent ballroom measuring over 60 metres (200 metres in length). It was designed with 17 mirrors lining one side so that frescoes on the ceiling could be reflected and guests could check their appearance as they were waltzed and twirled around the dance floor.
The Clock Room is a must-see. It is most famous for being the room where Mozart performed at the prodigal age of seven. The opera house is another beautiful attraction. It is an oval-shaped theatre where the French monarchy and their guests watched many candle-lit performances. Meanwhile, The Chapel Royal is unmistakably romantic and where King Louis XVI and Marie Antoinette were married in 1770.
The Chateau de Versailles opens Tues-Sun 9:00 a.m.–6:30 p.m. (April–Oct) and Tues-Sun 9:00 a.m.-5:30 p.m. (Nov-March).
The Domaine de Marie Antoinette opens its doors every day except Monday from 12:00 p.m. to 6:30 p.m. (April to Oct), but buildings close at 6:00 p.m. daily; 9:00 a.m.–5:30 p.m. (Nov-March), but many buildings close at 5 p.m.
Meanwhile, the beautiful Versailles Gardens are open daily from 9:00 a.m. to sunset.
Directions: Take the ring road that runs around the periphery of Paris (the Périphérique), then follow the A13 autoroute towards Rouen and follow the signs to Versailles. The journey takes around 30 minutes each way. Drivers should note that there is a paid car park at the Palace of Versailles.
Monet's Garden
It's one of the world's most famous back-gardens and it's yours to explore for an afternoon. The village of Giverny is situated just 80 km (50 miles) from Paris on the border between the province of Normandy and the Ile de France.
The house and gardens in Giverny first caught the eye of Claude Monet as he was looking out of a train window. In that instance, he made up his mind to move there and within weeks he put his plans into motion and rented a house in the area surrounding it. By 1890, he had saved up enough money to purchase the house and the land outright and decided he'd found the gardens that he wanted to paint. Some of his most famous paintings including the Water Lilies and the Japanese Bridge were inspired by Giverny. Monet lived in the house at Giverny from 1883 up until his death in 1926.
The house and gardens were first opened to the public in 1980, following an extensive restoration project. Today the gardens offer a rare glimpse into the artist's pastel-coloured world of peonies, delphiniums, lupins and poppies.
Strolling over the green arched bridges to the peaceful water lily pond feels surreal and not unlike wandering into one of Monet's world-famous paintings. If anything, though, the gardens provide a wonderful source of inspiration for artists.
Monet's House and Gardens are open Tuesday-Sunday from April 1st to November 1st. Last admission is 5:30 p.m.
Directions: From Paris, follow the A13 towards Rouen. Take Exit 14 to Vernon and follow signs for Centre Ville and Giverny.
Disneyland Paris
If they didn't love the Louvre or appreciate the Eiffel Tower, there's only one place left to bring the kids—that's Disneyland Paris. Paris's version of the Magic Kingdom is split into five distinct areas including Main Street, Frontierland, Adventureland, Fantasyland and Discoveryland.
Make sure you're in line to see the giant floats and bobbing Disney mascots winding their way down Main Street in front of Sleeping Beauty Castle on weekdays at 4 p.m. and on weekends at 5 p.m. during the Once Upon a Dream parade. Evening events are crowned by lively fireworks displays over the summer months.
Without doubt, the park's main draws are its 45 exhilarating roller coasters and entertaining theme park attractions. Pirates of the Caribbean, Indiana Jones and the Temple of Peril and Space Mountain are definitely worth queuing for. Prefer your theme park attractions a little more gentle? It's A Small World offers you the chance to experience what it would be like to live in an all-singing, all-dancing utopia, as governed by Walt Disney.
The nearby Walt Disney Studios offer daily stunt shows, an Armageddon special effects exhibit and a building dedicated to the history of Disney animation. Just in case you've got withdrawal symptoms, there's also the Rock 'N' Roller Coaster featuring Aerosmith, a thrilling indoor attraction with throbbing rock music, flashing strobe lights and 360-degree loops.
Directions: To reach Disneyland from Paris, follow the Périphérique at the Porte de Bercy exit to the south east of Paris. Follow the Metz/Nancy route on the N4 and you'll come to exit 13 after 31 kilometres and exit 14 after 34 kilometres.
Fiona Hilliard writes about Paris car hire for award-winning site ArgusCarHire.com. Here she shares her favourite Paris day trips with Bonjour Paris.
Please post your comments or questions and let them flow. Register HERE to do so if you need a Bonjour Paris user name and password.
More in Chateau de Versaille, day trips from Paris, Disneyland Paris, French tourism, Palace of Versailles, sightseeing
---
---