Aveyron: Week in "La France Profonde"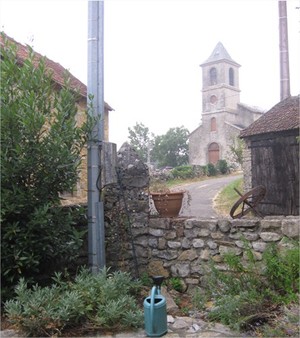 I awakened one morning last July in a large, soft four-poster bed to the sound of almost complete silence. I climbed out from under my quilt and down a narrow staircase to the kitchen, heated some water on an old gas stove and took my coffee out to a stone terrace where I could see a tiny church up the lane under a shimmering blue sky. A neighbor's dog barked nearby. A farmer rolled slowly by, dragging hay with his tractor. I knew I could do whatever I wanted with that day—or absolutely nothing. I was in "La France Profonde" (meaning, according to historian/author Thirza Vallois, a rural area of France that has preserved its authenticity), where time is not a rushing river but a meandering brook. I could write all day sans interruption—I could be the woman in The Swimming Pool movie (without the pool or homicidal blonde). When I read Thirza Vallois' book "
Aveyron, a Bridge to French Arcadia
," I became so intrigued by the Aveyron that I wanted to immediately travel down there from Paris for a long weekend. (I often use aller-retour train tickets to taste other parts of France during my Paris stays.) However, Thirza warned me that there are no direct trains and that, besides, traveling through the Aveyron should occur in context. A slow context similar to a "dégustation" like wine and a French meal. It is meant to be savored slowly—hardly possible during a quick weekend mostly on trains. I was determined to experience the Aveyron—"La France Profonde," a place described as both modern and ageless, where I would find wild and remote fields, medieval towns, stops along the Christian Pilgrim's route to Compostela, ancient ruins seldom visited by tourists, and the homes of Roquefort cheese and Laguiole knives. So last July, I decided to take a long deep breath before my planned week in Paris and first spend six days in a secluded 1835 stone cottage without central heating or A/C, in the miniscule hamlet of Mayrinhagues. Mayrinhagues holds little more than a small chateau, a church, a number of houses, and a farm. (See
the owner's website
for prices and more.) The journey to Mayrinhagues is not simple. After arriving  at Charles de Gaulle from Chicago and taking the RER into Paris, I had to take two trains: an almost four-hour afternoon TGV from Gare d'Austerlitz to Brive La Gaillard, followed by a crowded local train leaving Brive for the small town of Figeac in the Lot department. Since rental cars could not be picked up until Monday morning, I spent two nights in Figeac and then drove the 45 minutes to Mayrinhagues on Monday. However, the scarily tight connection times, weekend delay, exhausting first day, and stick-shifting ride down two-lane roads to Mayrinhagues were worth it. Figeac was a serendipitous find—a riverfront medieval town with narrow streets, a beautiful old church, and the Champollian Museum, devoted to the history of writing and to native son Jean-François Champollian (1790-1832), who was the first to decipher hieroglyphics (1822). My comfortable bed and breakfast was run by a charming couple; I dined well and drank French beer at the restaurant in the old town square accompanied by one of the town cats. (More about Figeac in another article) While spending big chunks of my days eating my own cooking on the old wood kitchen table, writing, reading, and just "being" in my stone cottage, I also found time to explore the Aveyron. I drove to those parts that I could reach easily  and quickly by car and could experience slowly and mindfully (a la Thirza's "dégustation"). The thirteenth-century walled bastide towns of Villeneuve d'Aveyron and Villefranche de Rouergue—a 10-minute and half-an-hour car journey respectively—were both real treats. In a restaurant in Villeneuve's old town square, surrounded by locals and in view of the fortified wall, I ate my first aligot ( a sticky, buttery mixture of mashed potatoes, cheese and garlic that according to Thirza is to the Aveyron what couscous is to North Africa). I was also able to attend the widely regarded weekly market in Villefranche at the foot of the imposing Collegiale Notre Dame Church (originating in 1260). In the town of Najac, nestled high in wooded hills, I visited the fortified castle built in 1253 by Alphonse de Poitiers, from which the view of the surrounding countryside is spectacular and panoramic. When I arrived in Peyrusse le Roc, I eased my car up to the Lilliputian town center along a lane that skirted the edge of a drop-off, from which I caught my first view of castle tower ruins dating back to 761. I also visited Hervé Vernhes, the artist whose work is featured in the town's tiny church and who Thirza called a member of the "brotherhood of sacred anonymity." These artists are little known except in the region but deposit  "a tiny legacy of emotions in the stone of the Rouergue." Each one of these towns deserves its own separate treatment—which I promise I will take care of in later installments. This is an historic area permeated by the Brigadoon-like feeling of an almost unchanged past time. Many of the locals don't speak any English at all. Visit the Aveyron soon, before too many tourists discover its charm. To read more about the area, you'll want to buy Thirza Vallois's book 
Aveyron, a Bridge to French Arcadia
SUBSCRIBE
ALREADY SUBSCRIBED?
BECOME A BONJOUR PARIS MEMBER

Gain full access to our collection of over 5,000 articles and bring the City of Light into your life. Just $60 a year.

Find out why you should become a member here.

Sign in

Fill in your credentials below.
I awakened one morning last July in a large, soft four-poster bed to the sound of almost complete silence. I climbed out from under my quilt and down a narrow staircase to the kitchen, heated some water on an old gas stove and took my coffee out to a stone terrace where I could see a tiny church up the lane under a shimmering blue sky. A neighbor's dog barked nearby. A farmer rolled slowly by, dragging hay with his tractor.
I knew I could do whatever I wanted with that day—or absolutely nothing. I was in "La France Profonde" (meaning, according to historian/author Thirza Vallois, a rural area of France that has preserved its authenticity), where time is not a rushing river but a meandering brook. I could write all day sans interruption—I could be the woman in The Swimming Pool movie (without the pool or homicidal blonde).
When I read Thirza Vallois' book "Aveyron, a Bridge to French Arcadia
," I became so intrigued by the Aveyron that I wanted to immediately travel down there from Paris for a long weekend. (I often use aller-retour train tickets to taste other parts of France during my Paris stays.)
However, Thirza warned me that there are no direct trains and that, besides, traveling through the Aveyron should occur in context. A slow context similar to a "dégustation" like wine and a French meal. It is meant to be savored slowly—hardly possible during a quick weekend mostly on trains.
I was determined to experience the Aveyron—"La France Profonde," a place described as both modern and ageless, where I would find wild and remote fields, medieval towns, stops along the Christian Pilgrim's route to Compostela, ancient ruins seldom visited by tourists, and the homes of Roquefort cheese and Laguiole knives.
So last July, I decided to take a long deep breath before my planned week in Paris and first spend six days in a secluded 1835 stone cottage without central heating or A/C, in the miniscule hamlet of Mayrinhagues.
Mayrinhagues holds little more than a small chateau, a church, a number of houses, and a farm. (See the owner's website for prices and more.)
The journey to Mayrinhagues is not simple. After arriving  at Charles de Gaulle from Chicago and taking the RER into Paris, I had to take two trains: an almost four-hour afternoon TGV from Gare d'Austerlitz to Brive La Gaillard, followed by a crowded local train leaving Brive for the small town of Figeac in the Lot department. Since rental cars could not be picked up until Monday morning, I spent two nights in Figeac and then drove the 45 minutes to Mayrinhagues on Monday.
However, the scarily tight connection times, weekend delay, exhausting first day, and stick-shifting ride down two-lane roads to Mayrinhagues were worth it.
Figeac was a serendipitous find—a riverfront medieval town with narrow streets, a beautiful old church, and the Champollian Museum, devoted to the history of writing and to native son Jean-François Champollian (1790-1832), who was the first to decipher hieroglyphics (1822). My comfortable bed and breakfast was run by a charming couple; I dined well and drank French beer at the restaurant in the old town square accompanied by one of the town cats. (More about Figeac in another article)
While spending big chunks of my days eating my own cooking on the old wood kitchen table, writing, reading, and just "being" in my stone cottage, I also found time to explore the Aveyron. I drove to those parts that I could reach easily  and quickly by car and could experience slowly and mindfully (a la Thirza's "dégustation").
The thirteenth-century walled bastide towns of Villeneuve d'Aveyron and Villefranche de Rouergue—a 10-minute and half-an-hour car journey respectively—were both real treats. In a restaurant in Villeneuve's old town square, surrounded by locals and in view of the fortified wall, I ate my first aligot ( a sticky, buttery mixture of mashed potatoes, cheese and garlic that according to Thirza is to the Aveyron what couscous is to North Africa). I was also able to attend the widely regarded weekly market in Villefranche at the foot of the imposing Collegiale Notre Dame Church (originating in 1260).
In the town of Najac, nestled high in wooded hills, I visited the fortified castle built in 1253 by Alphonse de Poitiers, from which the view of the surrounding countryside is spectacular and panoramic.
When I arrived in Peyrusse le Roc, I eased my car up to the Lilliputian town center along a lane that skirted the edge of a drop-off, from which I caught my first view of castle tower ruins dating back to 761. I also visited Hervé Vernhes, the artist whose work is featured in the town's tiny church and who Thirza called a member of the "brotherhood of sacred anonymity." These artists are little known except in the region but deposit  "a tiny legacy of emotions in the stone of the Rouergue."
Each one of these towns deserves its own separate treatment—which I promise I will take care of in later installments. This is an historic area permeated by the Brigadoon-like feeling of an almost unchanged past time. Many of the locals don't speak any English at all. Visit the Aveyron soon, before too many tourists discover its charm.
To read more about the area, you'll want to buy Thirza Vallois's book Aveyron, a Bridge to French Arcadia
---
---